This year's EDspaces conference in Charlotte was a convening of innovative educational design ideas and practical solutions aimed at reshaping learning environments. Thought leaders, innovators, designers, and decision-makers gathered to envision the future of learning environments and their impacts on learners through educational seminars, tours, a vibrant show floor, and lively networking events.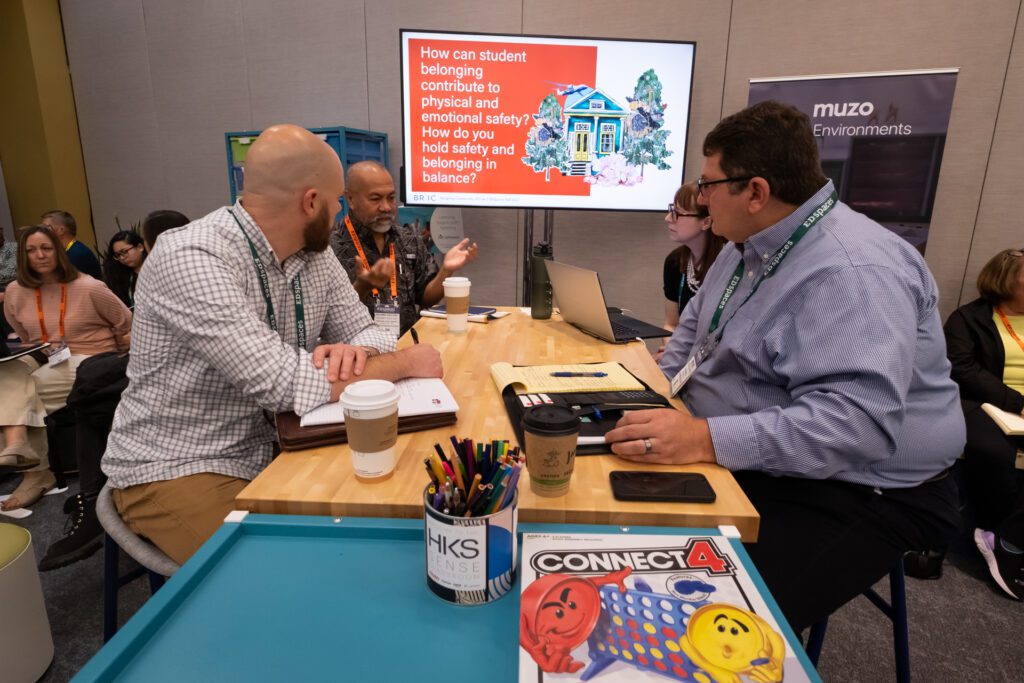 It was a beautiful week in the Queen City of Charlotte, North Carolina – uncharacteristically sunny and warm for this time of year, which we Pacific Northwesterners really appreciated. The conference took place in the heart of the charming and active Uptown area, walkable, friendly, and full of delightful bars and southern cuisine. Under this canopy of beautiful weather, inspiring speakers, and meaningful networking opportunities, we found an atmosphere charged with potential for meaningful conversations and ideating on designing the future of education.
Here were some of our highlights:
Pathways and Possibilities: Embracing Flexibility in CTE Classroom Design
The AIA Committee on Architecture for Education classroom design continued to bring new and innovative conversations to the table. The classroom was designed by four emerging professionals in architecture and design and explored the importance of flexibility in CTE classroom design. Adapting spaces to accommodate various programs and evolving pedagogy strategies was emphasized. The introduction of pops of vibrant colors like yellow and orange afforded moments of joy and excitement within a traditionally calm and elegant cool-toned space. Mini sessions throughout the conference included Best Practices for Equitable Toilet and Locker Rooms, the Impact of Ergo dynamic Learning Spaces on Student Physical and Cognitive Health, and What is Your Design Perspective? What Connecting the Dots Matters!
Finding the Right Fit for your Community in Cultivating Safety at School
An impactful session highlighted the efforts of Atlanta Public Schools as they worked to support the whole child, despite the school district existing in a food, tech, and transportation desert.  The school seeks to not only support learners' need for educational diversity, food, personal resources, they are also providing resources for personal grooming, and family support to social services. Members from the AIA Committee on Architecture for Education Leadership Group and Research Committee shared the framework being developed to "create places where kids can be kids, where everyone knows me and that create meaningful change".  The values-based framework identified the 5 dimensions of safe and welcoming schools: equity, resilience, sense of belonging, community vibrancy and health & wellbeing. We all need to work to create places for learning where your zip code doesn't determine your health outcome, housing stability or economic power.
EDsessions
With over 60 ED sessions in just under three days, it was impossible to attend everything we were interested in. A few highlights were:
Universal Design for Learning: Discussions emphasized the importance of designing for the marginalized and underrepresented in the educational space, understanding that what benefits them often benefits everyone. Providing multiple means of engagement, representation, and action/expression was a core principle to ensure inclusivity in the learning process.
Designing a Space to Drive Innovation: A case study on the Innovation Lab in the CEET Building at Oregon Tech showcased the significance of flexible workspace furniture in encouraging active learning. The space, a favorite among students, emphasized innovation, collaboration, and idea generation – skills often sought-after by employers. The focus on self-choice, variety, and instructor-student space ownership dynamics was a key takeaway.
Educational Facility Tours: Higher Education
The Facility Tours at EDspaces continue to showcase innovative approaches and design strategies in educational architecture, exemplified by three institutions and their unique approaches to educational design and pedagogy.
UNC Charlotte Interdisciplinary Science Building: The building's design aimed to optimize space by reimagining lab layouts, enabling free-flowing corridors and interconnected lab spaces to facilitate the movement of materials and research. Notably, the collaborative efforts between students and faculty were showcased through a gorgeous feature wall.
Piedmont Community College Parr Center: The center synthesized multiple programs, including a library, student success center, campus commons, and an auditorium – affording a new heart of campus. During the tour, it was evident that faculty, staff, and students appreciate and value their new building. The design and construction teams had successful engagement with HUB (historically underutilized businesses) during the entire process.
Northeastern University Nursing School: At the Nursing School, the interior design exuded a professional workplace ambiance, significantly elevating the higher education experience. A notable strategy was a distinct departure from assigned faculty offices, with an emphasis on a hoteling model, offering a versatile, adaptable workspace.
These tours provided new understandings of the diverse design philosophies and practical applications in higher education facilities. Each institution demonstrated a unique approach to space utilization, technology integration, and the creation of dynamic, multifunctional spaces, reinforcing the idea that innovation in educational architecture is paramount to enhancing the learning experience.
EDfest at the NASCAR Hall of Fame
VS America sponsored this year's Edfest at the NASCAR Hall of Fame.  The high-tech building, designed by Pei Cobb Freed & Partners, contains large banking ramps and generous sloped exteriors, evoking the very quality of speed, and provided an ideal backdrop for lively networking. Meandering throughout the museum, we had the chance to look at exhibits, memorabilia, and artifacts, and defining moments in NASCAR's history. A favorite at the event was the racing and pit crew simulator – even though we didn't get anywhere near first place.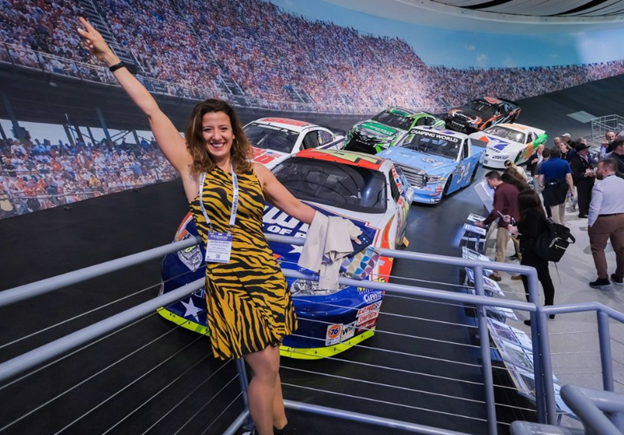 Final Thoughts
The conference provided exciting insights into the evolving landscape of educational design, from classroom flexibility to the creation of safe and inclusive learning environments. The multitude of information gathered from the sessions, tours, and interactions is already inspiring us in our design practice of educational spaces.  Thank you to EDspaces, the AIA Committee on Architecture for Education, and all the knowledge and presenting sponsors for making this conference such a success. Hope to see you all in Houston in 2024!
Co Authored by AIA CAE Members: Rebecca Baibak, AIA, REFP, LEED AP BD+C, Principal; and Molly Jacobs, AIA, LEEDAP BD+C, NCARB, Associate