Educational Distribution Symposium
November 2, 2021, 1:00-5:00 PM EST
The Educational Distribution Symposium combines education market training and networking savvy to encourage top management and sales professionals to chart service goals, explore new ideas, and embrace strategies for success.
EDS sponsored by:


KNOW YOUR WORTH
Interactive presentation with Casey Brown, President of Boost Profits
Most companies with exceptional products and services chronically under price because they believe customers and competitors limit their pricing power. The truth is you have much more say in your pricing than you may believe. Join Casey Brown, President of Boost Profits, in a fast-paced, interactive presentation to learn how to earn what you are worth in the market. Casey will clearly demonstrate the impact of price changes in your business, point you to areas of your business where you are underpriced, and arm you with confidence to execute a value-based pricing strategy. Interwoven with her talk will be interactive exercises that allow you to brainstorm with your peers to cement the learning from the concepts in a fun and engaging way.

Casey Brown
President, Boost Profits
Casey Brown is a pricing geek and professional speaker. Her passion is for people to be paid well for their excellence. She is the President of Boost Profits, a firm that helps companies generate more sales at higher prices for improved profits. Boost Profits works with teams to drive dramatic, sustainable results. Casey speaks at conferences, trade associations, and networking groups around the world, and she delivered a TEDx talk in 2015 with over 3.3M views to date. Casey started her career as an engineer at General Electric, working in both R&D and manufacturing, developing technology for which she holds a US patent. She went on to lead cross-functional teams and projects at GE and later at other Global Fortune 500 companies
ELEVATING THE ROLE OF THE DEALER
A&D Panel Moderated by Rhonda Ellington, ALEP, V.P. of Sales, Lone Star Furnishings, LLC
The foundation for success in today's marketplace is built upon the ability to initiate and maintain relationships over time, and a key is learning to partner with the architects and designers in the education space. Nurturing connections opens doors at optimal times during specification and buying cycles. Hear from an expert panel of architects specializing in education needs about what they seek in distributors and vendors. Gain insights about positioning your firm as a resource for the design community to create and furnish the best spaces for learning. Walk away from this informative panel discussion with tools for success.

Wendy Watts, IIDA
Principal, Education Design, Wight & Company
Wendy Watts is a Principal, Education Design at Wight & Company. Her educational design leadership and continuous pursuit of exceptional design solutions has led to environments for learners of all ages to thrive. Wendy understands that the fast-evolving pace of education delivery methods call for environments that perform at a high level. Wendy holds a Bachelor of Fine Arts in Interior Design from Northern Illinois University.

Anna Kowalczyk, BAAID, ARIDO, IDC, LEED® AP ID+C
President and Founding Principal, Daedal Design
As President and Founding Principal of Daedal Design, Anna draws on her 20+ years of industry experience working with school boards and institutions across Southern Ontario, Canada. Ranging from early childhood to post-secondary, in both the public and private sectors. Utilizing her extensive knowledge on educational design strategies, Anna brings a holistic approach, optimizing overall facility management and the end-user experience.

Sylvia Kowalk, Associate AIA, LEED® AP ID+C
Principal and Director of Interior Design, Legat
Sylvia is a Principal and Director of Interior Design leading Legat's interior design practice. Her portfolio ranges from preK-12 and higher education facilities to performing arts centers, libraries, community health centers, and corporate environments. She regularly speaks about interior design trends and challenges at regional and national conferences. Sylvia holds a Bachelor of Arts in Interior Design degree from Visual Arts Design Institute in Mexico.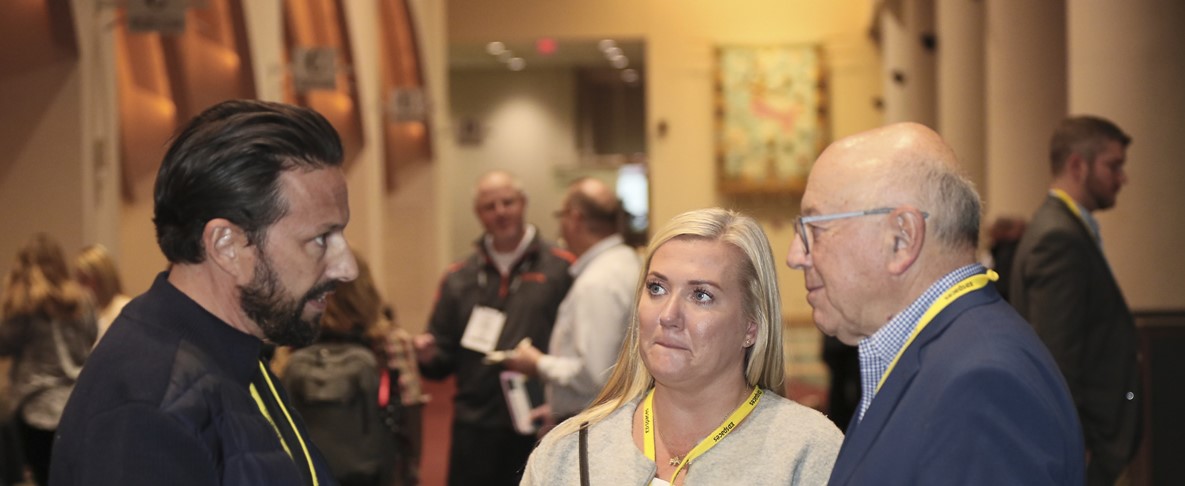 FEE:
EDmarket Members: $25
Nonmembers: $100
Please note that registration is limited to distributors, suppliers and independent manufacturer's representatives.