SOA Architekti | BoysPlayNice
We invite you to explore the future of learning environments
Innovation transforms learning environments, 
and it's on full display at EDspaces—where 
technology, space, and pedagogy converge.
The EDspaces 2021 Show Program is here,

view it now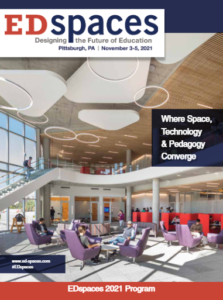 Why Attend?
    ADO | BoysPlayNice 
Learn in 50+ sessions focused on state-of-the-art planning, designing, and managing next-gen environments.
Collaborate at café and specialty spaces in the exhibit hall that promote innovation, evolution, and interaction.
Experience six classrooms of the future designed by visionary A+D firms at EDspaces.
Explore exemplary education environments in architecturally curated, expeditionary experiences.
Stay informed on all things EDspaces