EDspaces Product Innovation Awards
Recognizing Innovative Product Design for Learning Environments
EDspaces and media partner Learning By Design magazine are proud to host The Product Innovation Awards program which have recognized Best in Class Product Design for Learning Environments. A panel of education industry professionals review and evaluate all awards submittals based on specific criteria including: a demonstrated rigor in design for education environments, aesthetics, innovation, sustainability, academic and emotional impact, and much more. The following entries won top awards  in 2021.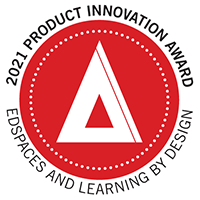 2022 Call for Entries Now Open
Deadline to Submit Entries: September 12, 2022
Manufacturers planning to exhibit and/or sponsor at EDspaces 2022 (Portland, OR, November 2-4) are invited to enter new sales-ready products that are: innovative; demonstrate rigor in design for education environments; are appropriate for the age of learner; are for specific settings and/or activities; are based on research and customer collaboration; have a level of certification; augment learning and/or space utilization; improve the social, emotional, and cognitive well-being of students, staff and community; and are sustainable and aesthetically pleasing.
Products must be on the market (sorry, no prototypes), with an introduction date after October 2020.
Product Innovation Awards Process:
An elite jury of industry professionals will review all submittals, and determine which products will move to the Finalist round.
Companies with product entries chosen as Finalist must be available to "live pitch" their product to jurors at their EDspaces booth just after exhibit set-up on Tuesday November 1st, starting at 5pm.
All entrants are required to attend the EDspaces Opening Plenary & Product Innovation Awards Presentation where 3 top Product Innovation Awards (Best in Show; 2nd Place, 3rd Place) award recipients will be revealed, products highlighted, and design teams called to stage to receive their award.
All entered products will be featured in two post-awards ceremony email campaigns plus will be featured for six months on the Learning By Design Magazine website.
A Product Innovation Gallery will be staged at the EDspaces conference and will include boards with all submitted products. Each board will include a product photo, company name, website, booth number, product name and 50-word description.
A QR code be placed on all entered projects utilized for attendees to cast their vote for a "People's Choice Award" vote – a special bonus award to be announced at the conclusion of this year's conference.
Upon entry participants will receive instructions and a template for preparing their product entry. Submissions will include photos, product descriptions, and responses to Q&A. We also encourage a video clip, up to 2 minutes in length, to be included within your presentation. For Questions, please contact Donna Hidalgo at 210-419-9017 or email donna@learningbydesignmagazine.com
Entry Rates: $695 / First Entry: $565 for each additional entry
2021 Award Winners Gallery
Best in Show: C-Table Max Personal Work Surfaces by KI
2nd Place: Chameleon Classroom System by CEF
3rd Place: Core16 USB by PowerGistics
People's Choice Award: KIO Tinker by MiEN Environments