EDspaces explores a variety of learning environments from Pre-K through Higher Education. Enhance your EDspaces experience through expeditionary learning in and around Portland, touring education institutions with different innovations transforming the places where students learn.
All tours include an educational component in a variety of learning environments, and each qualifies for multiple AIA LU/HSW and IDCEC CEU/HSW credits.
Tours have a limited number of participants to maximize your experience. Select your tour(s) as an add-on during registration. The price of each is listed below each description
Please note: One tour is included in the Architect/Designer full conference registration; all others must purchase a ticket. Architects/Designers may purchase a ticket to participate in a second tour at a different time from the first tour choice.

K-12 EDfacility Tour (A)
Tuesday, November 1, 12:00 PM-5:00 PM (Credit: 3 AIA LU/HSW, 3 IDCEC CEU/HSW)
The price for this tour is $150; Preregistration is required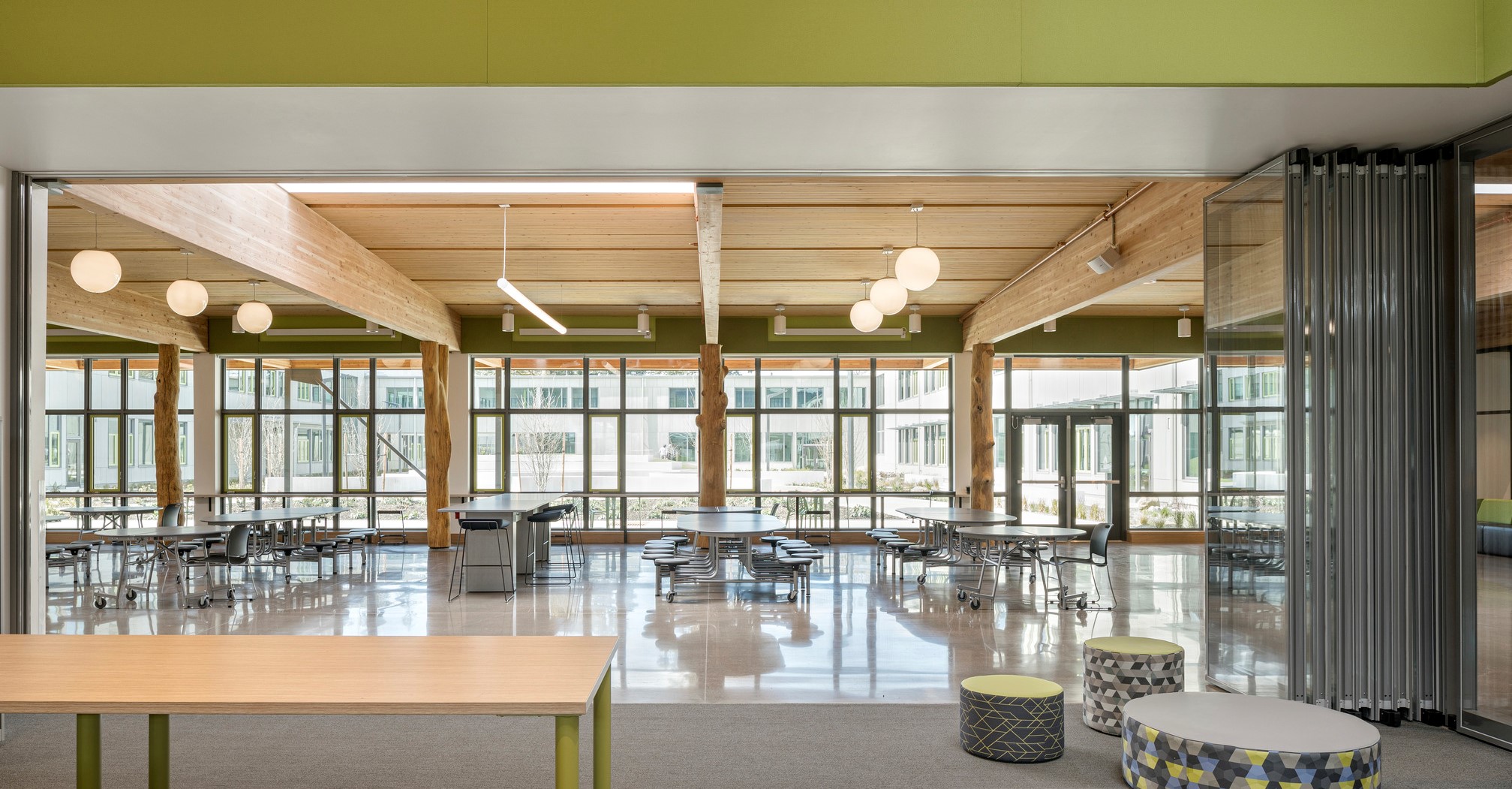 Lakeridge Middle School, Lake Oswego School District
Architect: Mahlum Architects
With its warm and welcoming environment, Lakeridge Middle School is designed to support the unique needs of the middle school learner. Recent research indicates exposed wood surfaces create positive emotions. Embracing that analysis, the design team used tenets of biophilia throughout the building's structure, including exposed wood beams, wood ceilings, and White Oak tree trunks that were harvested from the site. These materials evoke feelings of being in nature, reducing stress, anxiety, and aggressive behaviors in students. Dubbed as "learning studios," the primary learning spaces have been reimagined as a series of adjoining classrooms. These studios wrap around a central courtyard, which allows natural daylight in and views to the outside. Each tech-savvy classroom features multiple teaching walls, mobile technology, and flexible furniture, while the adjoining larger rooms accommodate a larger number of students and are outfitted with hanging power grids, shop-style sinks, and mobile tool closets for shared project work. The dining commons and classroom wings make use of hybrid passive cooling. This strategy allowed the building to reduce its energy use to a predictive EUI of 22kBTU/sf/yr. The system includes operable windows and dampers that draw cool air through the building. It is aided by ceiling fans that mix the air within the rooms and exposed thermal mass. Gardiner Middle School, Oregon City School District
Architect: BRIC Architecture, Inc.
When Oregon City School District set out to reimagine the traditional middle school education model, they embraced a fundamentally different engagement approach to match. The elevation of student voice became a defining characteristic of the design work for Gardiner Middle School. Twelve students ultimately served as core members of the project's Design Committee. Such strong committee representation empowered them to inform discussions and contribute to a multi-faceted understanding of the educational approaches and design features that truly inspire students. Timber Hall, Gardiner's comprehensive cafeteria, performance venue, gathering area, and extended learning space, was also shaped by students. From assembly and socializing to decompression and quiet study, Timber Hall allows students to embrace a sense of agency as they utilize the areas that suit their needs. Gardiner's design reinforces new project-based, student-centered curriculum that fosters holistic solutions around education and wellness. The school is organized in a series of grade-specific learning neighborhoods that feature core subject classrooms arranged around a large common area, hands-on labs, and collaboration zones that promote community through proximity and transparency.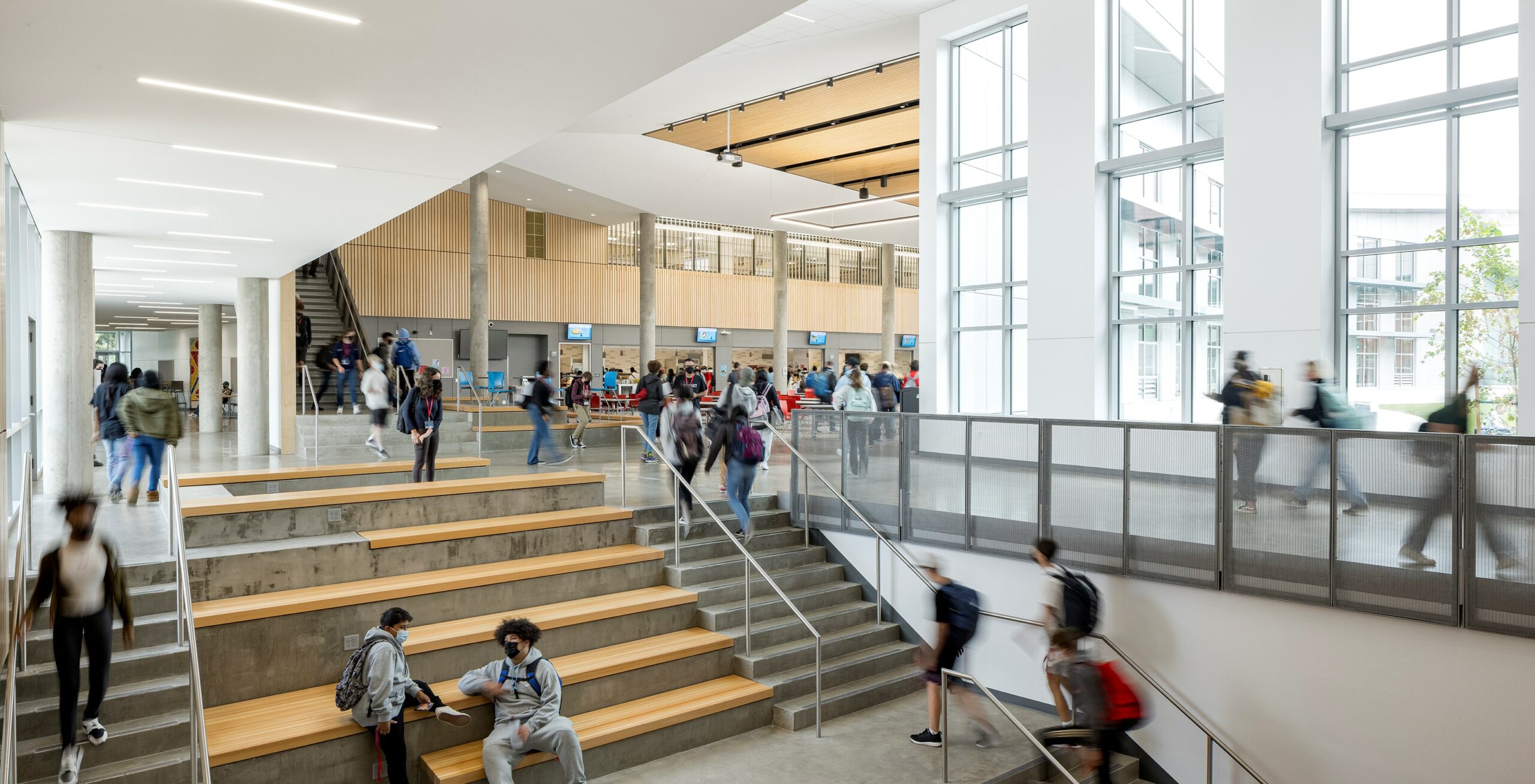 McDaniel High School, Portland Public Schools
Architect: Opsis
The Leodis V. McDaniel High School (McDaniel High School) tour will highlight the transformational rebuilding of the new 296,000 sf school from the former 1958 facility into a next generation learning environment that serves the city's most culturally diverse student population, encompassing more than 30 spoken languages. Following a two-year planning and design effort, the team focused on a process of engagement that involved hundreds of diverse stakeholders through a series of hands-on interactive workshops, involving the use of visual and tactile tools, language interpreters and multi-language graphic materials. With an overarching goal for creating an inclusive and collaborative learning community, the citizen-focused planning committee worked in small-group sessions to literally "break apart" the building, both vertically and horizontally, to make connections and fill the spaces with natural light and views across the city and into the neighboring city park. The new double "loop" circulation plan replaces the dead-end classroom wings to bring all parts of the large school together. The tour will include the modernized school's distinct features, such as the double-height Commons, social stair, flexible learning spaces, CTE and makerspaces, a new STEM wing and a range of new athletics facilities including a 1,700-seat gymnasium
High School Deep Dive EDfacility Tour (B)
Tuesday, November 1, 1:00 PM-5:00 PM (Credit: 3 AIA LU/HSW, 3 IDCEC CEU/HSW)
The price for this tour is $150; Preregistration is required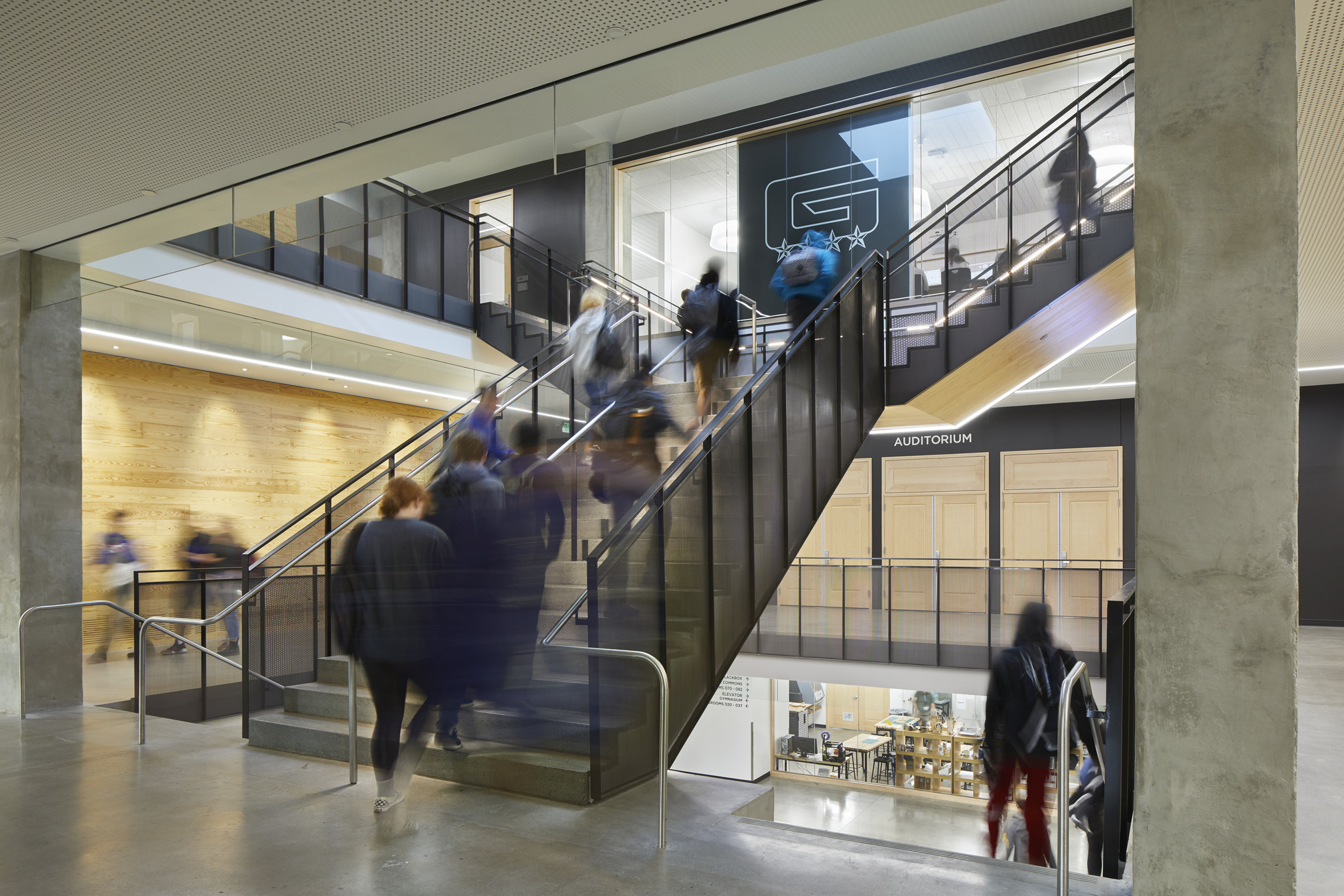 Grant High School, Portland Public Schools
Architect: Mahlum Architects

For the $138M modernization of Grant High School — an historically significant school located in Portland's Grant Park neighborhood — Mahlum led a year-long public engagement process, which exposed that the historic structure disadvantaged students of lower socio-economic status, race, and gender identity. Students were experiencing social injustices due to the building's architecture and organization, despite the school's progressive commitment to equity. In response, the design team focused on leading the initiatives for connectivity between all levels and interior spaces; to excavate five disconnected, submerged basements; to provide all-access, inclusive restrooms; to heal the relationship to Grant Park; and to marry yesterday's historical character with tomorrow's best-practice teaching spaces. Grant High School's redesign offers a study in how bold spatial solutions can create learning environments that intentionally address legacies of disadvantage through design; and how, by designing for all, Grant has realized a more physical, racial, socioeconomic and gender-inclusive community in which all students feel accepted and connected. Now a revitalized, equitable home for learning, Grant's modernization demonstrates that addressing hidden bias will empower its 1,800 students to build inclusive communities, uplifting the next generation through the power of architecture.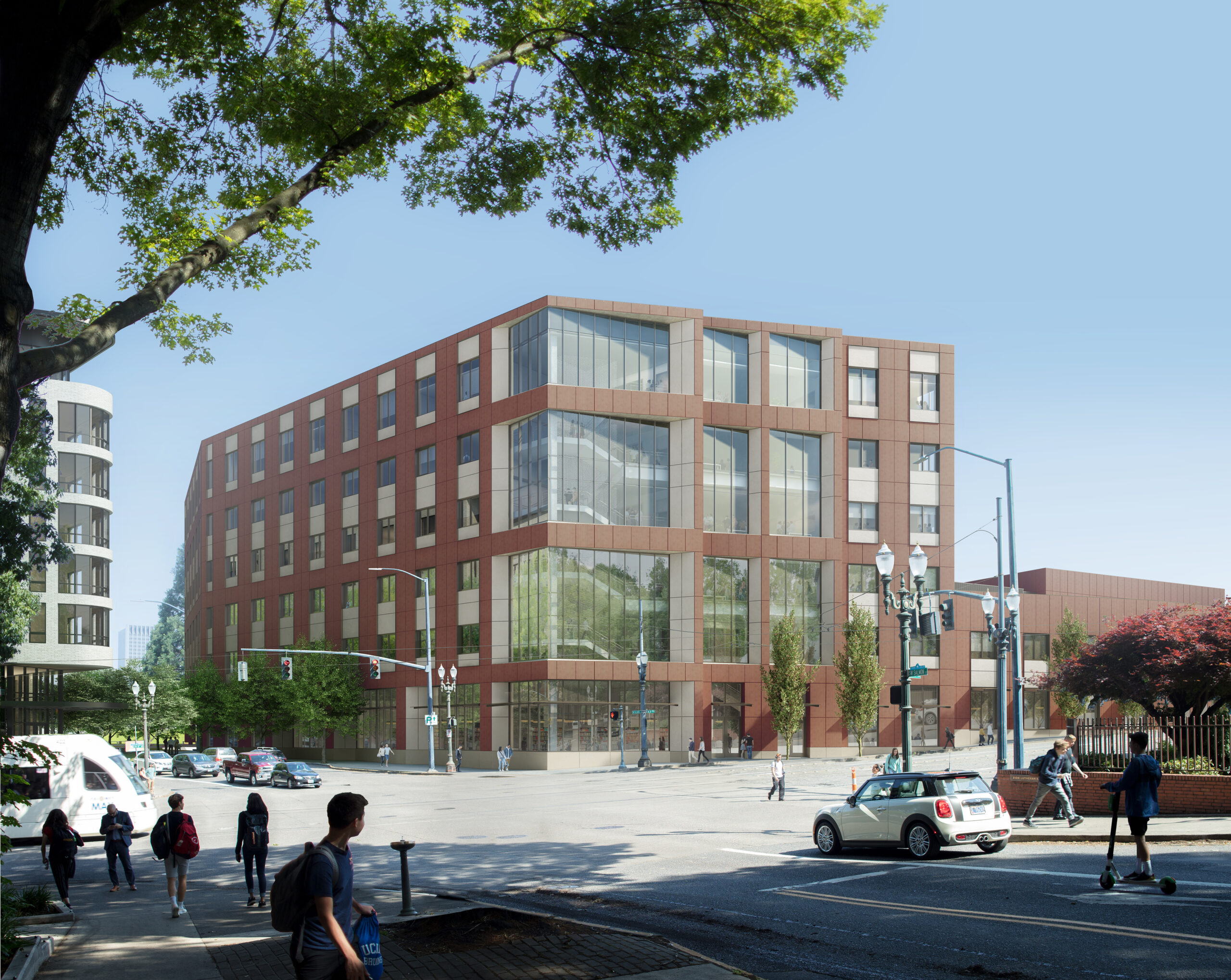 Lincoln High School, Portland Public Schools
Architect: Bora Architecture & Interiors
At six stories high, Lincoln High School is the first mid-rise high school in the state of Oregon. Situated on a constrained urban site in downtown Portland, this mid-rise design is the perfect build. The high school is envisioned as a modern learning environment bringing together a varied program into a cohesive and compact singular form. The new build presents a creative model of restraint and economy of space while also maximizing design. Prominent exterior glass-wrapped stairs emphasize the school's vertical nature. This projects a sense of movement and energy outward from the school. Flexible learning spaces on every floor cultivate social hubs and intersections for collaboration. Floor-to-ceiling windows and east/west views strengthen students' connections to the active urban edge and to the mountains and hills beyond. The building design features a shared commons space and new media center and will double the size of the original school, providing generous gathering venues for the greater community.
Higher Ed EDfacility Tour (C)
Thursday, November 3, 8:00 AM – 12:00 PM  (Credit: 3 AIA LU/HSW, 3 IDCEC CEU/HSW)
The price for this tour is $150; Preregistration is required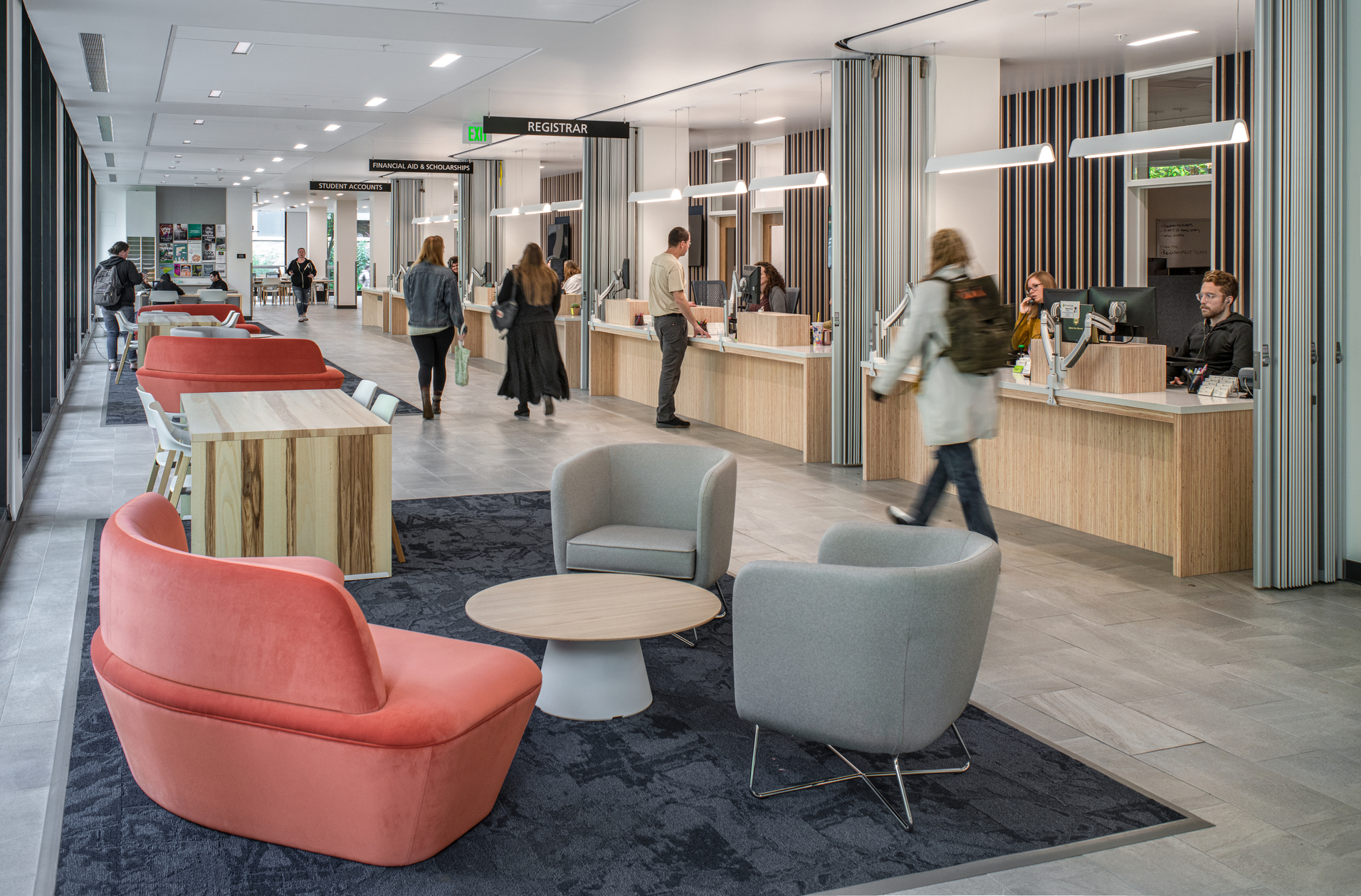 Fariborz Maseeh Hall, Portland State University
Architect: Hacker Architects
Originally constructed in two parts during the 1960s, Portland State University's Fariborz Maseeh Hall (formerly Neuberger Hall) is home to multiple academic departments, student services and campus administrative offices, and PSU's largest number of general pool classrooms. It serves nearly all of PSU's students at some point in their academic careers – and this renovation project seeks to transform a worn out, fortress-like, brutalist-era building into an inviting, modern, and sustainable higher education facility. In addition to addressing accessibility and safety issues, the renovation design emphasized access to daylight and creating connection and flow between inside and outside spaces. New entrances on both sides of the building connect Maseeh Hall to both the active urban side of campus facing the city and the verdant, bustling Park Blocks, improving circulation, and creating a more welcoming arrival experience for visitors. New windows along the ground floor and a central lightwell will bring natural light to all floors of this dense 220,000 SF building, including the new student-focused atrium space at Maseeh Hall's heart. Maseeh Hall is also the home to the Jordan Schnitzer Museum of Art.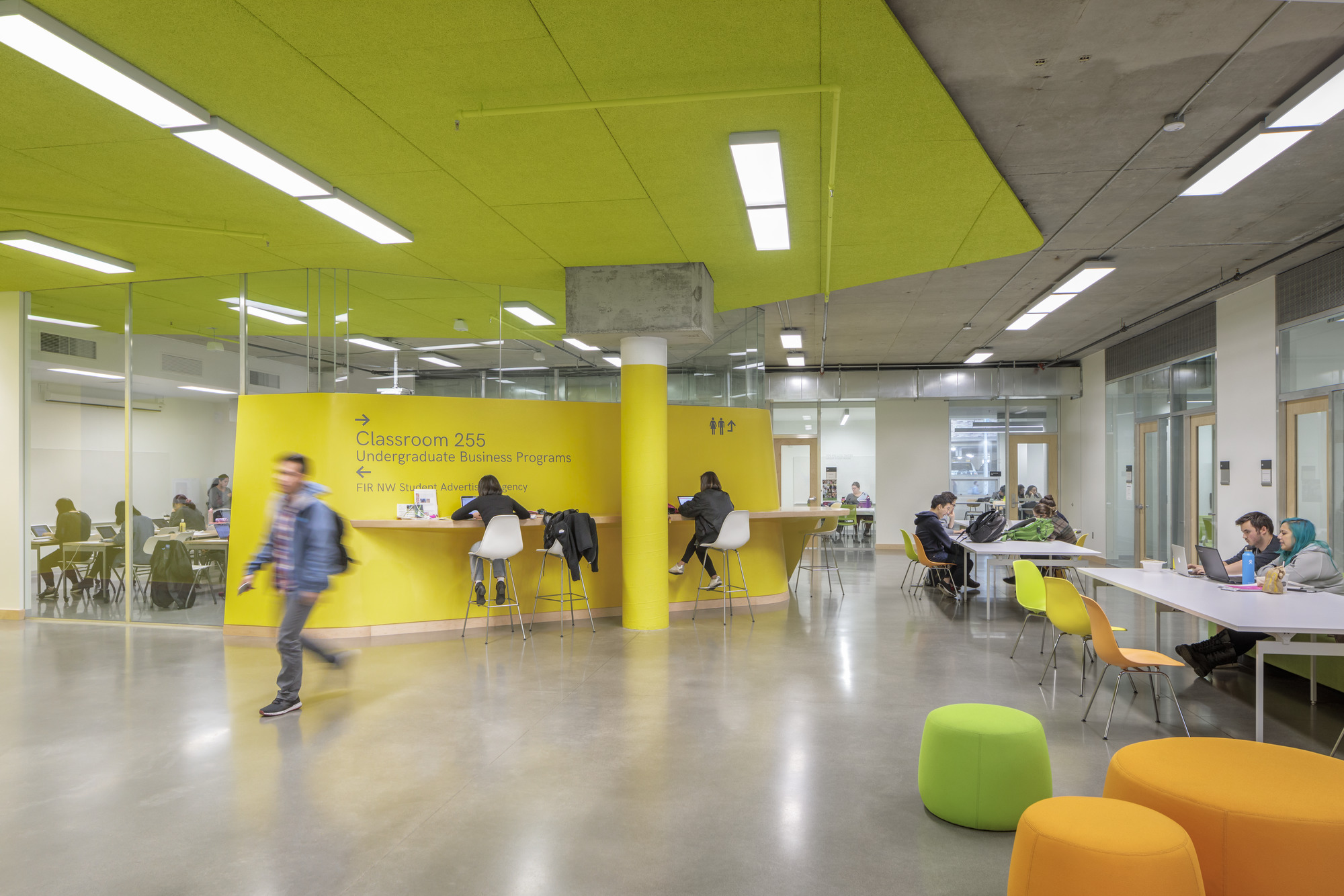 Karl Miller Center, Portland State University
Architect: SRG Partnership
The Karl Miller Center is an iconic, world-class building and home to the Portland State University School of Business located in the heart of downtown Portland, Oregon. Designed by SRG Partnership and Behnisch Arkitekten and completed in 2017, the extensive renovation of and addition to the existing building added 45,000 sf to the existing 100,000 sf structure. The original 1970s building had nowhere for students to gather for informal learning, and access to daylight and fresh air was minimal. Driven by diverse programmatic needs and fueled by a performance-based approach, the resulting design orients users around a multi-story central space that collects and amplifies daylight and suffuses the deep floor plates of the older structure with new life. LEED Platinum certified, the building utilizes a variety of innovative yet largely passive low-tech climate concepts to minimize the environmental impact, reducing the total site Energy Use Intensity (EUI) of the new building to less than half the original pre-renovated structure.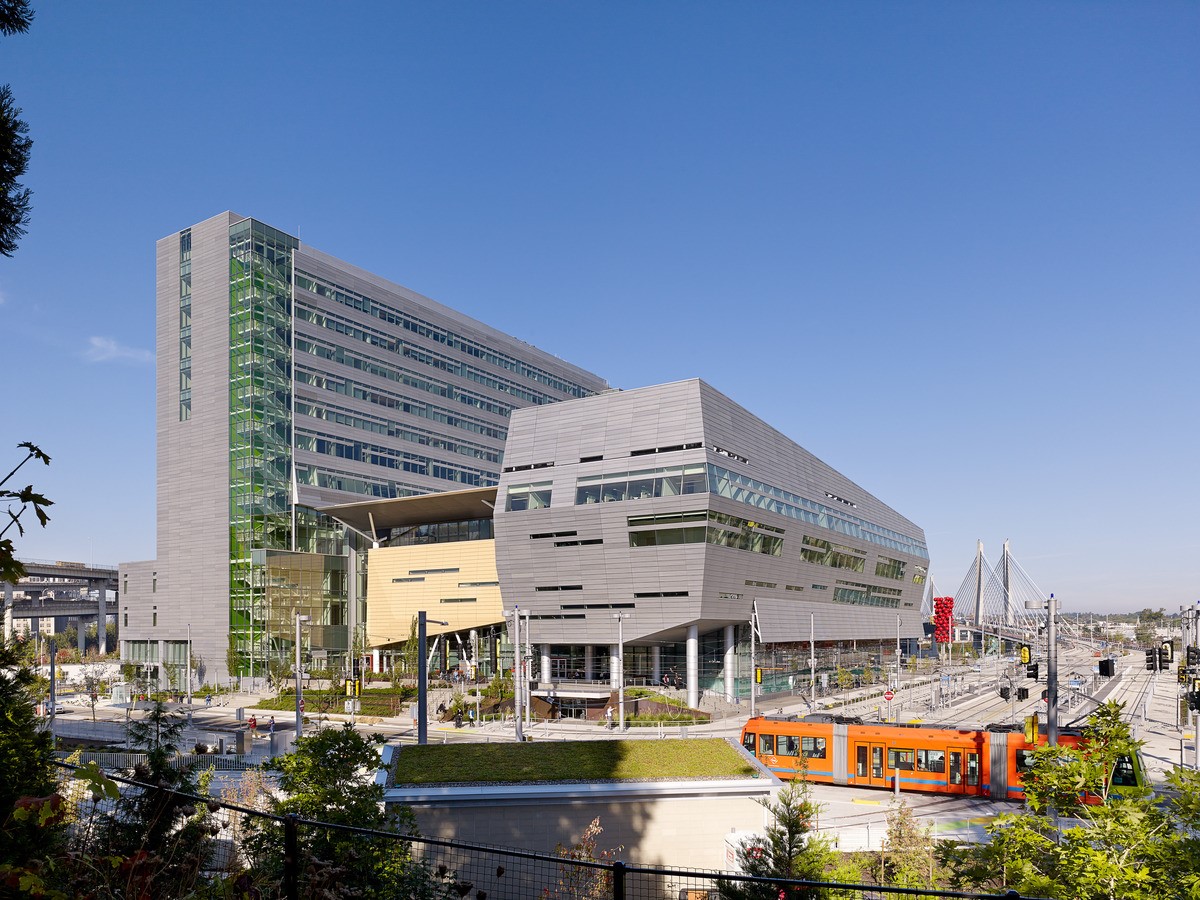 Robertson Life Science Building & Skourtes Tower, Oregon Health Sciences University
Architect: SERA Design
The Oregon University System and Oregon Health & Science University partnered on the Robertson Life Sciences Building (RLSB), a new allied health, academic and research building. Completed in 2014, SERA Architects and CO Architects collaborated on this fast-track, multi-phase project — the first in the Schnitzer Campus at Portland's South Waterfront. The RLSB incorporates classrooms, lecture halls, laboratories, retail space, and underground parking. The adjoining Skourtes Tower houses OHSU's School of Dentistry clinical, training, and research spaces. The two buildings together comprise 650,000 square-feet of new construction in two wings joined by a central atrium. Certified LEED-NC Platinum and the recipient of an AIA COTE Top Ten Award, the RLSB/Skourtes Tower incorporates several sustainable design innovations, including transformation of an existing brownfield, access to public transit, stormwater management, eco-roofs to reduce stormwater runoff, non-potable water for toilet flushing, atrium heat recovery, and low ventilation fume hoods.
K-12 EDfacility Tour (D)
Friday, November 4, 8:00 AM – 1:00 PM (airport stop at 12:30 PM) (Credit: 3 AIA LU/HSW, 3 IDCEC CEU/HSW)
The price for this tour is $150; Preregistration is required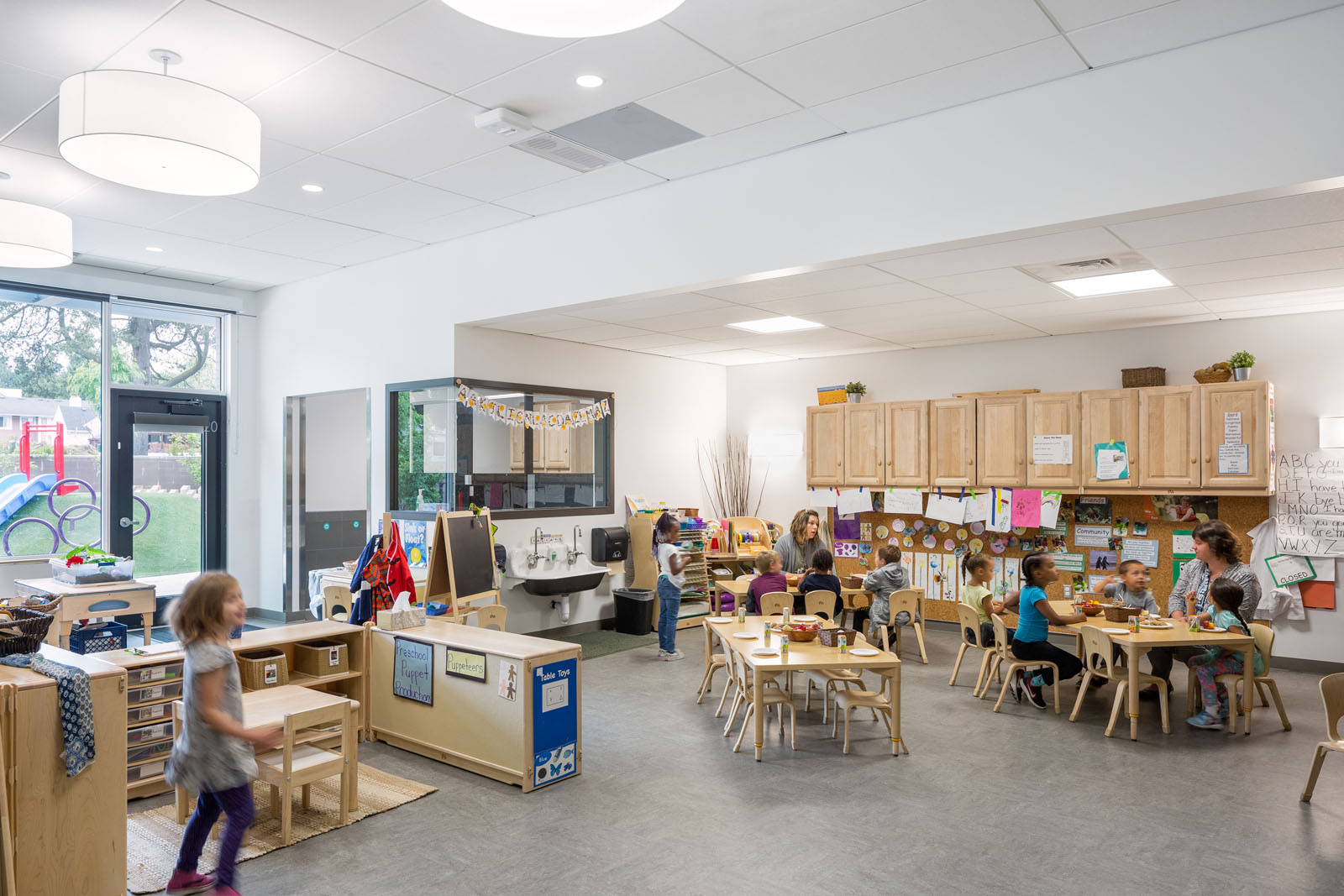 Faubion PK-8 + Concordia University, Portland Public Schools
Architect: Bora Architecture & Interiors
The new 135,000-square-foot PK-8 Faubion School represents a unique partnership with Portland Public Schools (PPS), Concordia University (CU), Trillium Family Services, Basics, and Kaiser Permanente.  For three years, Bora worked with these entities to design a pioneering facility that co-located CU's College of Education and the Faubion School, providing both hands-on learning for emerging educators and a wealth of mentors and tutors for young students. Additionally, the building includes spaces for essential wrap-around services: a student health and wellness clinic (partially staffed by students from CU's College of Health and Human Services), reduced-price food market, offices for non-profit social service agencies, and community education spaces.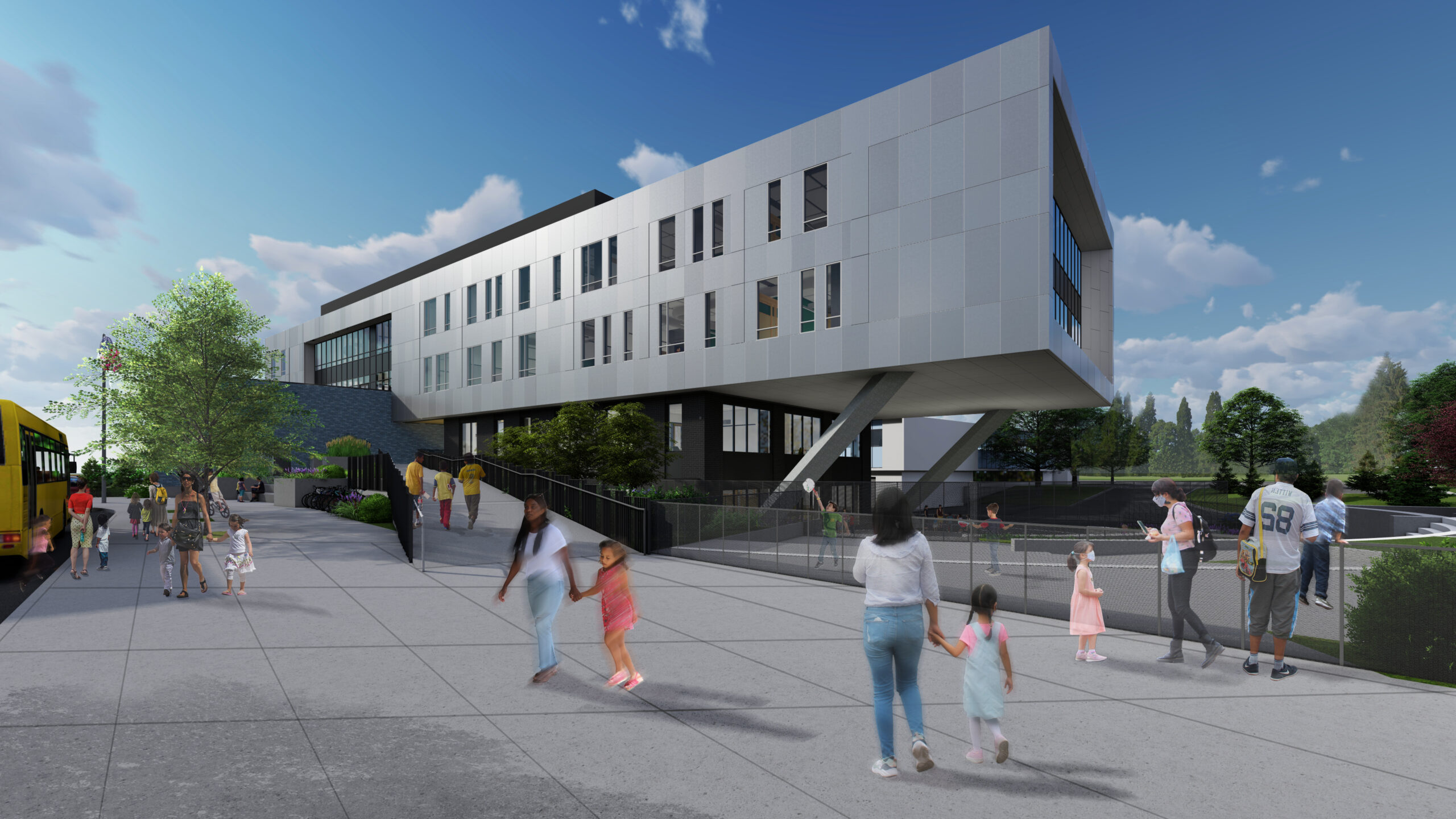 Vancouver Innovation, Technology and Arts Elementary School (VITA) - Vancouver Public Schools
Architect: LSW Architects
Designed to be open, bright, and highly flexible, the concept for Vancouver Innovation, Technology, and Arts (VITA) Elementary School is based on the idea that learning happens everywhere. Through its unique layout and cohesive sequencing, this 63,454 square foot building offers creative learners and teachers a variety of spaces that will nurture curiosity, help them develop a design-minded approach to solving problems, and participate in an empowering and joyful learning experience. The project-based learning school will focus on innovation, technology, and arts, as well as the development of downtown community partnerships that enhance student learning. VITA is a community of equity and excellence. LSW Architects and Vancouver Public Schools (VPS) teamed up during the pre-design phase to imagine an environment that would reflect VITA's interdisciplinary curriculum and capture the imagination of its students. The result of this collaboration is a school that feels entirely inter-connected and fluid: from room to room within the building and extending to outdoor learning and play. The removal of traditional barriers, such as fixed walls between classrooms, is a metaphor and an invitation for students to draw from their own varying interests and develop new solutions to common problems.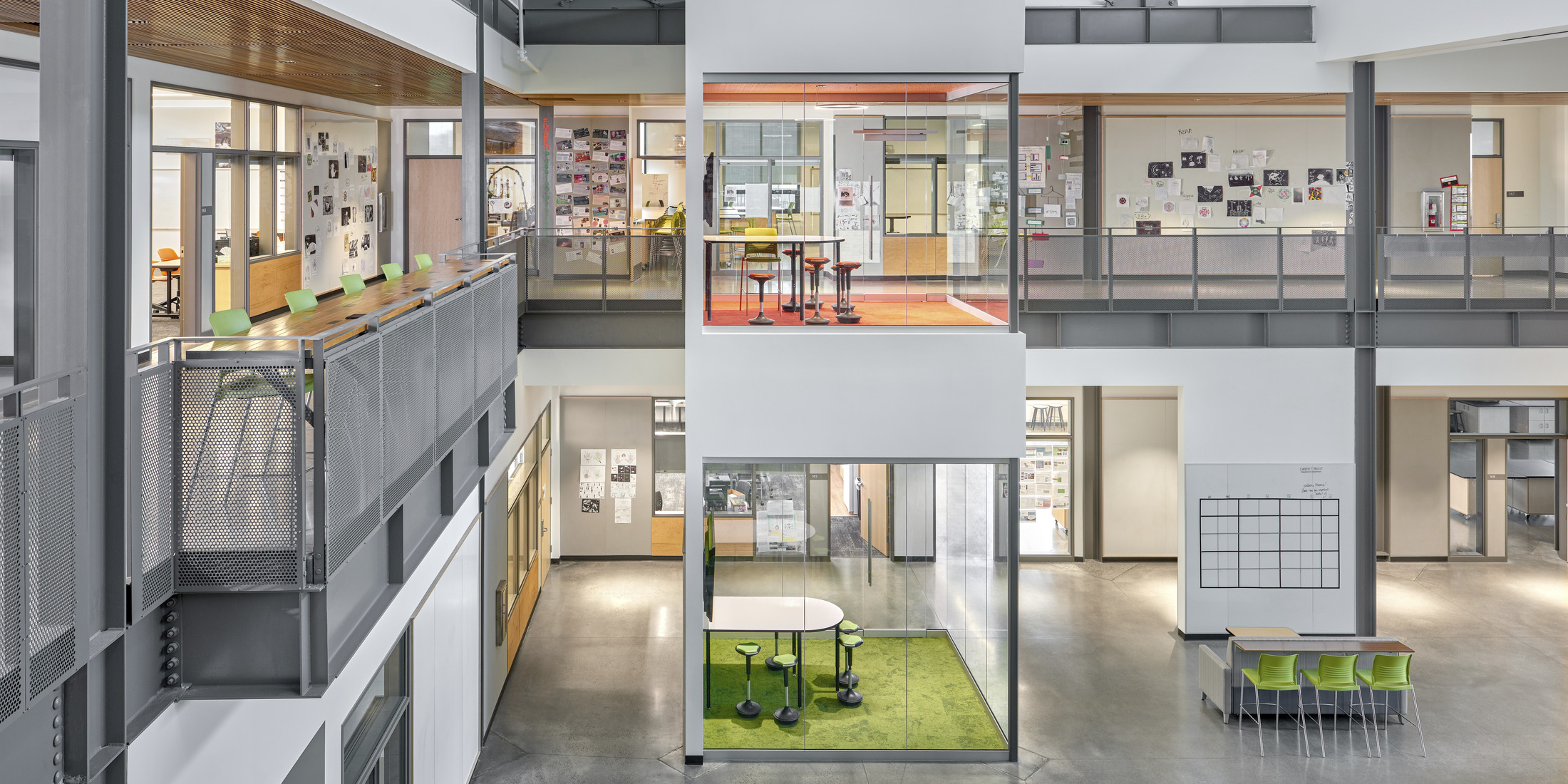 Discovery High School/Odyssey Middle School, Camas School District
Architect: DLR Group
Discovery High School is a unique educational environment designed to deliver project-based learning to 9th through 12th grade students. The program centers on collaborative, integrated learning with a focus on design theory, research, inquiry, and demonstration. All spaces, connection between spaces, and outdoor connections are designed to support these learning modalities. As part of a larger campus, students can begin their project-based learning experience at the adjacent Odyssey Middle School, housed in a former office building. Serving up to 600 high school students, a cluster of four research and development pods form the suite of core learning spaces where groups of 150 students spend most of their day. The "Fab Lab" includes digital controls, a fabrication area, computer lab, and tools exchange, and the adjacent outdoor learning area provides specialized hands-on learning. The HUB is the center of the school for students to gather, present or socialize. Sustainably designed to reach the 2030 Challenge, Discovery High School integrates cost-effective, energy-efficient systems. The building's orientation along an East-West axis reduces sun exposure and minimizes heat gain within the building. The building's volume capitalizes on natural daylight and ventilation with appropriately placed operable windows, continuous clerestory, and skylights.