EDspaces explores a variety of learning environments from Pre-K through Higher Education. Enhance your EDspaces experience through expeditionary learning in and around Pittsburgh, touring education institutions with different innovations transforming the places where students learn.
All tours include an educational component in a variety of learning environments, and each qualifies for multiple AIA LU/HSW and IDCEC CEU/HSW credits.
Tours have a limited number of participants to maximize your experience. Select your tour(s) as an add-on during registration. The price of each is listed below each description
Please note: One tour is included in the Architect/Designer full conference registration; all others must purchase a ticket. Architects/Designers may purchase a ticket to participate in a second tour at a different time from the first tour choice.

Preconference Sustainability Tour
Tuesday, November 2, 2:00-5:00 PM (Credit: 2 AIA LU/HSW, 2 IDCEC CEU/HSW)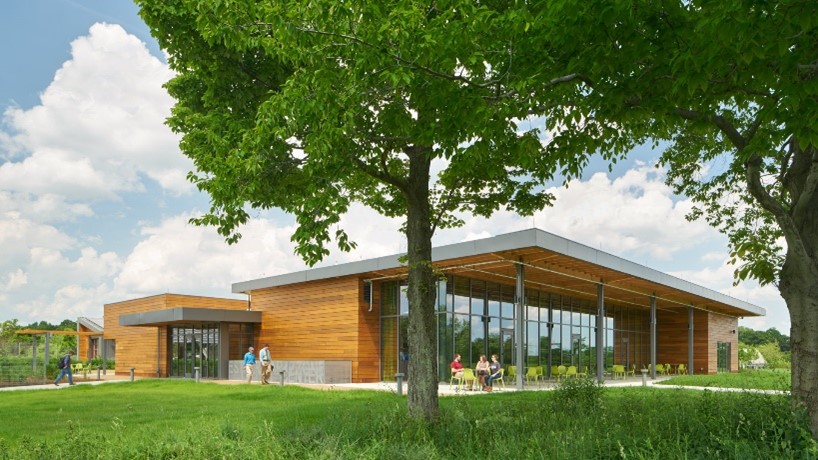 Chatham University: Eden Hall
Architect: Mithun
AIA-CAE Award Winner
Chatham University's Eden Hall campus is a nearly 400-acre academic community dedicated to sustainable living and the modeling of sustainable approaches to: energy, water and soil, food and agriculture, and air quality and climate. Home to Chatham's Falk School of Sustainability & Environment, Eden Hall is where undergraduate and graduate students work side-by-side with professors on research and practice initiatives that utilize the campus (and beyond) as a hands-on lab to complement their classroom learning. Sustainable approaches to food — planning, growing, preparing, marketing, eating — are an epicenter of Eden Hall Campus. Eden Hall serves as an inspiration for sustainable practices and ideals to the larger region through community-based workshops, K-12 partnerships, arts & culture programming, green weddings and events, and acres of accessible woodlands and trails.
The price for this Tour is $50; Preregistration is required.
Higher Education Tour A
Friday, November 5, 10:30 AM-3:30 PM (Credit: 3 AIA LU/HSW, 3 IDCEC CEU/HSW)
Frick Environmental Center
Architect: Bohlin Cywinski Jackson
AIA-CAE Award Winner
The Frick Environmental Center is an educational hub, a public visitor center, and a gateway to Frick Park. Free and open to all, this cutting-edge facility acts as a living classroom, providing families, students, and learners of all ages with a state-of-the-art space for hands-on, experiential environmental education. The Center serves as the classroom base for programming that extends into the surrounding woodlands, streams, meadows, and trails of one of Pittsburgh's largest parks. A project of the Pittsburgh Parks Conservancy and the City of Pittsburgh, the Frick Environmental Center is a certified Living Building that has achieved Leadership in Energy and Environmental Design (LEED) Platinum certification.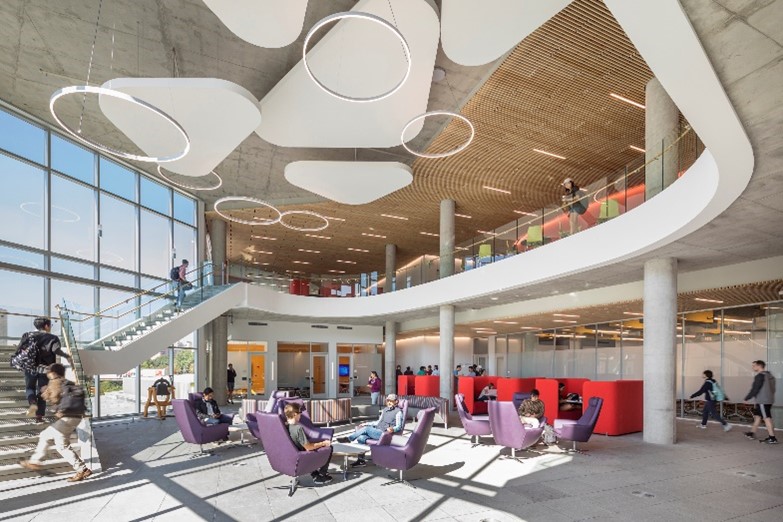 Carnegie Mellon University: Tepper Quad
Architect: Moore Ruble Yudell Architects & Planners
AIA Pittsburgh Honor Award, Urban Land Institute Pittsburgh Placemaking Award, and AIA LA Cote Citation Award Winner
Societal challenges and opportunities no longer fit in departments. Future success requires business researchers, educators, and students to interconnect across the campus and beyond to drive a new research and education model. As campuses reopen, the Tepper Quad project provides an interconnected HUB that breaks down silos and brings together an unprecedent diversity of uses and stakeholders with an immersive environment that encourages creativity, dialogue, and connection. The Tepper School of Business moves from the edge of campus to a new center that energizes and interconnects all seven colleges and provides a rich ecosystem of campus serving resources that can change and evolve over time. Tour attendees will learn how campuses can plan for future-proof, flexible, and robust building armatures that are "Ready for Change" and can adapt to rapidly evolving needs.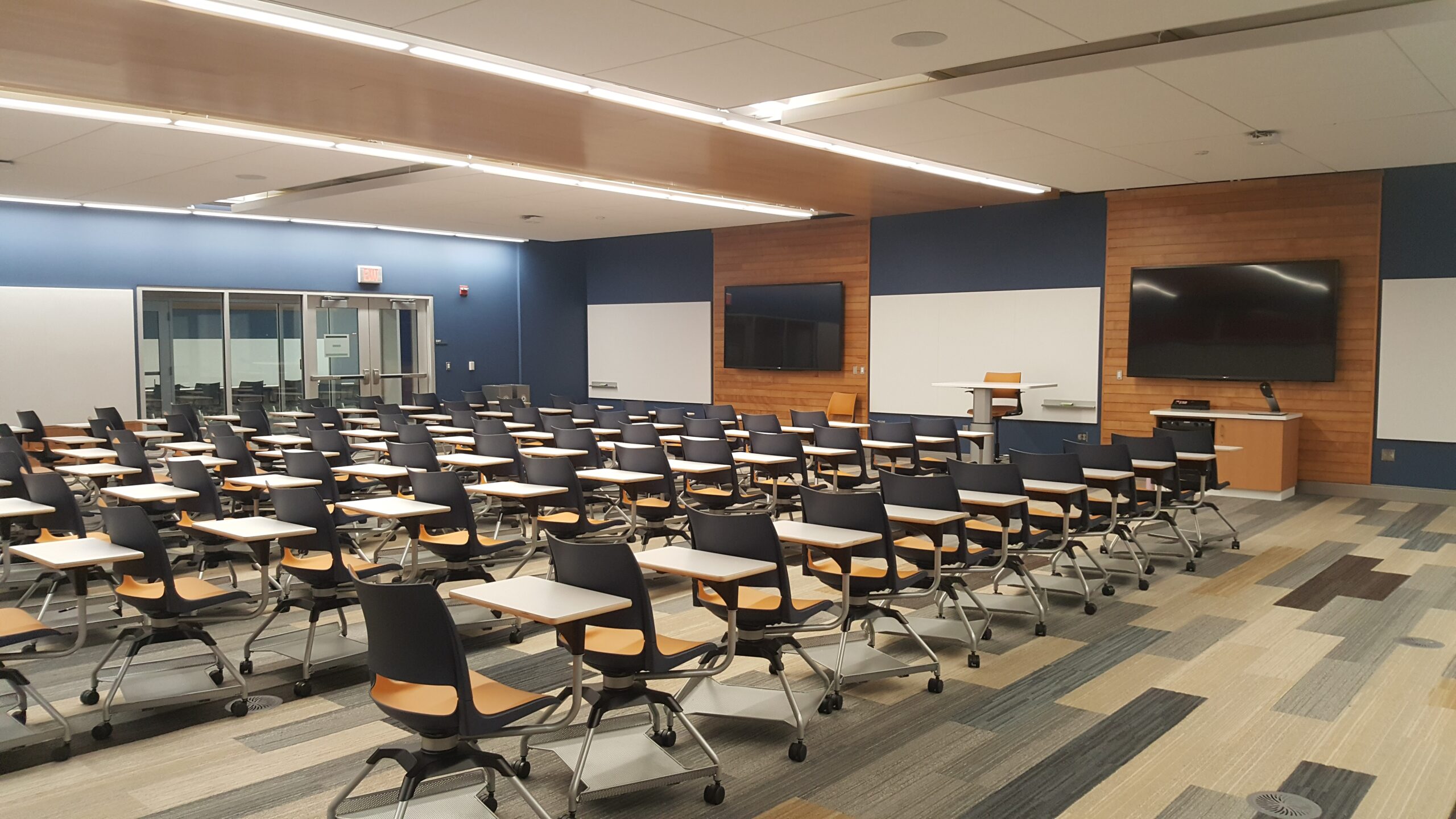 University of Pittsburgh: Posvar Hall
Architect: Strada
Located in the galleria on the ground floor of Wesley W. Posvar Hall, the Global Hub is a student-centered, university-wide resource, advising, and engagement center that enhances students' educational experience with an international and global focus. In renovating this 1970s building, the University of Pittsburgh sought to create a warm and inviting place that would celebrate diverse international cultures and spark interest in connection and exploration. The colors, textures, and patterns of the Global Hub are a delicate blend of international influences, giving a sense of many cultures without directly connecting to any one in particular. Innovative technologies were integrated into the space as a means of delivering multimedia information. The interactive media wall invites users to learn more about programs that match their interests, while the two-story experience wall features abstract time displays and shows videos and information about various locations around the world.
The price for this Tour is $150; Preregistration is required.
K-12 Tour B – SOLD OUT
Friday, November 5, 10:30 AM – 3:30 PM  (

Credit: 3 AIA LU/HSW, 3 IDCEC CEU/HSW)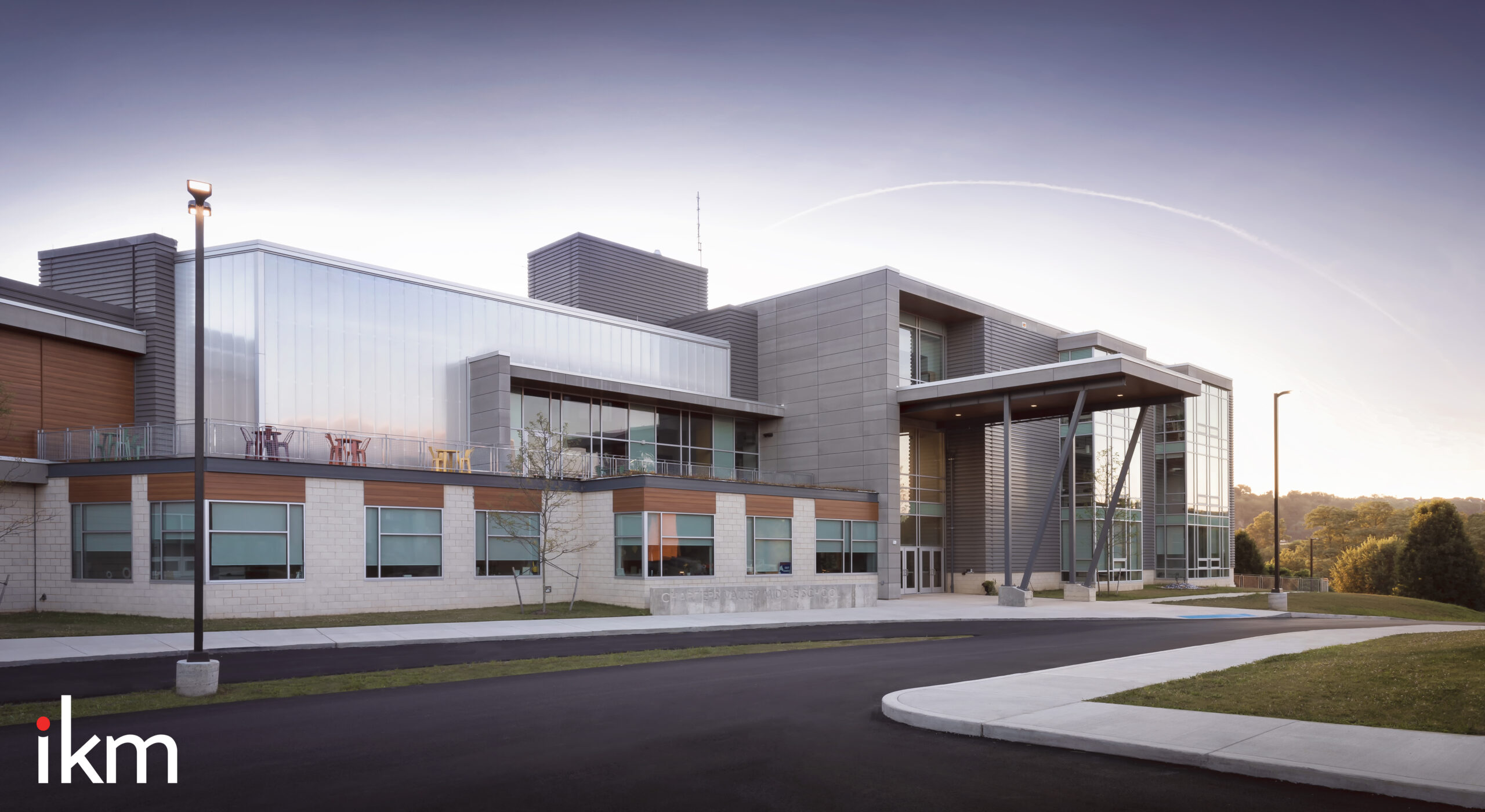 Chartiers Valley Middle School
Architect: ikm
Chartiers Valley School District needed a Middle School that would provide a flexible and agile learning space that establishes a healthy environment, uses space to impact learning, and sparks inspiration for students to believe in themselves. They needed to transform their school from a "cells and bells" model into a truly learner-focused environment that gives students the confidence to tackle the unprecedented challenges ahead of them. The design of the Small Learning Communities allows educators to embrace multidisciplinary collaboration and create an entirely new paradigm for students. Greater transparency exposes students to the district's unique program offerings and encourages enrollment in maker-based programs that are paramount to the district's emphasis on project-based learning.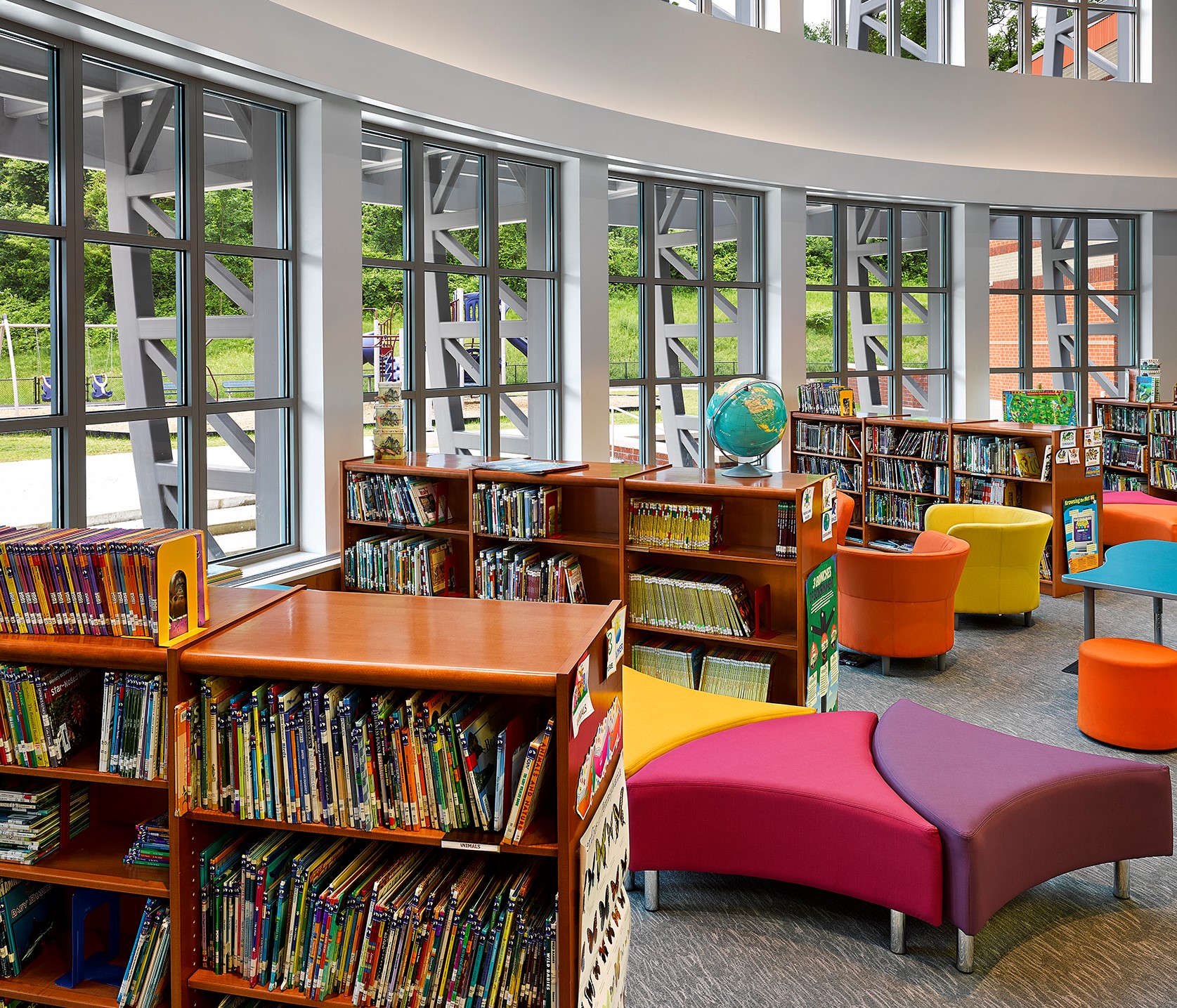 Montour Elementary School
Architect: Architectural Innovations, LLC
American School and University's Design Citation Winner
Architectural Innovations developed, designed, and built a new 168,940-square-foot District- Wide Elementary School with Outdoor Learning Areas for Montour School District. Completed in 2017, the new building provides an enhanced educational environment in which students are encouraged to learn, prepare for the middle and secondary school programs, and pursue the fulfillment of all potential opportunities for the advancement in academics, arts, technologies, and athletics. The design integrates AI's commitment to the use of sustainable materials and energy-efficient systems for conserving natural resources and reducing the carbon footprint. The building and outdoor learning areas are designed to provide students with an awareness of and appreciation for conservation of energy and the protection of the environment. Energy-efficient equipment was designed with ice cooling system and components that also function as teaching tools and includes features that maximize natural lighting in the corridors, classrooms, and offices.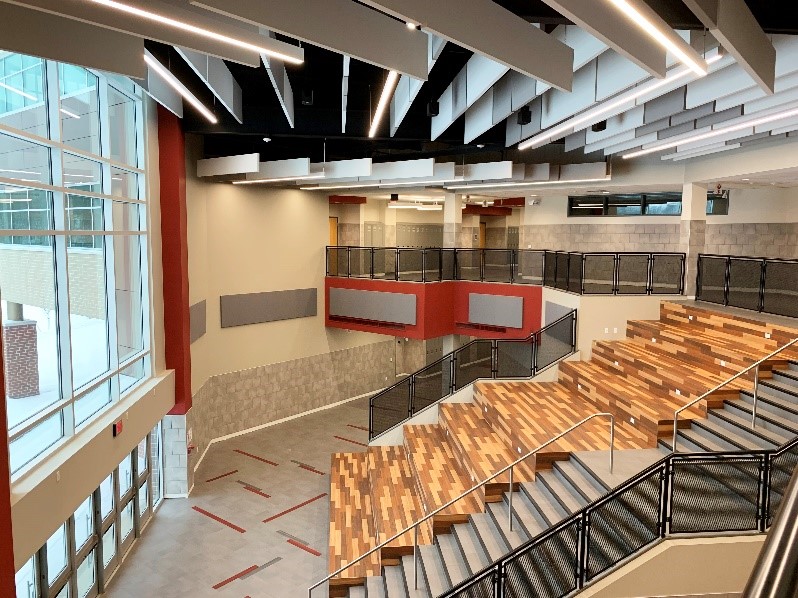 Peters Township High School
Architect: Hayes Design Group Architects & Weber Murphy Fox
One of the largest K-12 schools built in the Pittsburgh region in the last 10 years is the new, 298,000 sq. ft. Peters Township High School that opened to students in early 2021. The school is located on the former Rolling Hills golf course property and is carefully integrated into the natural rolling hills of the site, preserving the open land and beautiful vistas that allow for spectacular views from inside out. The state-of-the-art high school is divided into three wings: Academic, Fine Arts, and Athletic, all connected by a Central Commons. The facility includes 50 general instruction classrooms surrounding a two-story Learning Commons with an adjacent Learning Stair, 1,200-seat performance auditorium, food court style cafeteria with an outdoor dining patio, 2,000-seat multi-sport arena-style gymnasium, 300-seat auxiliary gymnasium, and an 8-lane natatorium. See how 21st century learning spaces are being designed to have efficient building layouts for both programming and security needs, with the ability to adapt to evolving future needs. Key design considerations include natural daylighting; collaborative learning spaces, both indoors and out; flexibility and adaptability; interactive technology for blended learning; and energy efficiency.
The price for this Tour is $150; Preregistration is required.
K-12 Tour C
Friday, November 5, 10:30 AM – 3:30 PM (Credit: 3 AIA LU/HSW, 3 IDCEC CEU/HSW)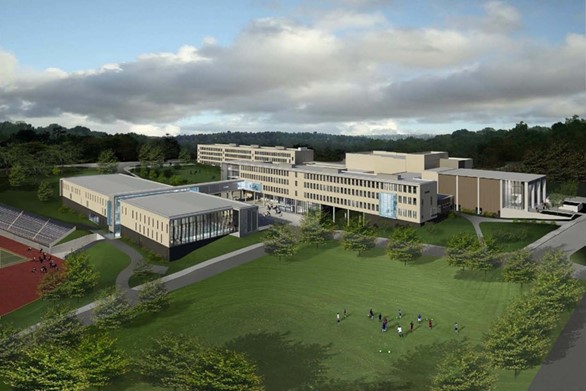 Mount Lebanon High School
Architect: Celli Flynn Brennan Inc. Architects and Planners and OWP/P
The original Mt. Lebanon High School was built between 1928 and 1972 and is over 700 ft long and 6 stories in height on a slopping site. In need of a renovation and addition for an extremely complex property and project, keeping this large and complex high school for 2,000 students open during construction was a challenge. The design kept portions of the original 1928 building on Cochran Road which was important to the residents of Mt. Lebanon. Various other portions of the building were demolished and reconstructed during a five-year phased construction process. New construction included a major athletic facility and a new educational wing built across the back of the site starting from South to North. The 440,000 SF addition and renovation includes 60 new classrooms, project studios, three gymnasiums, an 8-lane swimming pool, a 1,600-seat auditorium, a 350-seat theater, food court, learning commons and six tennis courts.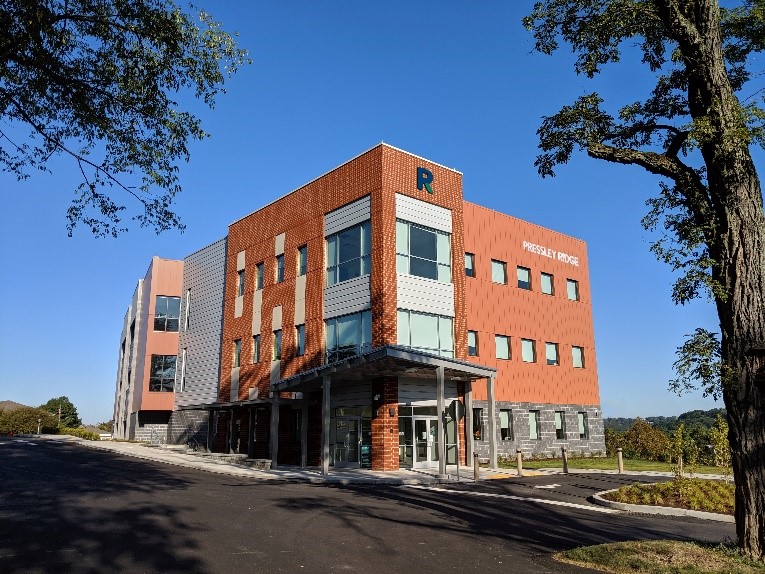 Pressley Ridge School for Autism and the Deaf
Architect: RM Creative, Inc.
Pressley Ridge School for Autism and the Deaf is a 39,000 square foot facility dedicated to a unique population of students, utilizing a combination of the physical environment in concert with evidence-based educational strategies to encourage goals of academic and social progress, advancement of communication skills, and exploring work related opportunities to assist transitions into adulthood. Technology and materials play a key role throughout the school as part of the everyday process, in addition to specialty design components introduced to assist those facing sensory and behavioral challenges. Calming spaces with padded surfaces isolate students during times of anxiety, Snoezelen equipment helps stimulate and develop the mind through a series of physical and virtual sensory experience, a multimedia library is available to enhance cognitive abilities, and an array of cutting-edge tools are used to broaden skill sets while encouraging a hands-on approach to experimentation and creation.  The new environment has allowed students and staff the opportunity to thrive while having a home they can call their own, as they move into the future as a leader of specialized education.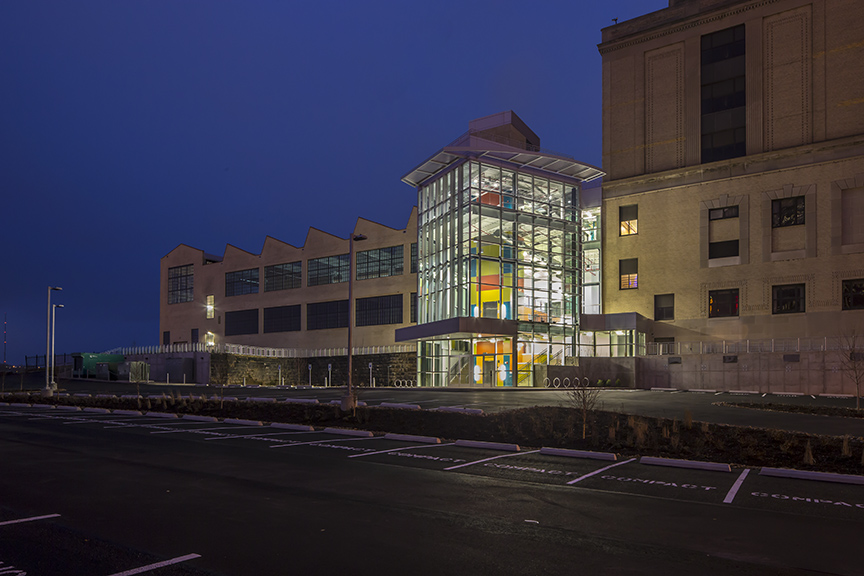 Energy Innovation Center
Architect: DLA+
AIA Pittsburgh Award for Excellence in Sustainable Design Winner
The Energy Innovation Center is a 200,000+ SF building formerly known as the Connelley Trade School in Pittsburgh's Hill District community. This National Register of Historic Places landmark was adaptively reused and brought back to life as a sustainability and energy technology HUB that will act as a school and center for skilled trades by offering technical and energy efficient training from K-12 to university and professional certifications. Notable K-12 ventures include the Penn State University Career Readiness program and the Technology Challenge, in which students from area high schools advised by industry experts work on semester long projects to develop creative solutions to today's energy and sustainability challenges. Design and construction efforts resulted in the unique combination of winning historic tax credits and achieving LEED Platinum certification. Designed to be an education tool itself, the EIC building is living its mission to contribute to the inner-city community as a catalyst for sustainable education, workforce development, and research.
The price for this Tour is $150; Preregistration is required.