EDspaces learning environments serve as vehicles for experimentation with education sessions taking place in classrooms designed by top architects, designers, and manufacturers. This gives you first-hand experience in modern approaches to teaching and learning through innovation in planning, design, and products. Preview your immersive learning experience by exploring the unique features of each award-winning classroom.
Take a look at the innovative designs that were selected as EDspaces classrooms in 2022 and stay tuned for highlight videos from each of the spaces! Interested in submitting a design for 2023? Begin thinking about what your space might look like today and draw some inspiration from our 2022 winners. Our 2023 classroom design competition is not yet open but check this page often for updates.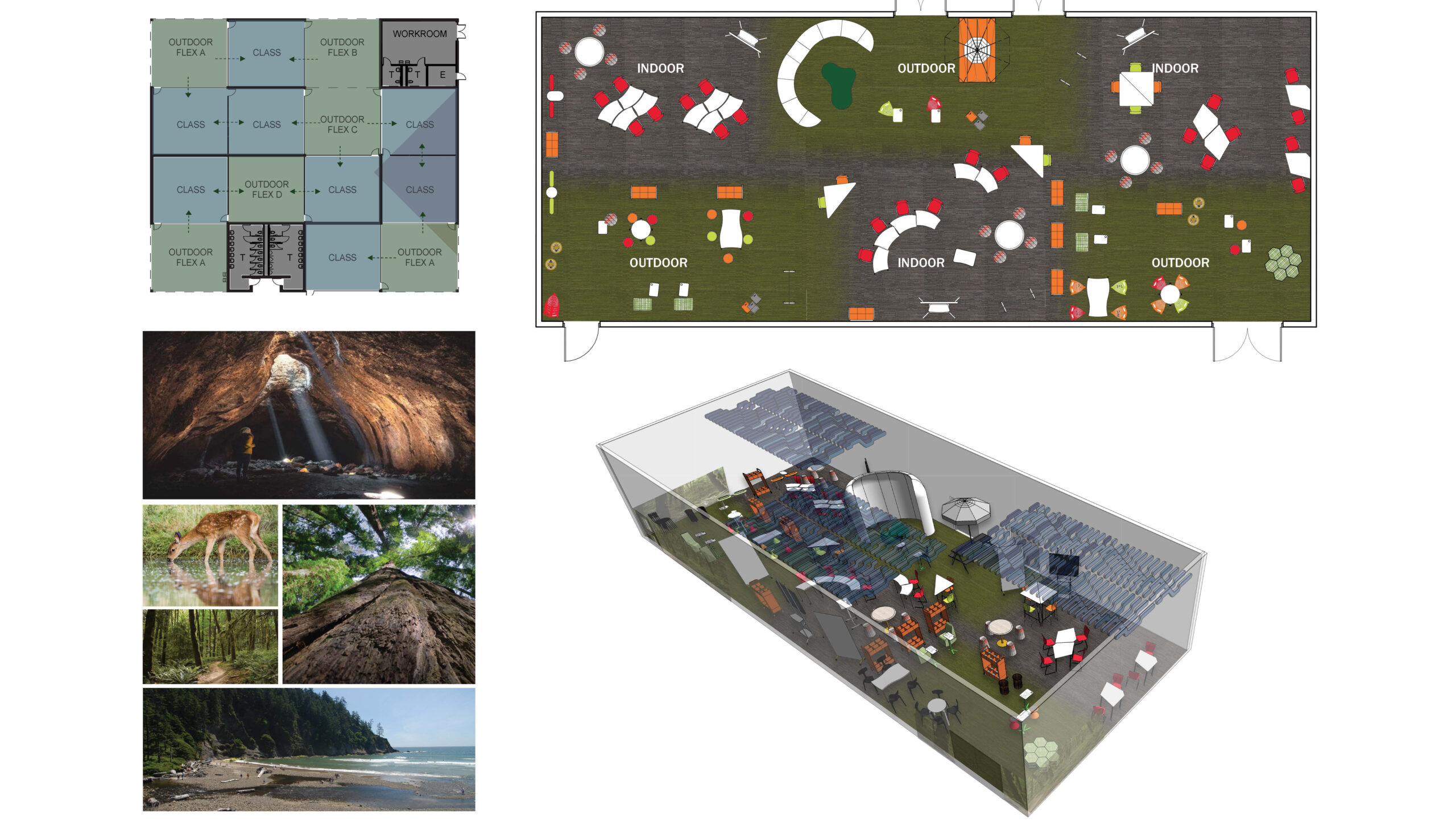 Learning is Everywhere: Blurring Exterior and Interior Space sponsored by DLR Group
Goal:
The research is clear: outdoor learning has become the norm.  As the line between indoor and outdoor space is increasingly blurred, the question must be asked: what actually enhances outdoor spaces to embody innovative teaching and learning environments? The future of learning spaces should support all types of learners in any type of environment, and fully embrace the outdoors as a true classroom that future furniture can wholly support.
Focus:
DLR Group used the concept of a Rubik's cube as floor plan inspiration. The learning spaces shift in seamless connection from indoor to outdoor spaces, classrooms to protected outdoor courtyards. The transition between indoor and outdoor is fluid and creates a fully flexible environment. The furniture within can shift from indoor to outdoor and support multiple learning modalities. Falling in line with research-proven design strategies, our design provides smaller group sizes implied throughout the room, facilitating group learning and collaboration with others in immediate proximity, without compromising the ability to "see/hear" the presenter's information on screens nearby. To implement this concept on a small scale, we identified indoor and outdoor spaces with unique elements. The connection between nature and the building is identified with acoustic ceiling elements that compress the indoor environment, but still bring a natural tie to the interior with soft, curved forms. Walls are implied with mobile elements like screens and markerboards. Acoustic furniture is also implemented, creating smaller space through a cave-like experience for someone to create a sense of embraced safety in the expansive outdoors. Graphically inspiration is embracing the Oregon forests and selected building materials encourage a calm and engaging learning environment.
Impact:
This classroom and the furniture within empowers both the educator and learner with the power of choice to determine the best setting for their learning needs. There is never one path to solve a Rubik's cube. It's about the journey of "getting there" – every day could, and should, be different.
Partners:
Absolute-Resource, Advanced Classroom Technologies, FomCore, Muzo,  Rainier Display, Saxton Bradley Inc., Shaw Contract, Spacestor, Turf Designs, V/S America, Watson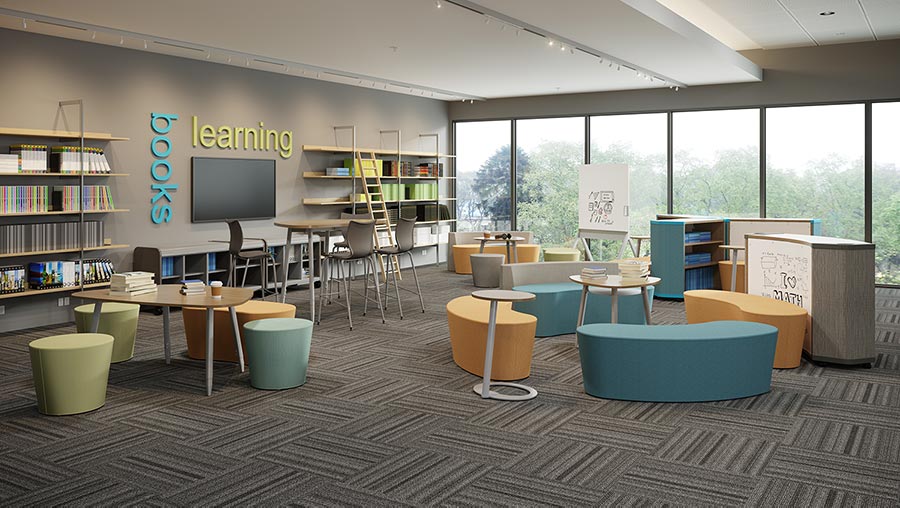 Active Learning Classroom sponsored by FGM Architects
Goal:
As learning becomes more interactive, classrooms must support multiple types of collaboration, including informative, evaluative, and generative, as well as peer-to-peer learning.
 Focus:
These modes of learning showcase equitable access to information, and increases the ability for every user, no matter where they're located, to join in the collaborative process. Collaborative work is essential to active learning, suggesting that classroom spaces must be varied and flexible. Different subjects and teaching methods require different mixes of furniture, technology, and space. Just as there are a variety of ways in which we learn, we must provide students diverse learning environments in which they can thrive. Lecture Mode Mixes seating and table solutions to offer choice for the students to pick the best worksurface for their needs. The tiered lecture area allows students to select a posture and seating type that works best for them. All students can easily view content with tiered seating on a flat floor and multiple screens within the room.
Impact:
Ad Hoc design represents a fluid environment for learning; Designed to support fluid transitions among multiple teaching modes: lecture, team project, discussion. Intentional design for spontaneous learning. Using organic shapes with soft radii and rounded edging we made no attempt to force pieces to interlock.  They work individually or loosely slide together, giving students endless options to make micro-adjustments. By being able to move tables and chairs, they could create configurations that engaged students, and with no designated 'front' to the classroom they could increase student involvement. Classrooms with this setup erase the line between student and instructor – creating a more cohesive community of learners.
Partners:
Smith System, Steelcase Learning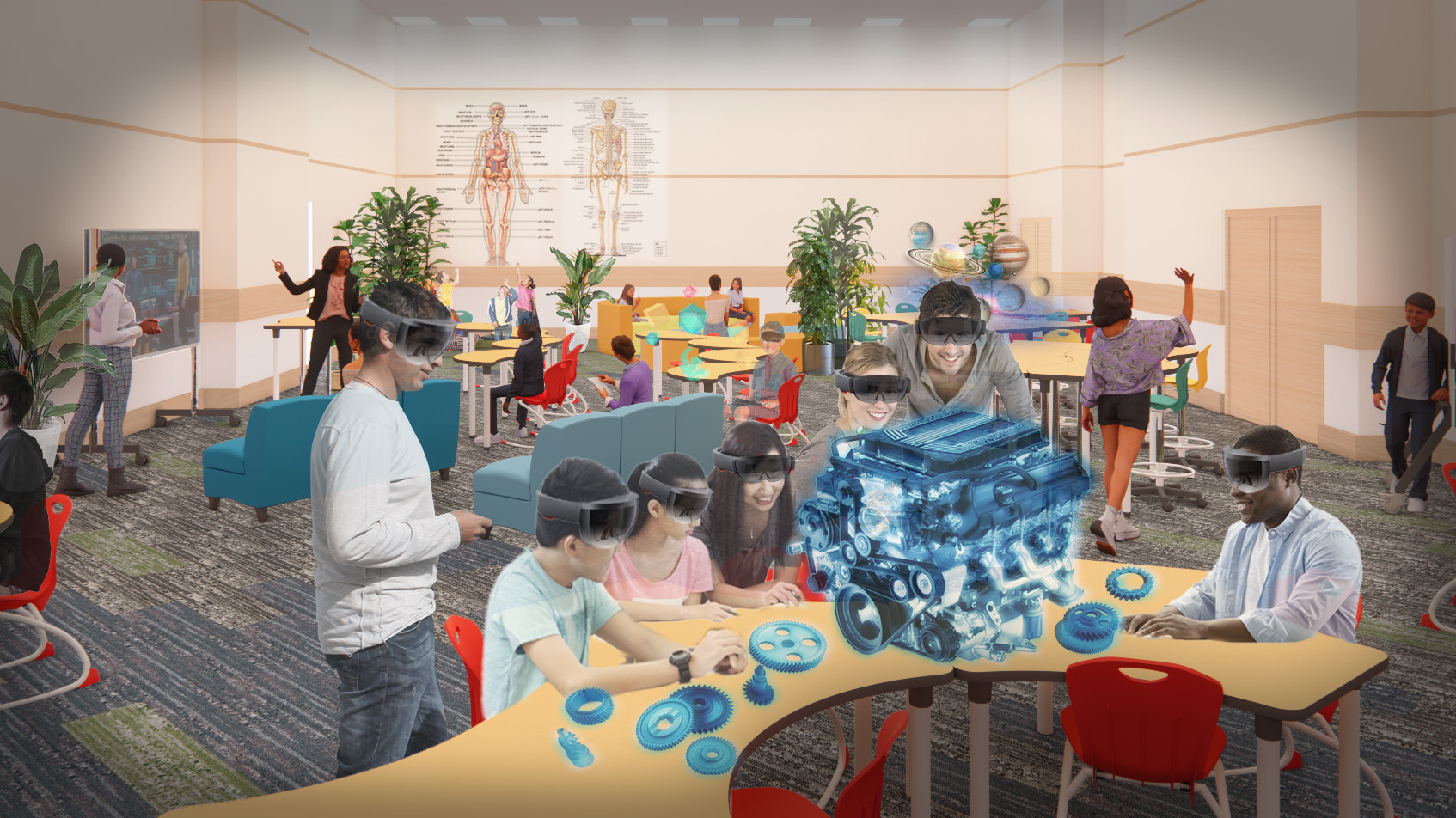 HoloClass sponsored by IBI Group
Goal:
HoloClass will serve as a fully furnished, flexible classroom that can support different learning modalities, including formal and informal interactions, with independent and group learning in various configurations.
Focus:
Using the work of renowned futurist David Thornburg as our starting point, our classroom proposal demonstrates a truly integrated physical/digital learning environment, using today's technology. What happens when you bring the infinite library of digital assets from the projected world of a holodeck environment, into the tactile, textural, world of the physical classroom. How can we evolve the discussion toward a solution that requires limited technological infrastructure, and no additional footprint within existing learning environments? How might we develop a 'one-to-one-to-one' solution whereby students are able to not only conduct their own research and prepare material using a laptop, they are also able to curate their own immersive experiences and develop their own digital assets in a socially connected way, using wearable technology? How might HoloClass reduce the volume of physical material associated with project-based learning and thereby help alleviate the pressure on physical storage spaces within schools? These questions and more will be explored in our classroom space.
Impact:
Around the classroom, many different augmented reality interactive experiences will be pre-programmed and simultaneously visible. When used for pedagogy in a school, these could be curated and timed to suit areas of study for individual classes throughout the school day, or controlled by individual students, or groups of students, to suit their learning objectives. HoloClass also incorporates biophilic design with natural imagery, finishes and plants for wellness.
Partners: 
DIRTT, The Greenbusch Group Inc., High Point Furniture, Mannington Commercial, Virco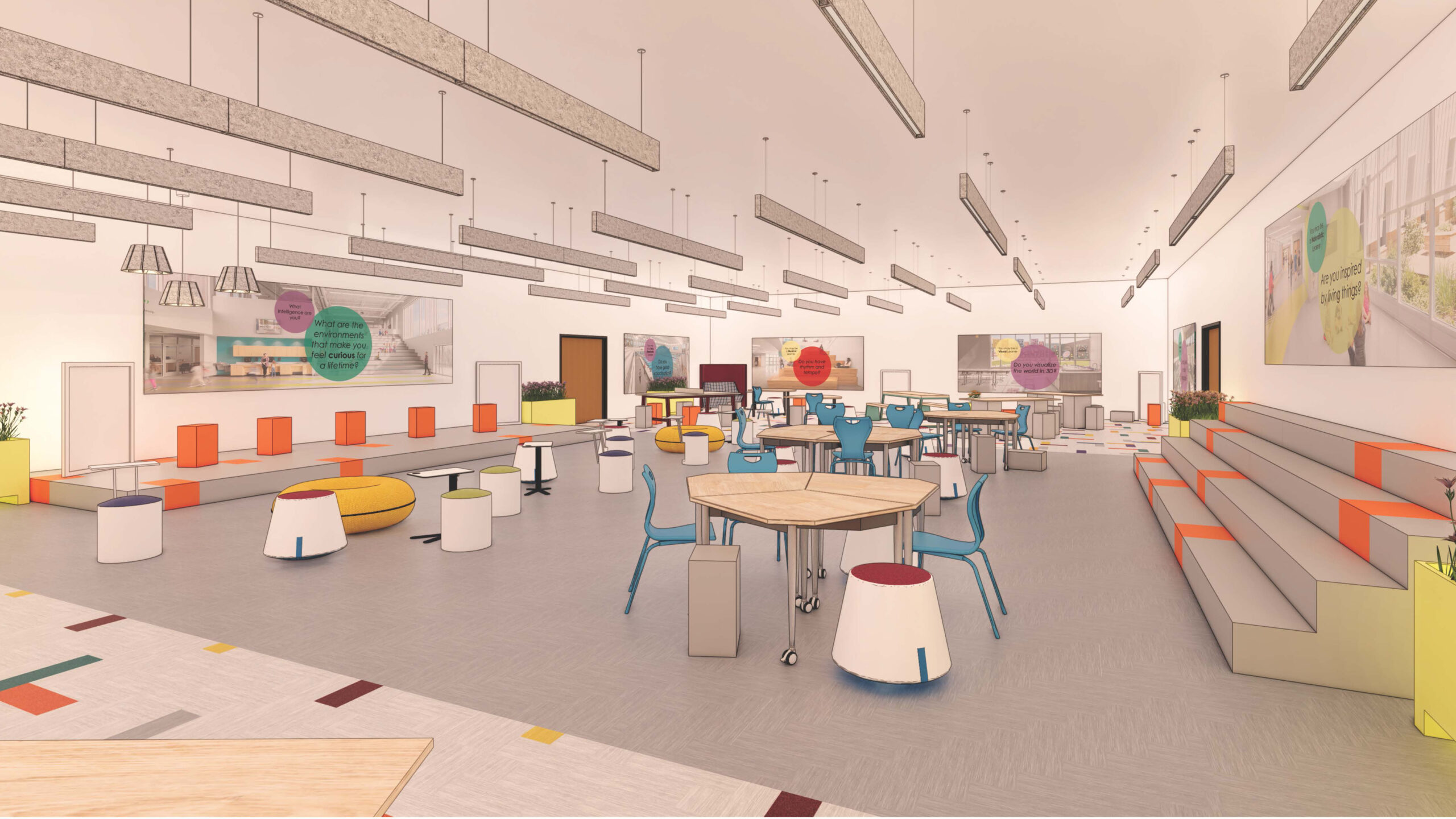 Multiple Intelligence Classroom sponsored by Legat Architects
Goal:
Every place and space we experience offers an opportunity to learn.  Accepted educational research first theorized by social scientist author, Howard Gardner, shows that learners have nine multiple intelligences: visual, logical, intrapersonal, musical, body-kinesthetic, verbal-linguistic, interpersonal, existential, and naturalistic.  Every person has the capacity to learn in each of these strategies; however, some grow stronger than others due to our experiences, opportunities (or lack of opportunities) in a traditional educational environment. This classroom is a living laboratory for research, celebrating each multiple intelligence with spaces encouraging growth and learning. The design team has created environments that inspire and speak to the diversity in learning styles.
Focus:Visual learners will engage their talents via buildable tables and writable surfaces. The buildable tables, with different heights and seating options, also speak to existential and logical-mathematical learners – existential via the power of choice and flexibility and logical-mathematical via a three-dimensional puzzle. Puzzles on the wall will engage logical-mathematical attendees. Bodily-Kinesthetic learners will be able to fidget with flexible furniture and show their coordination skills on the conference table turned ping-pong table. Musical learners can choose to use the guitar pick tables and acoustical chairs. The acoustical chairs additionally speak to intrapersonal learners with spaces to contemplate. The learning stair connects multiple intelligences including intrapersonal, interpersonal, and verbal-linguistic. Places to collaborate and biophilic elements are sprinkled throughout the design giving interpersonal learners and naturalistic learners areas to thrive. The flexible stage provides speakers a place to engage the room but also invokes verbal-linguistic learners.
Impact:
This classroom is actively teaching about diverse learning styles and how to support them in educational environments – the research shared will transform the way attendees think about evidence-based design.
Partners:
Muzo, Interface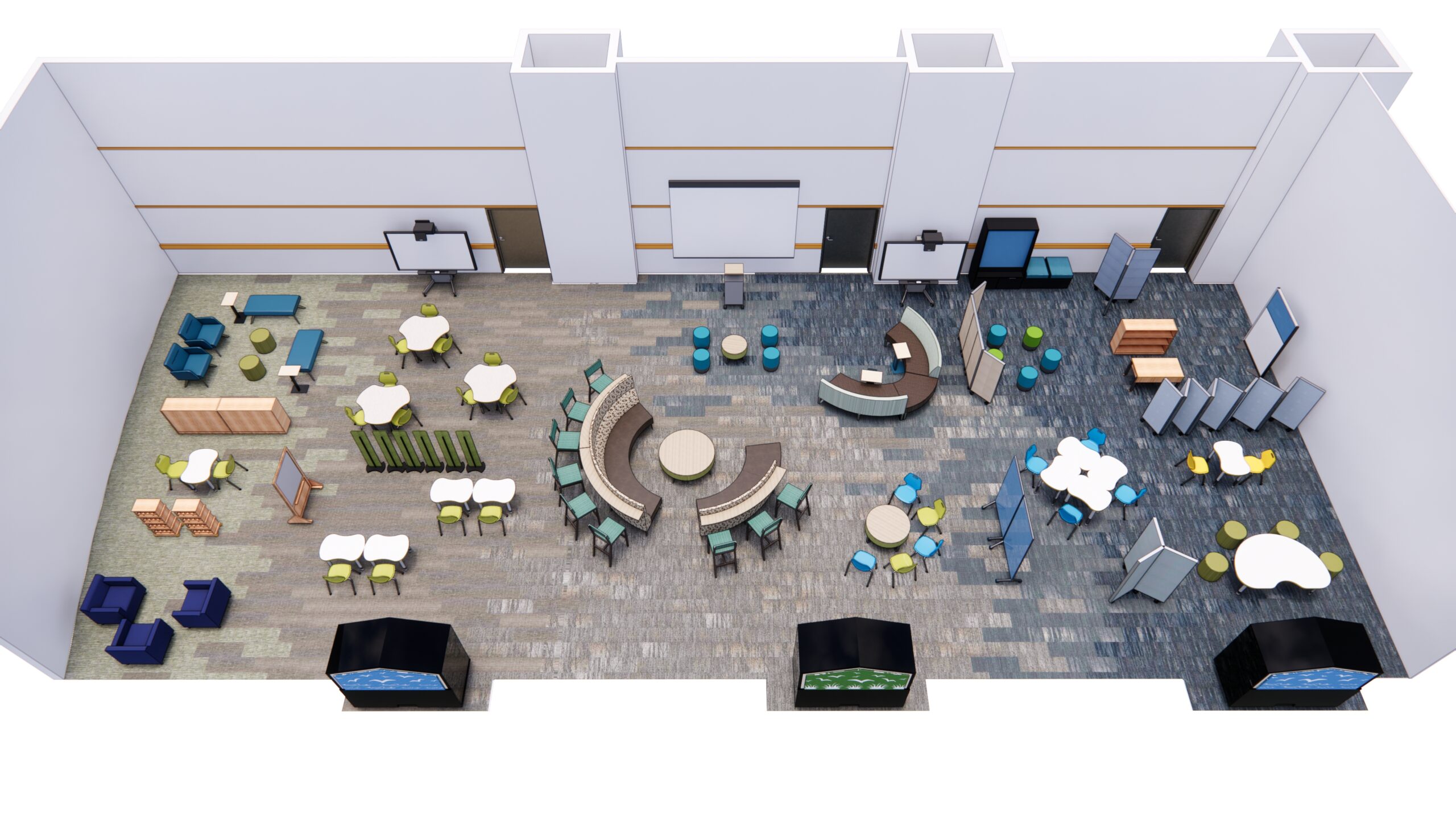 Shifting Sands Classroom sponsored by EDmarketplace
EDmarket A&D Council Design Team: HED, JCJ Architecture, NAC Architecture, Naylor Wentworth Lund
Goal: 
Every interaction or activity is a learning moment for a child. Using nature as a catalyst to support a variety of learning styles and activities, this classroom was created to be flexible, adaptable, and tactile to recreate organic connections that activate different learning opportunities.
Focus:
This immersive space encompasses the organic flow of how a beach constantly changes, whether that's through human activity or natural causes. The Shifting Sands classroom is inspired by the same ebbs and flows of nature. This open and engaging space includes agile furniture that allows access to many different types of arrangements, which creates an inclusive environment for all learners. Accommodating multiple learning styles, this space was designed to incorporate 3 types of movement; dynamic/collaborative environment represented by the ocean, presentation/discussion area represented by a central campfire on the sand, and passive/focused space represented by the sand dunes. The floor and ceiling elements are designed to loosely define the spaces. This allows each setting to flow from space to space depending on the current activity, like adapting to a change in curriculum or space use. A variety of seating choices such as higher stools, soft seating and mobile seats creates an engaging environment for educators, learners and presenters. The furniture enables them to quickly turn the space from a lecture environment into either an active group project area or a quiet one-on one focus space.
Impact:
The concept of Shifting Sands is meant to support a variety of learning styles from large group collaboration to independent learning. With that in mind, the space incorporates biophilia's impact, incorporating nature into classrooms by integrating organic materials and activities to create a mindful environment. An engaging environment can encourage children to find their place and experience education in a comfortable, fun and flexible way.
Partners:    
Ghent, Groupe Lacasse, Hirsh Industries, Jonti-Craft, Lesro, Mohawk Group, Mumble by Design, Nook Pod, Paragon Furniture, Screenflex Portable Solutions, Smart Technologies, Vividboard, Waddell