Experience Classrooms of the Future…Being Built Today
EDspaces learning environments serve as vehicles for experimentation with education sessions taking place in classrooms designed by top architects, designers, and manufacturers. This gives you first-hand experience in modern approaches to teaching and learning through innovation in planning, design, and products. Preview your immersive learning experience by exploring the unique features of each award-winning classroom.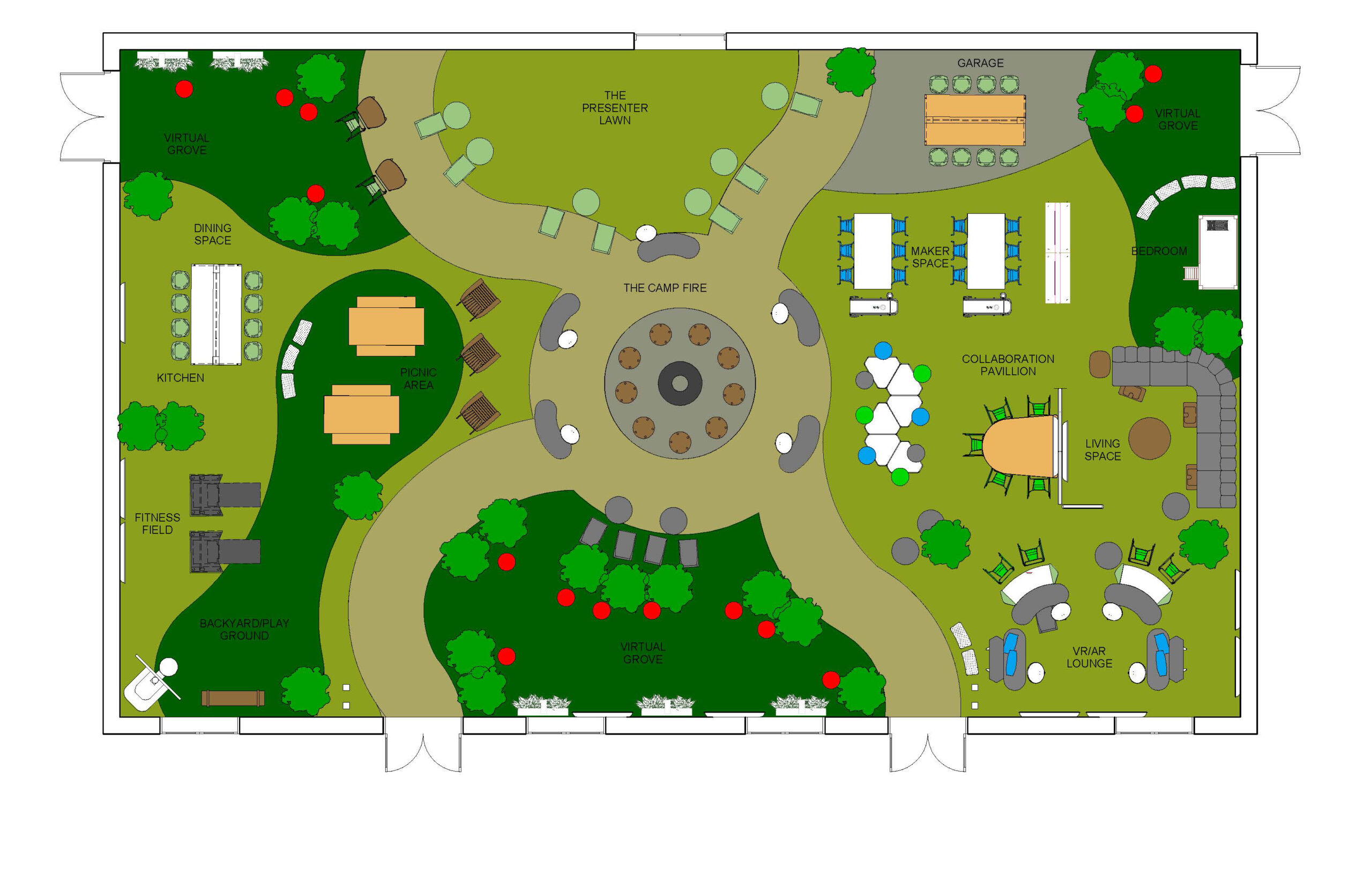 The Learning Playground created by Hord Coplan Macht
Goal:                                    
The Learning Playground and its associated ongoing research study is to explore the extent to which adaptable translations of biophilic design strategies could be employed in virtual and physical learning environments, regardless of resource abundance or scarcity. 
Focus:                                  
Connecting with nature, providing accessible nature-connected education experiences and spaces, connecting learners of all backgrounds, demonstrating the restorative power of nature as a means for restoring attention and enhancing wellbeing, exploring ways to promote physical and mental health and wellbeing, and how to build a sense of belonging amongst both onsite and remote learners.
Impact:                                
This classroom design links evidence-based research and practice by aiming to translate this research into actionable strategies that can be employed in the design of learning spaces and experiences in order to maximize impact. Future study will examine insights and takeaways from learners, caregivers, and educators regarding how elements of physical environments, where remote learning occurred, might influence future on-site learning environments.
Partners:            
Interface, Smith Systems, Steelcase Education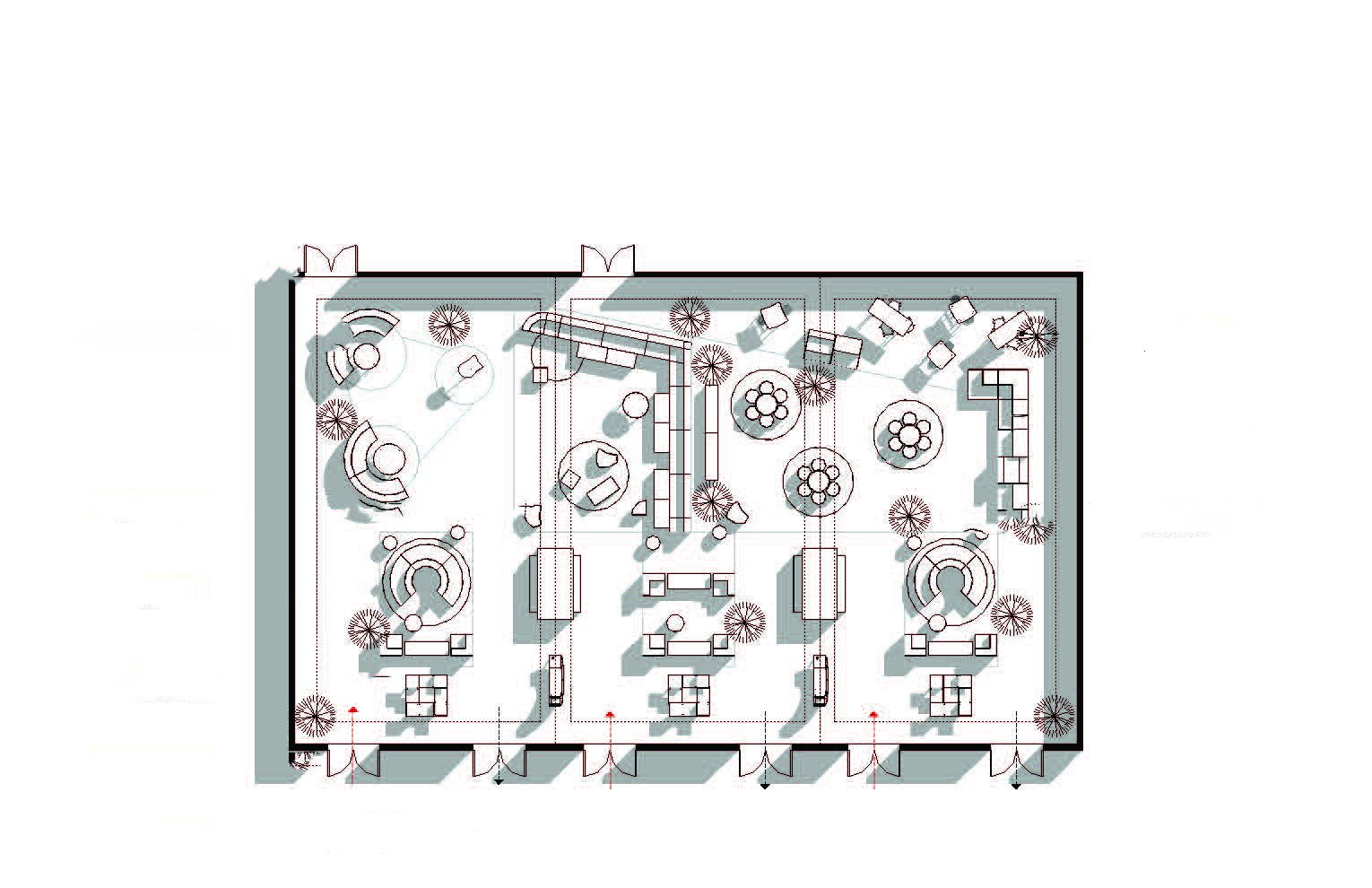 Second Nature Classroom created by Legat Architects
Goal:
Second Nature.Play.Create.Thrive offers a new experience in the age of agility that celebrates play and discovery as gateways for deeper learning.

Focus:
 The design features themed seating arrangements encouraging collaboration and flow with thematic aspects of play and learning across a variety of (metaphorical) natural habitats. The plan allows for healthy movement strategies including a one-way directional roadmap to organize entry & exit for physically-distanced scenarios. Based on a six-, eight- and ten- foot proximity arrangement, the concept allows for the integration of touchpoints and the tracking of seating options.

Impact:
 Attendees will enjoy an amazing journey of diverse options; high-to-low seating, sitting-to-standing, perching-to-leaning. Technology-enriched small group zones serve to enliven every nook and cranny with happenings on the main stage "oasis lounge."

Partners:
i3 Technologies, Mayer, Momentum, Mohawk, Mooreco Inc., Wilson Art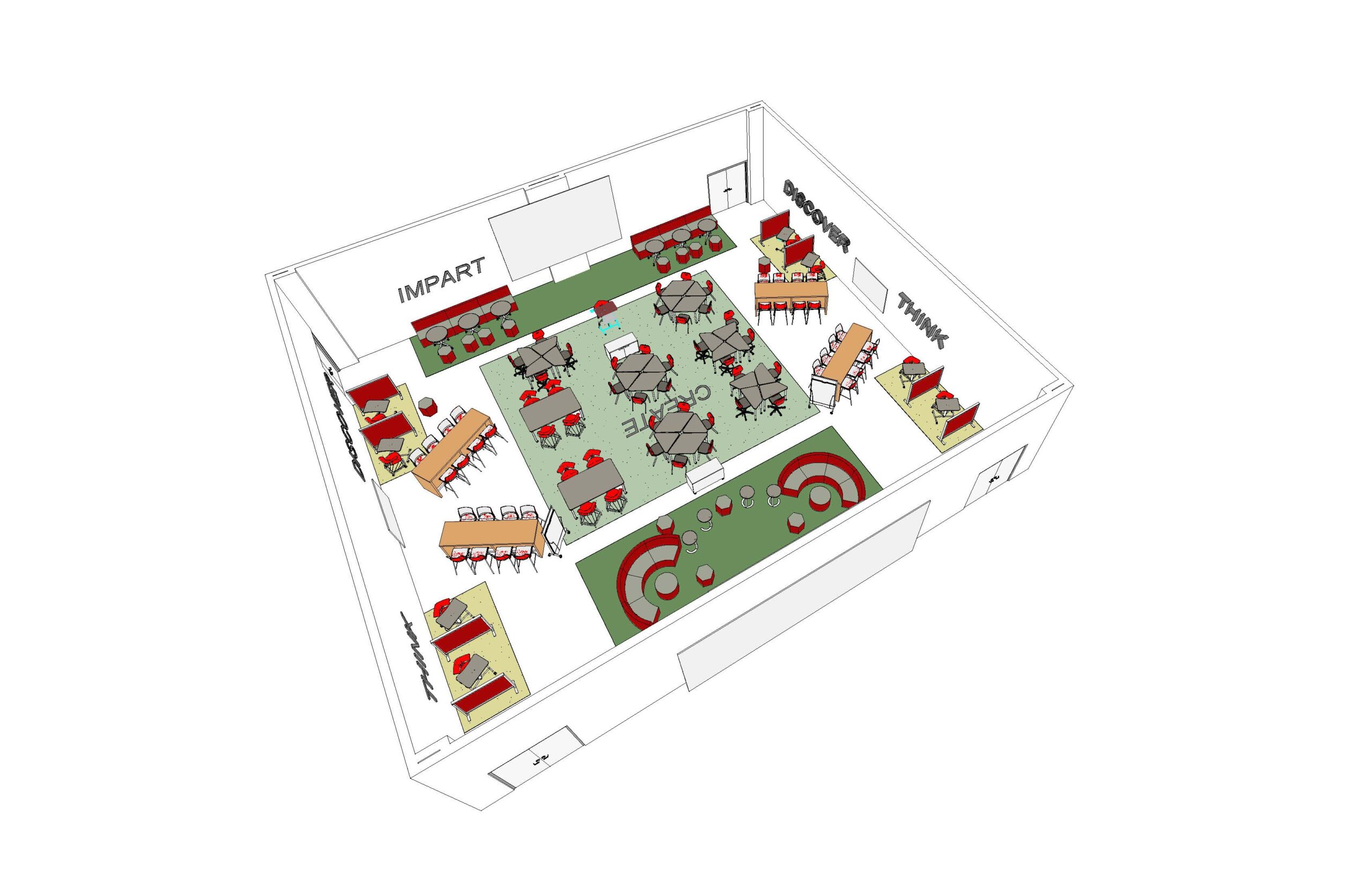 Immersive Learningscape Classroom created by Little Diversified Architectural Consulting
Goal:              
The Immersive Learningscape is designed to accommodate ALL types of learners under five space typologies that support the five learning taxonomies: Think, Create, Discover, Impart and Exchange. This 21st Century learning space allows for technology-focused, project- based learning with flexibility of activities and education, unexpectedness in thought-provoking, collaborative environments, and brainstorming space for innovative and creative learning.
Focus:            
This landscape of learning areas facilitates and encourages interdisciplinary innovative encounters between students and faculty and will address the potential for every square foot of space to be maximized as learning spots, nooks, paths and spaces. The spaces and the technologies within those spaces (acoustics, tech, materials, furniture, lighting) are designed to support those taxonomies with learners able to maintain social distancing of a 6-feet minimum.
Impact:          
This classroom provides distancing and choice of learning environment while maintaining inclusivity and visibility and hearing connection to all the speakers as they move through the room.
Partners:       
KI, Shaw, SMART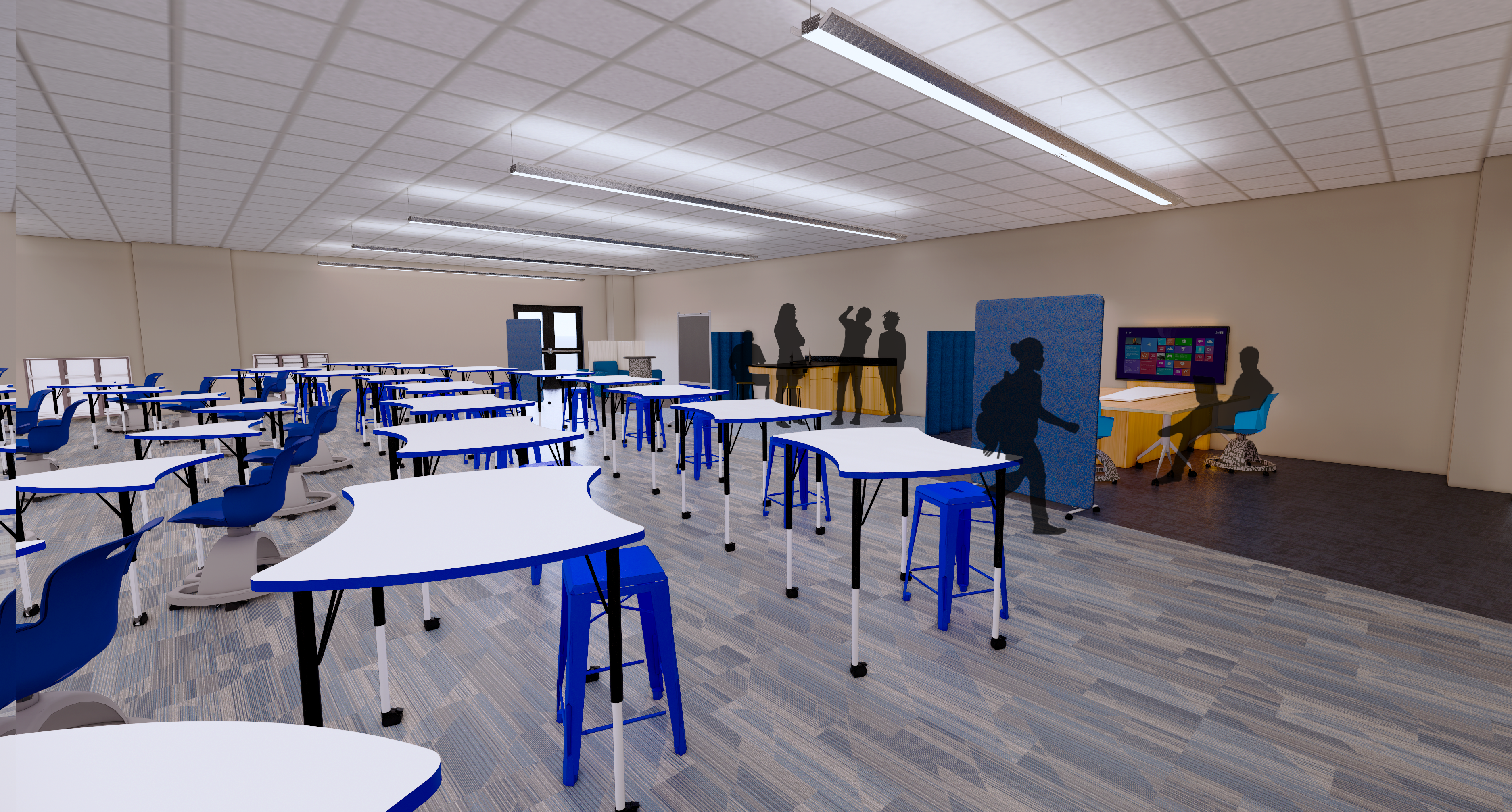 Flex Learning created by Marotta Main Architects
Goal:              
This classroom is intended to replicate a middle school self-supporting multi classroom pod currently under construction. This pod contains three classrooms separated by operable partitions, a lab space, two breakout SGI spaces, student restrooms, faculty support area and a central corridor connecting the various spaces.
Focus:            
The use of operable partitions allows the spaces to open up onto each other, including the corridor which allows spaces of multiple sizes and configurations.
Impact:          
These spaces can support a multitude of learning environments from one-on-one instruction to the entire pod viewing a single demonstration in the lab area. The design supports multi-disciplinary instruction and project-based learning.
Partners:
Armstrong, Artcobell, Custom Educational Furnishings (CEF), Diversified Woodcrafts, ERG, Haskell Education, Hon, Interface, KI, MooreCo, Paragon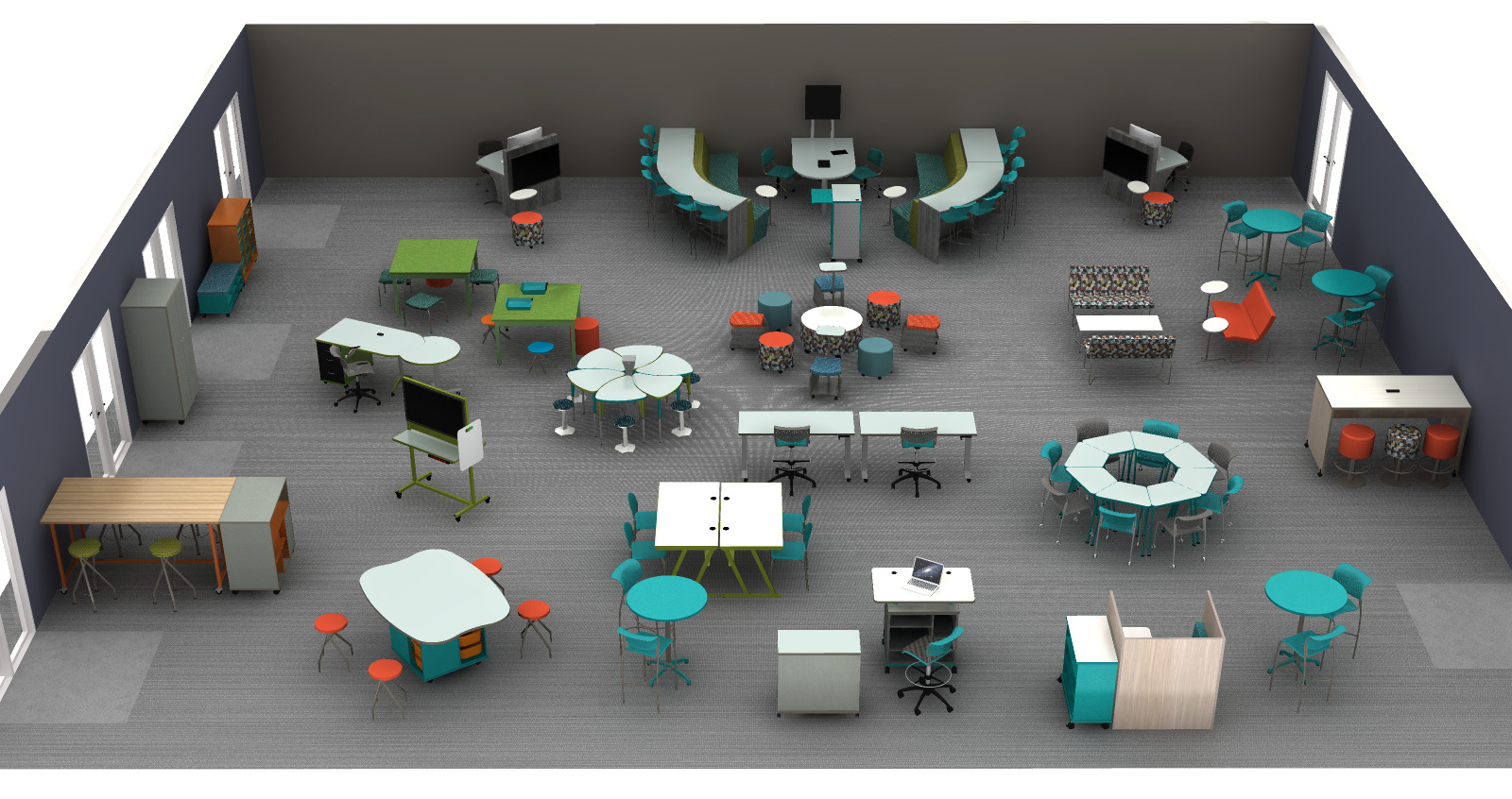 iACE Learning Space created by mediatechnologies
Goal:              
By Zone, iACE Learning Space furniture provides an optimum environment for learners and educators to immerse themselves in the learning experience. 
Focus:            
The small theater feel of the Media-Sharing Theater Zone provides the perfect forum for presentations and group concept sharing with varied-height seating. There is a mirror-cast screen sharing technology space, an eSports station, and a remote teaching station. The hands-on, kinesthetic learning Makerspace Zones feature height appropriate worksurfaces with options for sitting or standing, storage for valuable equipment, Lego®-topped tables and surfaces for the ubiquitous 3-D Printer(s). Mobile, geometrically reconfigurable student desking in tandem with mobile seating offer flexibility in the formal classroom groups. Lounge groupings provide less formal, smaller configurations for individual or small group work. Several mobile monitor carts can be utilized as needed for Zone or entire Space use.  Each zone provides access to power for user devices.
Impact:          
Ultimate flexibility and multiple configurations provide a user-experience driven, optimum learning environment.
Partners:       
mediatechnologies, Pinnacle Network Solutions, Viewsonic, Zspace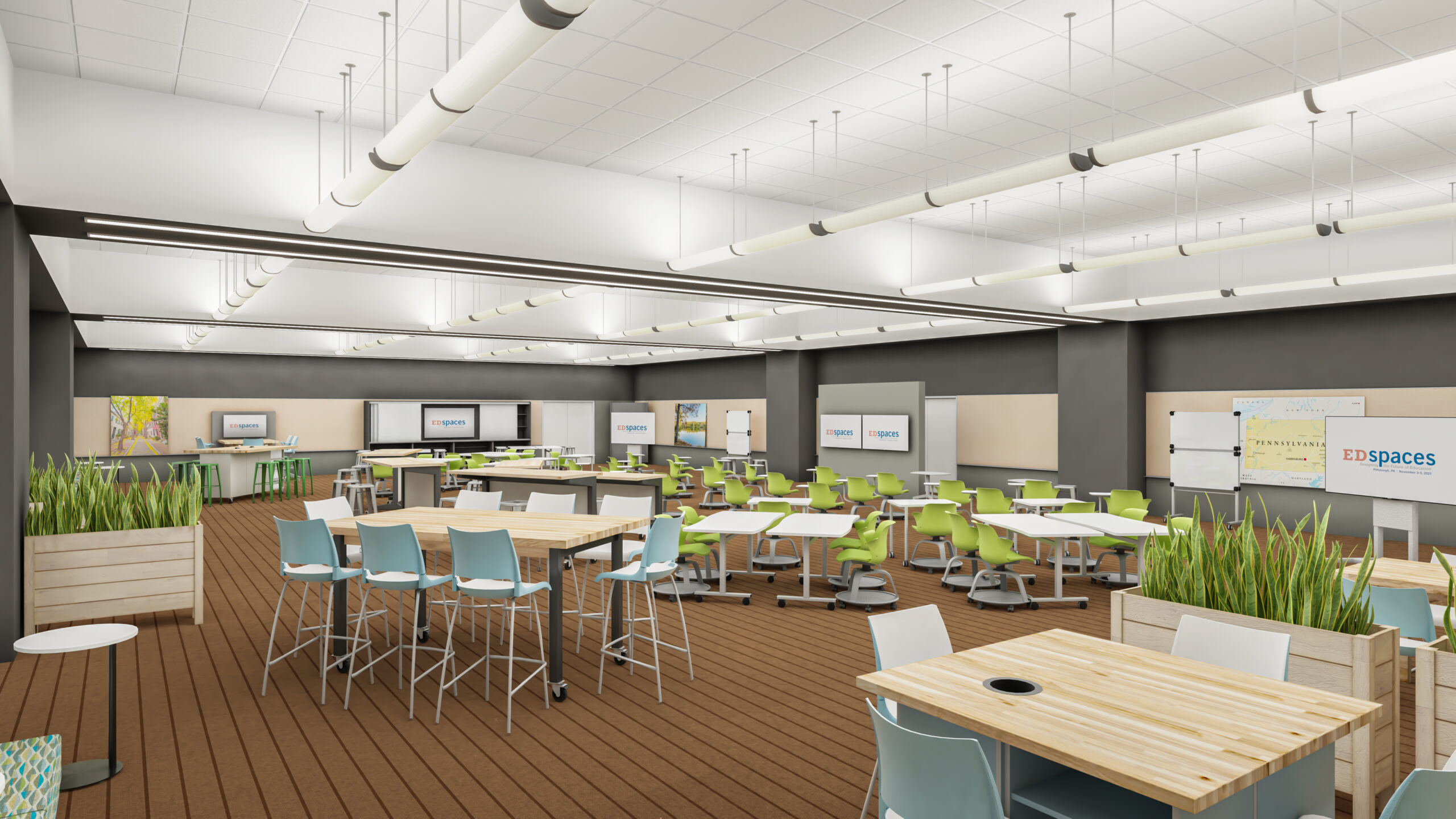 Think.Sync.Make Classroom created by Moseley Architects
Goal:
"Think. Sync. Make." is a maker lounge classroom that provides users the opportunity to learn, collaborate, and create among a variety of furniture options to best suit their individual preferences.
Focus: 
This classroom is designed to integrate spaces for instruction, collaboration, and creation. The instruction space is equipped with multiple digital displays and flexible nesting tables and chairs centered within the room to provide a focused area for thinking and planning. A variety of chair and table heights offer options for sitting, standing, or perching. Lounge furniture encourages small group interaction and idea syncing. Media and maker tables inspire exploration and creation. Mobile panels made of recycled PET create spatial division while also improving acoustics by reducing sound reverberation. A mixture of neutral colors and energetic accents provide balance and excitement to the classroom. Biophilic elements are incorporated throughout the space to support human connections, reduce stress, and encourage creative thinking. A sanitation station is located at the classroom entry.\
Impact: 
For the health and wellness of attendees, the seating layout is flexible and can be adjusted for physical distance as needed—offering myriad options to promote instruction, collaboration, and creation
Partners:
Allsteel, CEF, Extron, Fleetwood, Inpro, KI, OFS, Steelcase