EDspaces Pre-show Happenings
| | |
| --- | --- |
| 7:30 AM – 5:00 PM | Registration Open |
| 8:00 AM – 5:00 PM | Exhibitor Move-in |
Tuesday, November 1, 2022
7:30 AM – 5:00 PM
Registration Open
8:00 AM – 5:00 PM
Exhibitor Move-in
12:00 PM – 5:00 PM
K-12 EDfacility Tour (A) (Offsite)
1:00 PM – 5:00 PM
Deep Dive High School EDfacility Tour (B) (Offsite)
1:00 PM – 5:00 PM
Educational Distribution Symposium (EDS)
5:00 PM – 6:00 PM
Scholarship Reception
7:00 PM – 8:00 PM
AIA CAE Reception sponsored by V/S America
located at YGH Architecture, 707 SW Washington ST. #1200, Portland, OR
(this event is only open to architects and designers) 
EDspaces Conference + EDmarketplace
Wednesday, November 2, 2022
| | |
| --- | --- |
| 7:30 AM – 5:00 PM | Registration Open |
| 8:00 AM – 9:00 AM | EDsessions |
| 8:00 AM – 10:30 AM | In Booth/In Room Sales meetings |
| 9:15 AM – 10:30 AM | Opening Plenary Session with Keynote |
| 10:30 AM – 5:00 PM | Exhibit Hall Open |
| 1:00 PM – 2:00 PM | EDsessions |
| 2:30 PM – 3:30 PM | EDsessions |
| 3:00 PM – 5:00 PM | Exhibitor-Hosted Cocktail Hours in Booths |
| 4:00 PM – 5:00 PM | EDsessions |
| 5:00 PM – 6:30 PM | Bold Women, Bold Conversations Networking Reception |
Thursday, November 3, 2022
| | |
| --- | --- |
| 7:30 AM – 5:00 PM | Registration Open |
| 8:00 AM – 9:00 AM | EDsessions |
| 8:00 AM – 10:30 AM | In booth/In Room Sales Meetings |
| 8:00 AM – 12:00 PM | Higher Ed EDfacility Tour (Offsite) |
| 9:30 AM – 10:30 AM | EDsessions |
| 10:30 AM – 5:00 PM | Exhibit Hall Open |
| 2:00 PM – 3:00 PM | EDsessions |
| 3:00 PM – 5:00 PM | Exhibitor-Hosted Cocktail Hours in Booths |
| 4:00 PM – 5:00 PM | EDsessions |
| 5:00 PM – 7:00 PM | EDfest |
7:00 AM – 7:50 AM
AIA CAE Breakfast
this event is only open to architects and designers, if you would like to sign up for this event please email Bruce Bland at bbland@aia.org
8:00 AM – NOON
Registration Open
8:00 AM – 1:00 PM
K-12 EDfacility Tour (Offsite)
9:00 AM – NOON
Exhibit Hall Open
9:00 AM – 10:00 AM
EDsessions
All functions will be held at the Oregon Convention Center unless otherwise indicated.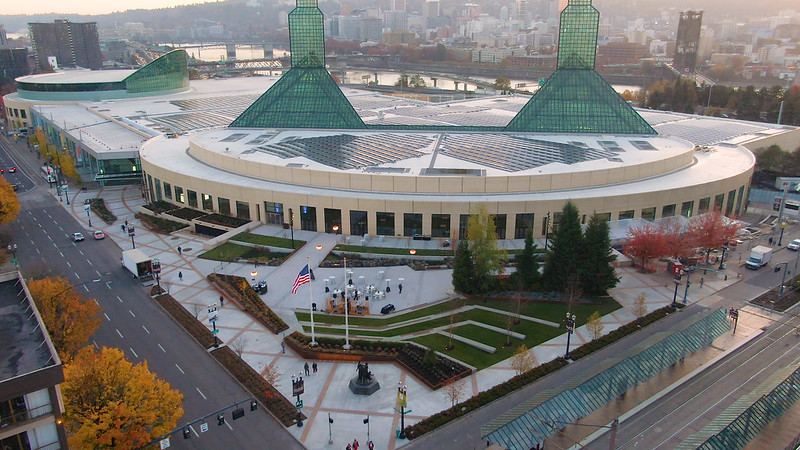 777 NE Martin Luther King, Jr. Blvd
+1 (503) 235-7575
Oregon Convention Center comprehensive directions and parking.
Onsite parking is provided in the convention center's underground garage. You may enter the garage through either the NE Lloyd Boulevard (P1) or NE First Avenue (P2) entrances. Clearance on the P1 Level is 7 feet; clearance on the P2 Level is 9 feet. We have a total of 800 spaces.
The OCC provides free bike racks on both levels of the parking garage and outside all main building entrances. Bicycle parking is free in all areas.