Meet the Demands of the New Learning Landscape
An influx of technology is presenting new avenues of learning for students of all ages, while also promoting collaboration and inclusivity in the classroom. There is a longing for connectivity and conversation, now more than ever. As the go-to resource for the industry, EDspaces satiates that much-craved sense of discovery. While attendees seek out exhibitors for vibrant, innovative, personalized solutions to address the design needs of the built environment, vendors will have a chance to chat one-on-one with these driven decisionmakers–high-level architects, designers, facility managers, and administrators–and share the distinctive qualities of their products and services. Equally important at EDspaces are the lively networking events, a more social and invigorating platform for vendors and exhibitors to build, foster, and renew relationships with valued prospects and customers.
EDspaces brings together all the players involved in making educational facilities a reality to explore trends, opportunities, disruptions, and major shifts on the horizon. Be with a community of thought-leaders in search of solutions as they design, manage, furnish or spec new and renovated facilities.
Engage a diverse group of individuals who design, manage, or direct educational facilities:
Meet decisionmakers and build relationships face to face
Introduce, highlight, sell new products and services
Build brand awareness and boost industry visibility and market presence
Provide sales training and strengthen distribution
If you would like to inquire about exhibiting at EDspaces 2023, please email exhibits@ed-spaces.com
Engage a diverse group of individuals who design, manage, or direct educational facilities at EDspaces.
Meet the schools, architects, facilities teams, interior designers, managers, and administrators who are driving product and resource decisions for the new learning landscape.
Connect with the largest gathering of distribution focused on education products for the learning environment.
Get discovered with the next wave of innovation shaping the learning environments of tomorrow. Attendees want to touch, test, and tinker with your newest product solutions!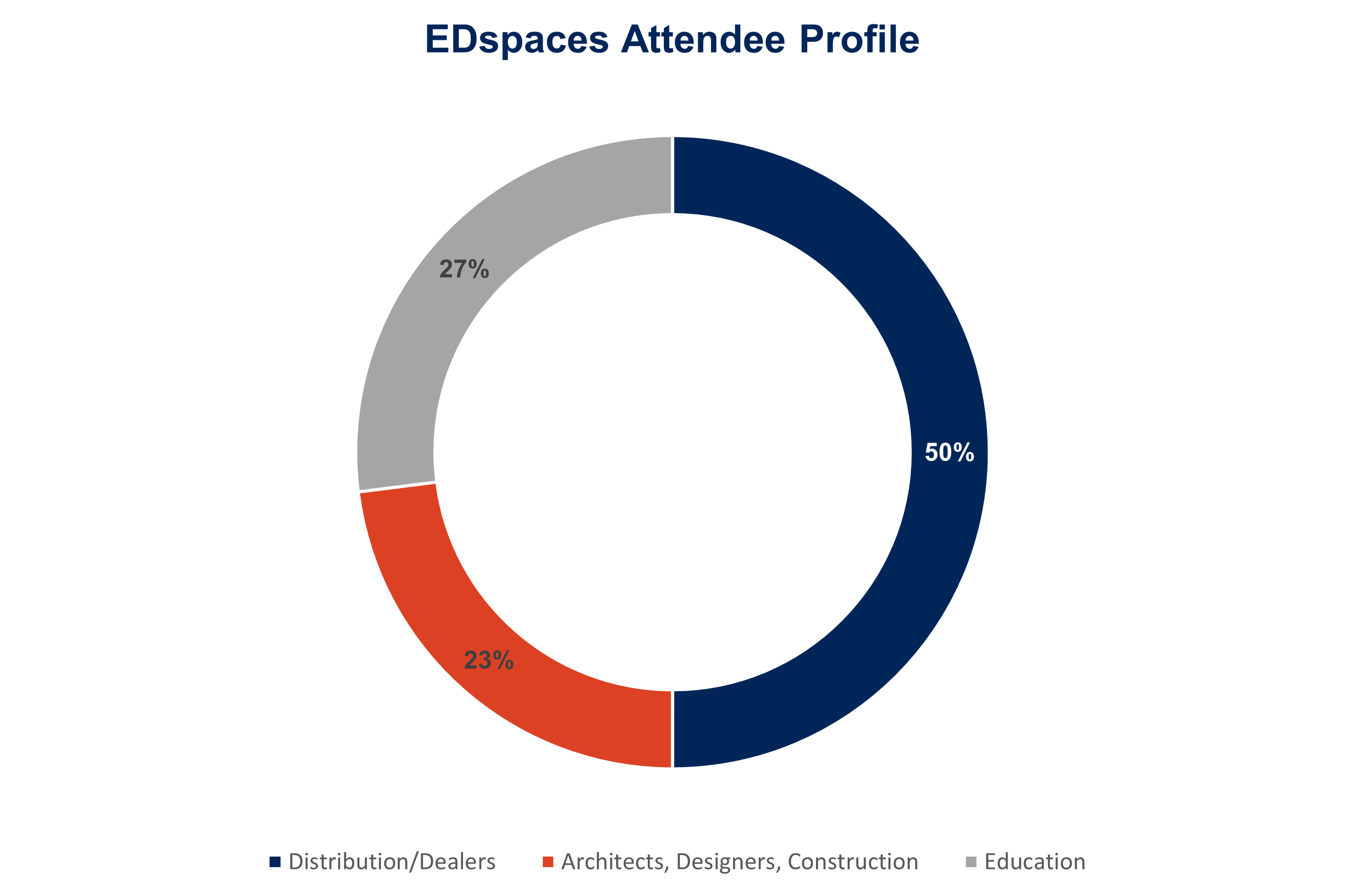 Exhibit with Us & Directly Impact Facility Design Decisions
Innovative products are a key part of educational facilities and have a direct impact on the design and construction. Make plans now to connect with educational design professional, leaders, and schools and colleges while gaining exposure and new customers. Meet with:
Educators:
Superintendent/CFO
Assistant Superintendent
Facilities Director/Manager
Operations Director
Purchasing/Procurement
Bond Manager/Coordinator
Construction Project Manager
Curriculum Director
Chief Technology Officer
Designer
Principal
Archiects, Designers, Construction:
Principal

Owner

Associate Principal

Architect

Interior Designer

Design Director

Director of Planning & Design

Education Design Researcher

Educational Consultant

Educational Planner
Dealers/Distributors:
Owner/CEO

President

VP Sales

Creative Director

Education Environment Specialist

Business Development

Sales (Account Executive)

Learning Environment Designer

Procurement Manager

E-Commerce Product Manager

General Manager
EDspaces 2023 Investment – Advance Rate through April 21, 2023:
$25.93/36.30 per sq. ft. member/non-member EDmarket, respectively

$150 corner premium, waived if contracted by April 21, 2023

$99 Enhanced Marketing Fee (EMF)*
* The EMF is an investment fee and is not an optional item. The EMF covers your company listing in the printed show directory, the listing on the website, the listing in the mobile app, and the additional programs designed for exhibitors to market the event – for example the nvytes customer promotion program which provides you a discount to offer your customers (and no cost way for you to easily earn additional priority points for the next years booth assignment).
Payment Schedule for the space will be as follows:
$250 deposit due at contract signing

25% of total investment due by 1/21/23

50% of total investment due by 4/20/23

100% of total investment due by 7/27/23
What are 2022 Exhibitors saying about EDspaces?
EDspaces is an amazing event as it brings together everyone who has worked with each other all year. New faces and established partners have an opportunity to discuss face to face opportunities and strategies.
It's a great event to be able to see what's new in the industry and to connect with mfg's, dealers, architects and schools.
EDspaces creates an opportunity to get significant decisions makers in one place.
EDspaces is a premier event in North America and the event showcases the best that the continent has to offer interms of manufacturers meeting with distributors and end users.