Classrooms have had to evolve quickly in the last few years to meet the changing demands placed on teaching and learning during the pandemic. As we move into a post-COVID world, school leaders are rethinking what the classroom of the future needs to look like to support new student-centered pedagogical approaches and prepare for future challenges.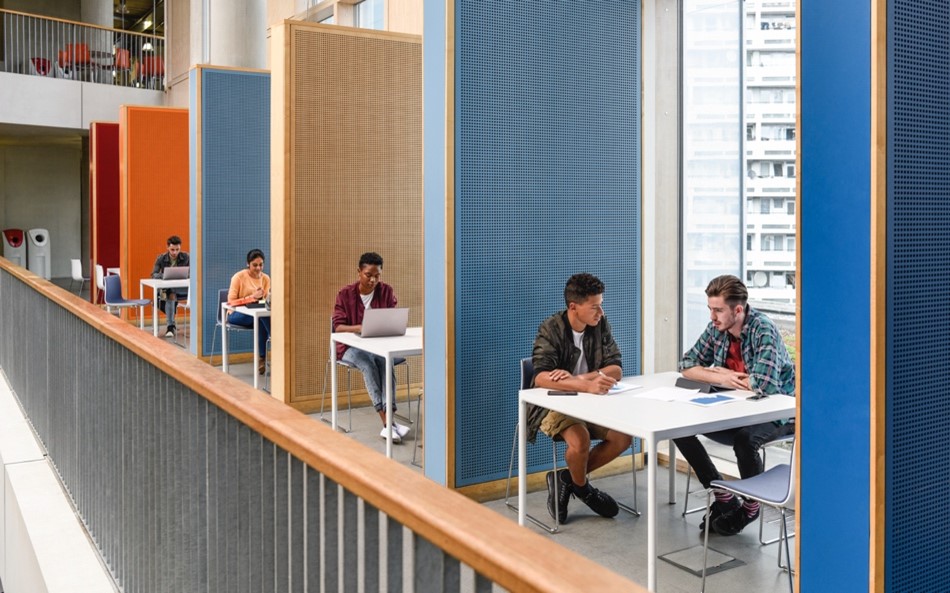 The student-centered classroom is shifting the focus of instruction from the teacher to the student, with the goal of developing students who can engage in life-long learning and independent problem-solving. Student-centered learning helps motivate students to be curious, creative, and most importantly, to collaborate with others. Classroom design needs to support flexible options to facilitate collaborative learning while also being able to respond to future public health emergencies or other shifts in demand that require new configurations to best support students.
The classroom of the future needs to integrate flexible tech tools that support collaborative and independent work. These classrooms need to accommodate different needs at different times of the school day. Classroom spaces need to include mobile furniture and they need to include technologies that can support short-term huddle spaces to facilitate collaborative activities. They also need to provide quiet corners and private spaces and respond to the growing demand for technology free zones during the school day to promote peer-to-peer activities that are not mediated through technology to improve student well-being.
Classroom Space: Flexible and Responsive
The physical classroom space needs to be responsive to the needs of the immediate moment. There will be times when there is a need for greater physical distancing and other times when the space needs to support collaborative technologies to facilitate engagement and inclusion. A recent survey found that almost half of all teachers have increased space between seats by rearranging their classrooms as best they can.[i]
 Flexible learning spaces, when intentionally designed, can encourage student-centered and collaborative learning pedagogical approaches. Students view these spaces as more enjoyable, comfortable, engaging, and inclusive. Teachers have observed that these spaces help discourage negative interactions and can promote positive connections among students.[ii]
The best classroom arrangements support the flexibility of being able to respond to the ups and downs of COVID outbreaks or other challenges by having mobile furniture and technology that can easily be moved into new configurations. Stools, standing-height desks, rolling chairs, and wobble seating provide options to re-configure classrooms on the fly. Desks designed with locking casters provide the option for collaborative work when appropriate and allow distancing when needed.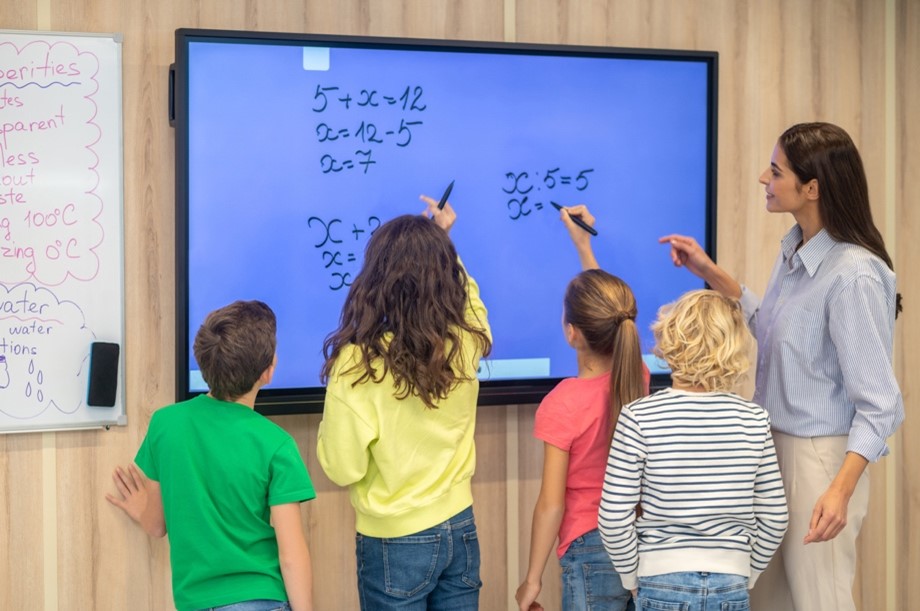 Mobile lecterns, white boards, smart carts, and mobile towers with laptop or Chromebook charging stations can provide options for re-arranging the classroom and can also encourage teachers to make choices about when to use technology and when to use other learning methods by being able to move tech tools to the perimeter of the room.
Instant Huddle Spaces
Reflecting workplace trends, classrooms are increasingly being designed to accommodate immediate demands for small group collaboration on an "as needed" basis. Huddle spaces are technology enhanced spaces that provide connectivity and screens so that students can easily share content from smartphones, tablets, or laptops.
Huddle spaces can be used for quick brainstorming activities or informal face-to-face interactions and team work. These spaces usually accommodate groups of two to five students and provide spaces that are quiet and partially enclosed to minimize distraction from other activities going on in the classroom. A huddle space can also provide a quiet corner for engaging in telelearning for a student, or pairs of students, in need of tutoring or personalized learning.
The technology used in huddle spaces can range from large wall mounted display screens to desk top size screens and can include interactive touch screen displays or projectors that provide a more cost-effective choice. Projectors can be networked to provide huddle room projection from one PC to many devices. Ideally, screen-sharing includes being able to switch between different student or educator screens, making on screen annotations, and viewing multiple screens at the same time.
Calm Down Corners and Privacy Booths to Support Student Well-Being
School leaders are prioritizing new technologies and classroom designs that can support student well-being. The mental health needs of students are a growing concern for educators and parents. Rising stress, anxiety, and depression for students of all ages is well-documented by recent research.

 Technologies that provide support — such as noise cancelling headphones or meditation apps — are best used in classrooms that include calm down corners, privacy booths, or other types of quiet spaces designed to decrease stimulation and help students decompress. Privacy booths allow students to participate in mental health services via teletherapy or online tutoring during class time. Privacy booths and calm down corners need to be incorporated into classroom design as seamlessly as possible and need to be ADA compliant and provide accessibility features so that they can be used by all students.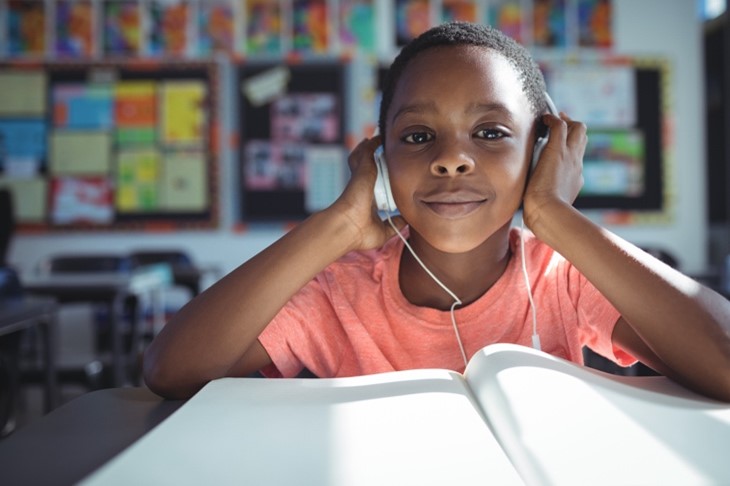 Classroom or other spaces in the school need to have an agile design that can accommodate group yoga or meditation workshops using videoconference platforms. School leaders are finding that they are no longer limited to using the soccer coach to double as yoga teacher but can instead purchase high quality digital courses from well-established leaders in the field. Partial room dividers and privacy screens can be used to accommodate different activities within the same classroom.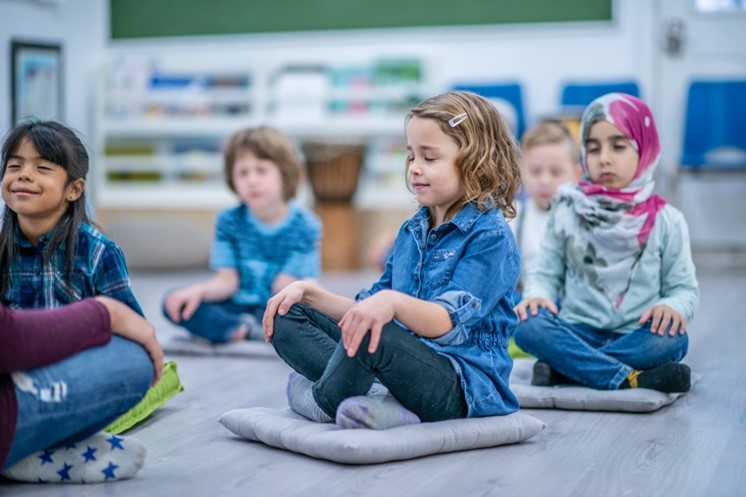 The Rise of Technology Free Zones
The need for technology-free zones is of rising importance in school settings where the average student now spends 6 to 8 hours a day on their devices outside of the classroom. New research suggests that though digital learning technologies can support student learning and collaboration there is also a strong need for more face-to-face interaction that is not mediated by technology. The extended remote learning on Zoom during COVID contributed to increases in student anxiety and depression and may be partially alleviated by finding ways to encourage more face-to-face positive interactions with others.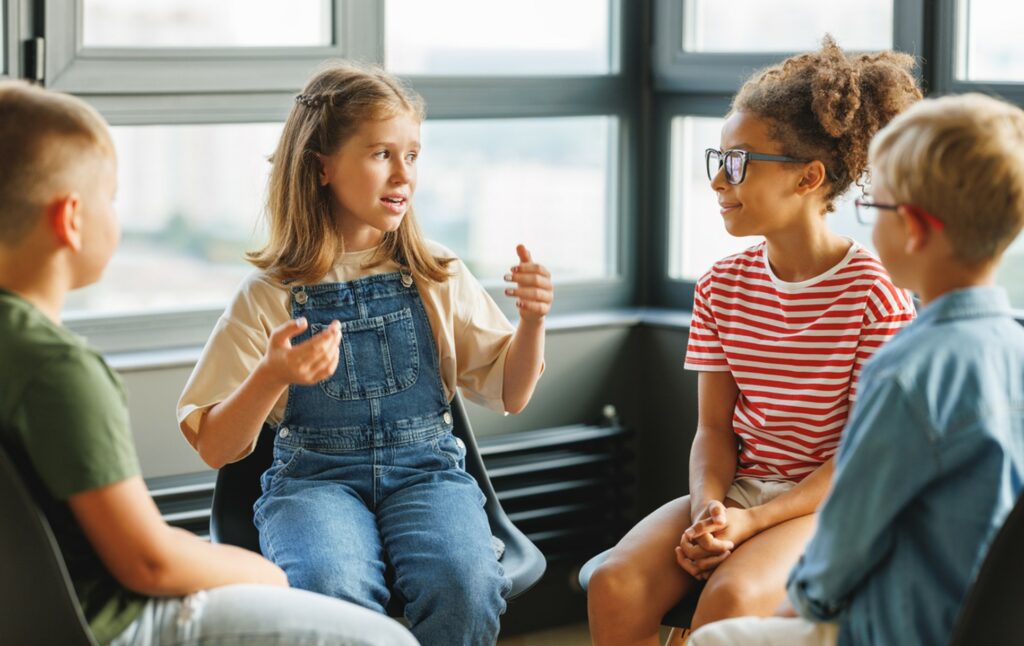 Schools are purchasing cell phone pouches, clear pocket organizers, and lockers to restrict access to smart phones during the school day. Established corners of the classroom can supply print books and interactive manipulatives to provide relief from the constant use of screens. Providing storage space, room dividers, comfortable seating, and carpeting establishes spaces where students can focus on learning that does not require the constant use of technology, especially for younger students.
(i) See: https://www.nationalbusinessfurniture.com/blog/back-to-school-survey
(ii) Kariippanon, Katharina & Cliff, Dylan & Lancaster, Sarah & Parrish, Anne-Maree. (2018). Perceived interplay between flexible learning spaces and teaching, learning and student wellbeing. Learning Environments Research. 21. 10.1007/s10984-017-9254-9; Kariippanon, Katharina & Cliff, Dylan & Lancaster, Sarah & Parrish, Anne-Maree. (2019). Flexible learning spaces facilitate interaction, collaboration and behavioural engagement in secondary school. PLOS ONE. 14. e0223607. 10.1371/journal.pone.0223607.