Emerging Spaces for Today's Student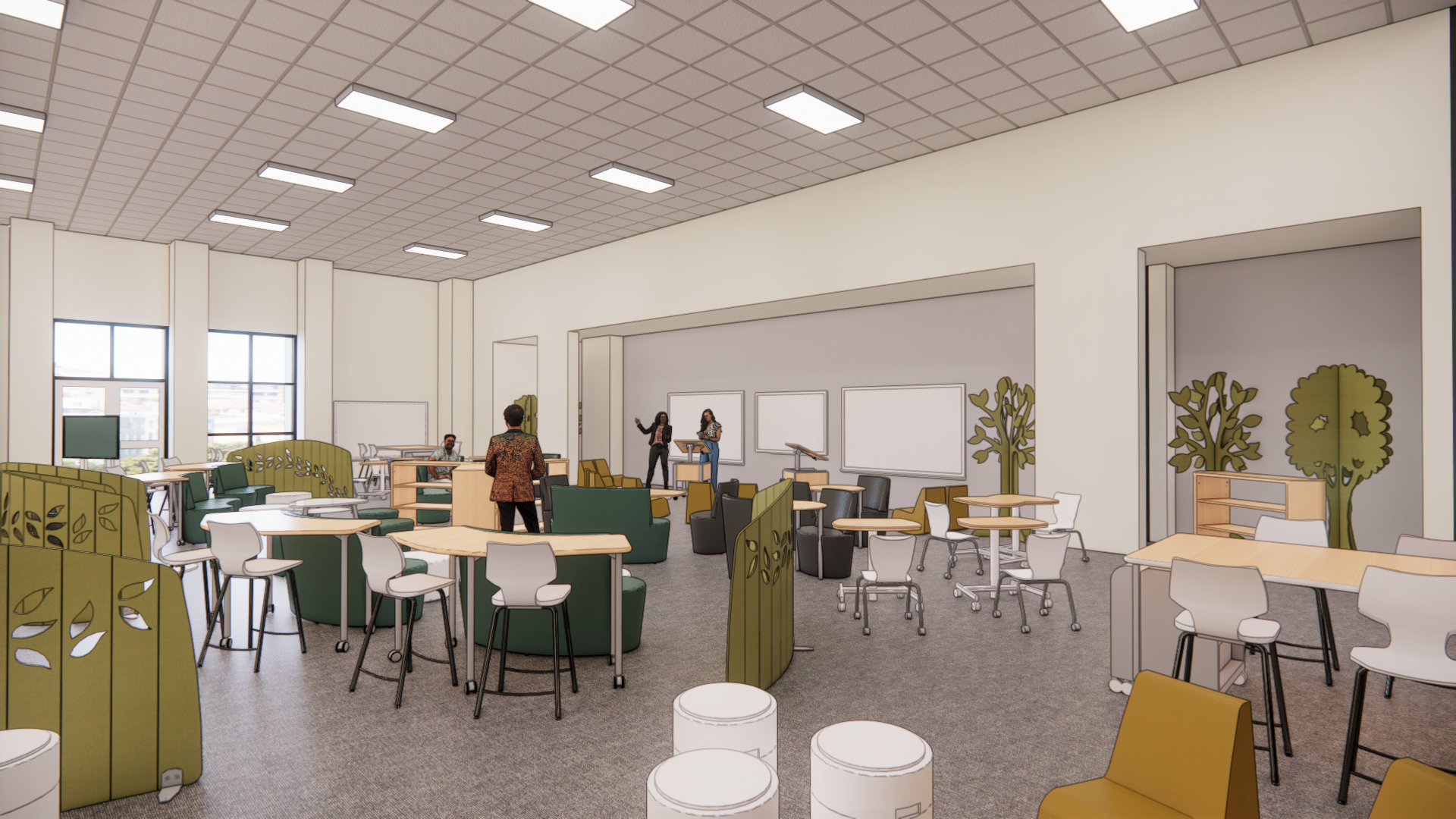 Classroom E219D: Emerging Spaces for Today's Student by FGM Architects
Goal:
The following spaces have emerged at the forefront in today's education market: Makerspaces, Augmented Reality, E-sports, Nature Driven (Indoor/Outdoor), and Commons (gathering spaces). These areas focus on the student by allowing them to thrive based on how they uniquely learn best.
Our classroom aims to shine a light on and give a glimpse of these spaces in action. The design is flexible, allowing for station-based activities or whole group learning. The presentation area is immediately adjacent to an indoor/outdoor setup, providing an intimate 'fireside chat' experience. Beyond that is a commons area with a collaborative learn lounge flanked by Makerspace stations. The perimeter features AR/VR and E-sports stations inviting users to take part in the space. Overall, the design allows for the individual user to choose how to experience the space, inclusively allowing for success regardless of learning style.
Focus:

Flexibility
Inclusivity
Universal Design
Immersive Learning
Biophilic Design
Impact:
Makerspaces spark creativity by inviting students to take a more hands on approach through exploring and sharing. Virtual environments like augmented reality stations can provide opportunities for students requiring extra assistance regarding attention span and focus through immersive learning, eliminating classroom distractions. Spaces which utilize biophilic design have been known to increase cognitive capacity and lower stress levels for both students and teachers. E-sports have allowed schools to be more inclusive, increasing student engagement while building social-emotional life skills. Learning is experiential and providing an appropriate design which fosters discussion, collaboration, creativity, and focus is critical.
Partners:
Mohawk Group, Smith Systems
Sponsored by: