A "green sustainable school" refers to an educational institution that prioritizes environmental responsibility, ecological literacy, and sustainability in both its operations and curriculum. These schools aim to minimize their environmental impact, reduce waste, conserve resources, and create healthier spaces for learning, all while preparing students to become responsible global citizens.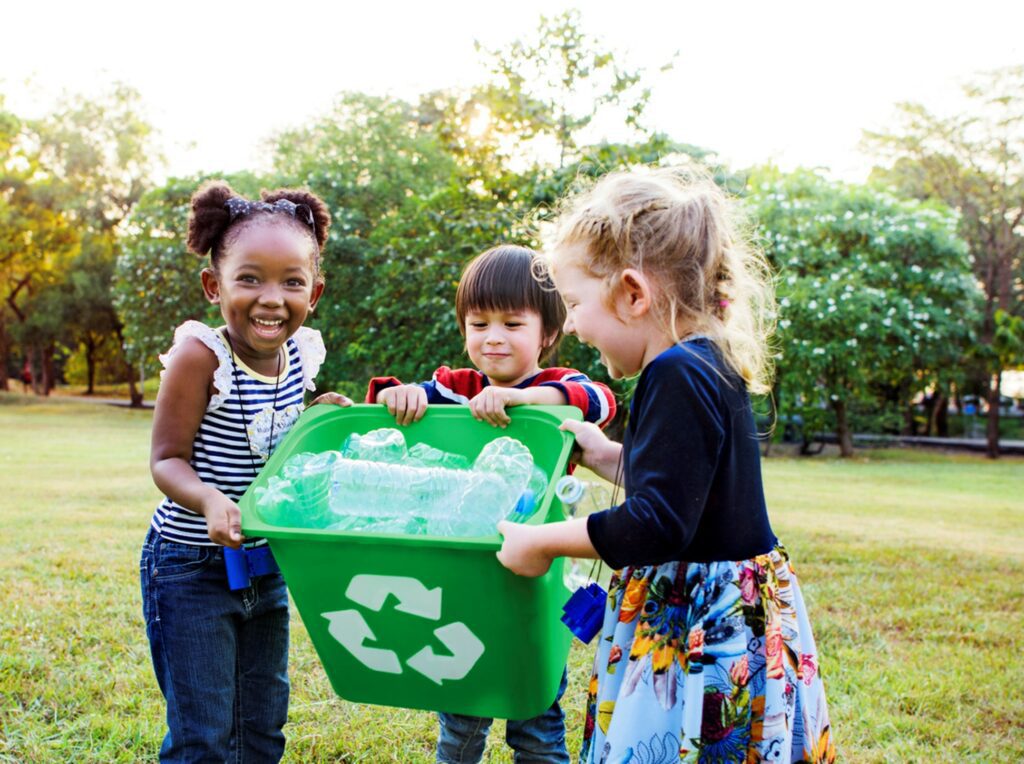 In recent years, sustainability has become more than just a buzzword. It's now a fundamental principle driving the design and operation of institutions worldwide and nationally, including our schools. Our children are the future: Their places of learning must reflect the values and skills we want to pass on to them, which makes the building of sustainable green schools not just a choice, but a necessity.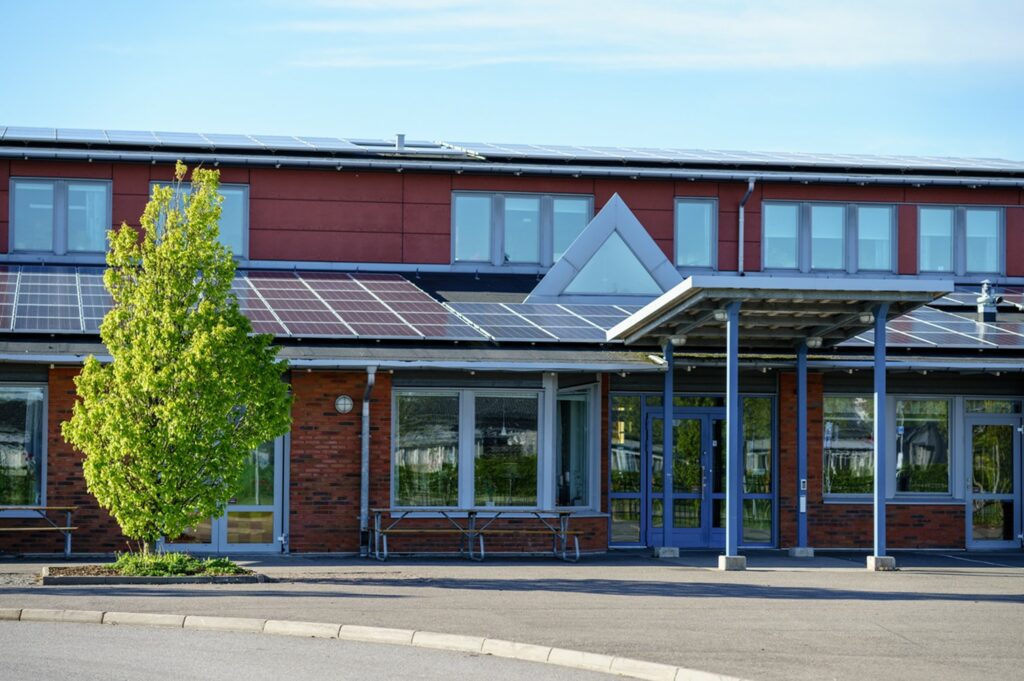 Why Sustainable Schools?
The reasons for creating green schools extend beyond the obvious environmental benefits. Here's why they're becoming increasingly indispensable:
1. Economic Benefits: Green schools often result in significant energy savings. With energy-efficient fixtures, superior insulation, and renewable energy sources, the initial investments pay off exponentially in the long run.
2. Improved Learning Environment: A well-ventilated, naturally lit, and comfortable learning environment can significantly improve students' academic performance. Schools with good indoor air quality and temperature control have observed better student attendance and higher test scores.
3. Teaching Real-World Skills: Sustainable schools serve as living laboratories. Students learn first-hand about renewable energy, water conservation, waste management, and sustainable agriculture. These experiences prepare them for a future where these skills will be crucial.
4. Promoting Health and Wellness: Sustainable schools spotlight both the environment and the health of their students. Reduced exposure to harmful chemicals, cleaner air, and better green spaces can significantly improve student well-being.
Who's Leading the Way?
Several trailblazing organizations and districts have already begun to make significant strides toward a greener future. These pioneers have understood the vital importance of sustainability and have taken substantial steps to integrate it into our educational environments:
1. The Center for Green Schools
aims to create sustainable learning environments for students at all educational levels. The Center promotes green school building design and construction, provides educational resources, and conducts research and policy analysis to guide decision-makers. It offers various programs, such as LEED for Schools, and organizes community service events to connect advocates nationwide.
2. The U.S. Department of Education Green Ribbon Schools Program
recognizes districts and schools that save energy, reduce costs, and represent environmentally sustainable learning environments. These schools showcase the best practices in sustainability, from green infrastructure to integrated sustainability curricula. The awarded schools announced on April 20, 2023, included 26 schools, 11 districts, and four postsecondary institutions. These honorees all employ sustainability practices and policies to reduce environmental impact and utility costs, improve health and wellness, and ensure effective environmental sustainability education. This year, two-thirds of honorees were schools and districts in underserved communities, illustrating that any school or district can adopt sustainability into its daily operations, wellness programs, and curricula.
3. The 2023 Green Ribbon School Honoree, Moreno Valley Unified School District in California, serves over 31,500 students from pre-K to 12th grade in 42 schools. Since its board adopted an environmental education policy in 2010, the district has been committed to teaching students the importance of environmental stewardship through projects on ocean pollution, climate change, and more. In 2020, they introduced an Energy Specialist Manager role to oversee HVAC, irrigation, and energy efficiency across all schools. The district has also transitioned its bus fleet to electric and other eco-friendly fuels, boasting 42 electric buses. Currently, 17 of the 42 schools have on-site gardens used for various educational purposes, from environmental science to social-emotional learning.
4. Boston Public Schools (BPS) in Massachusetts, also a 2023 Green Ribbon School Honoree, is home to nearly 49,000 students across 119 educational facilities. Led by its Sustainability, Energy, and Environment Program, the district has initiatives spanning energy efficiency, waste reduction, and eco-friendly transportation. Starting in 2022-2023, new bus purchases will exclusively be electric, targeting a fully electric fleet within 10 years. BPS has also upgraded 106 school kitchens in just four years, 81 of which now enable on-site meal preparation. Additionally, the district maintains 79 active gardens and has a dedicated manager for outdoor teaching and learning.
5. Browning Elementary School in Milwaukee, Wisconsin serves a diverse student body of 259, with 93% eligible for free or reduced-price lunch and 98% from minority backgrounds. The school was honored as a Green Ribbon School this year because of its significant steps forward in sustainability and community engagement. It upgraded to an energy-efficient HVAC system and installed a stormwater vault beneath the playground. The Walking School Bus program not only encourages healthy habits but also fosters community integration. Also, Browning Elementary's successful greenhouse project serves dual purposes: it enriches school-day planning and acts as a communal space for the broader community, supporting efforts to increase local food security.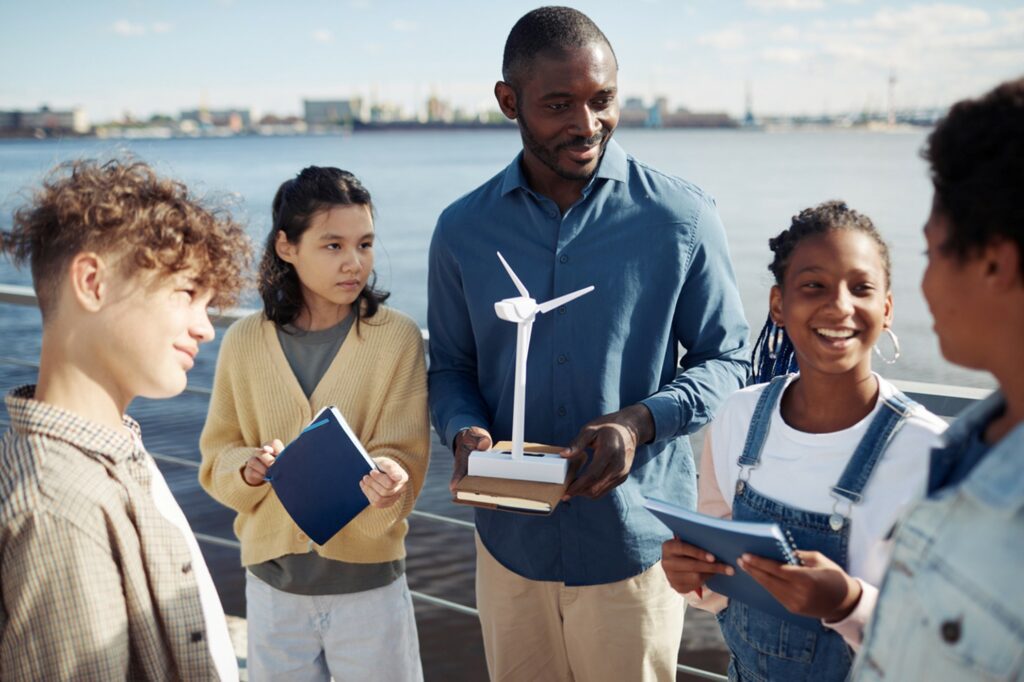 6. How Do We Get from Vision to Reality
While many schools and districts have made praiseworthy progress in the realm of sustainable education, growth opportunities still abound. Here are the key areas where forward-thinking districts can focus their future efforts:
Operations
Energy Efficiency: Incorporate renewable energy sources such as solar and wind power, install LED lighting systems, utilize smart energy management systems, and opt for energy-efficient appliances.

Water Conservation: Install low-flow water fixtures, implement rainwater harvesting systems, and employ other water-saving technologies.

Waste Management: Prioritize initiatives that encourage recycling, composting, and converting waste to energy to reduce the amount sent to landfills.

Transportation: Promote alternative transportation options like walking, cycling, carpooling, and using public transport instead of single-occupancy vehicles.

Green Building: Opt for eco-friendly building materials and practices, maximize the use of natural light, enhance insulation, and employ energy-efficient HVAC systems.

Safe Materials: Utilize non-toxic cleaning products, low-VOC paints, and other materials that contribute to a healthier indoor environment.

Regular Sustainability Audits: Conduct ongoing assessments of energy usage, waste management, and other sustainability metrics to ensure the school stays aligned with its green objectives.
Curriculum
Environmental Education: Introduce sustainability values into the core curriculum, incorporating environmental themes into subjects ranging from science and math to the humanities.

Experiential Learning: Offer students hands-on experiences such as waste audits, gardening, and participating in local environmental conservation projects.

Global Awareness: Educate students about global environmental issues like climate change, water scarcity, and deforestation, while encouraging a mindset focused on solutions.

Skill Building: Develop essential skills like critical thinking, problem-solving, and collaboration, which are crucial for tackling environmental challenges.
Community Engagement and Learning
Parental Involvement: Involve parents and the broader community in various sustainability-focused activities, including workshops, lectures, and community service projects.

Local Partnerships: Partner with local businesses, government agencies, and NGOs to strengthen the district's sustainability initiatives.

Communication and Accountability: Keep the community informed about the district's sustainability milestones and challenges, thereby fostering a culture of accountability and continuous improvement.

Professional Development: Keep teachers and staff updated on sustainability principles by offering regular workshops and training sessions.

Collaboration and Learning: Join networks of green schools both nationally and globally to share best practices and learn from the experiences of other educational institutions.
Building sustainable green schools is not only an environmental or economic decision but a declaration that we are committed to nurturing well-rounded, informed, and responsible global citizens. The path from vision to reality may seem challenging, but with a focused approach and collaborative spirit, building sustainable schools is well within reach.
This article was based, in part, on the following sources:
https://www.usgbc.org/press/about-center-green-schools
https://www2.ed.gov/programs/green-ribbon-schools/index.html
https://www2.ed.gov/programs/green-ribbon-schools/highlights-2023.pdf
https://www.boston.gov/education/green-new-deal-boston-public-schools