To maximize learning, educators and administrators must work together to design whole school and individual classroom environments that support collaborative learning yet allow for flexibility to support independent work.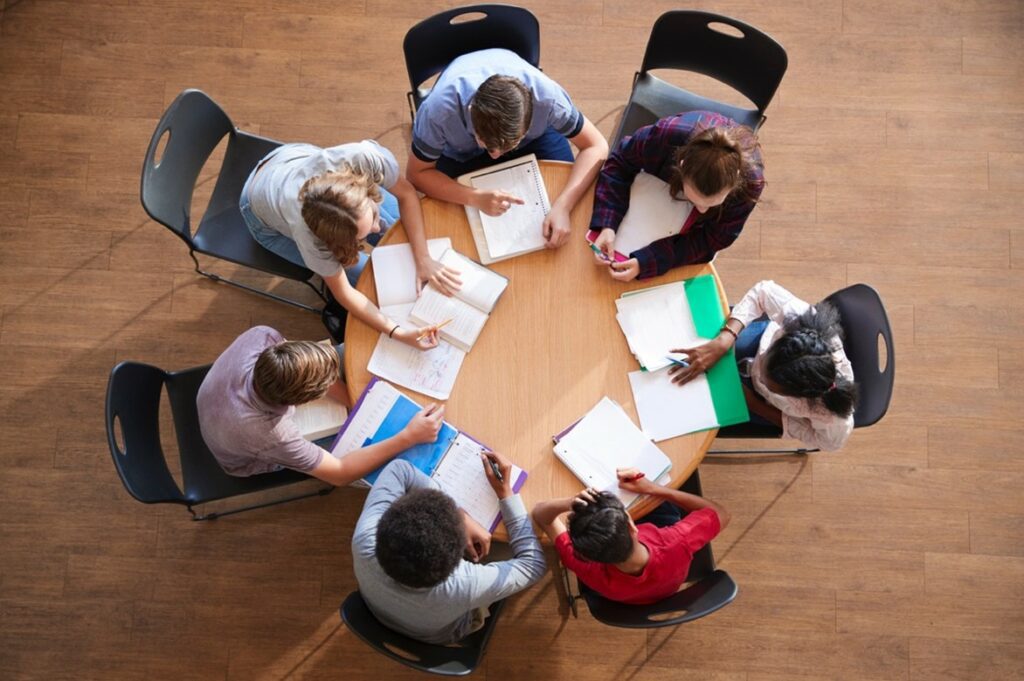 The physical design of learning spaces has a profound impact on how students learn and engage with each other. Lighting and decor, opportunity to make choices, and layout of the learning space are a few of the factors that can influence student academic performance.1
When it comes to designing a classroom that promotes collaboration, team work, and independent learning, understanding the principles of constructivist theory is essential. At its core, constructivism emphasizes that students learn best when they actively construct their own knowledge through social interaction and hands-on experiences. By creating an environment that focuses on these principles and allows for students to choose their own workspaces and seating, educators can engage and empower students on their unique educational journeys.
Choice and Personalization
The first step in designing a learning space through a constructivist lens is to allow students to embrace the concept of choice and choose their preferred seating and workspaces. This fosters a sense of ownership and allows learners to create an environment that works best for their unique learning styles. When educators provide options within the learning spaces, it demonstrates trust in students' abilities to make informed choices. This fosters independence and allows them the opportunity to advocate for their personal needs.
Students can be involved in the development process of redesigning their classroom for maximum collaboration. Consider using Project Based Learning 3 to facilitate a group activity where students can research different classroom designs and vote for their preferred type of seat and work station. They can then present a written document, live demonstration, or video explaining their opinion. Teachers can guide students on crowdsourcing for their new materials. This is a fun and interactive way to start out the school year!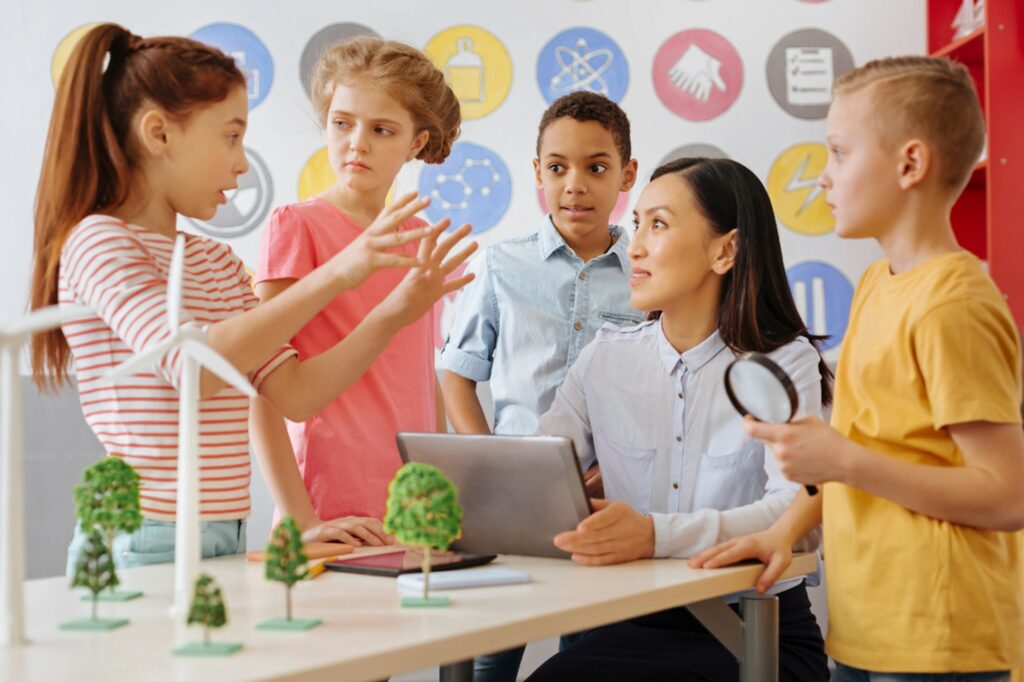 Technology in the Constructivist Classroom
Balancing collaborative and independent work spaces requires strong organizational skills and accessibility. Ensure that every workstation is equipped with devices that facilitate research, team collaboration, and sharing of ideas. Interactive whiteboards, computers, tablets, or laptops can enhance students' learning experiences by enabling access to information and encouraging digital collaboration. This integration supports constructivist learning by promoting engagement and real-world application of knowledge.
New technologies, such as Nearpod's Collaborate Board, are gaining in popularity in the constructivist classroom. Collaborative apps help all students participate and designing classrooms needs to consider the needs of virtual, hybrid, and group collaborative work. Furniture needs to allow for students to work "independently" while collaborating online, as well as provide students with the ability to see and share larger screens within small groups. These multiple demands on classroom space can be challenging, but by selecting flexible furniture options teachers and students can choose to reconfigure the classroom multiple times throughout the school day.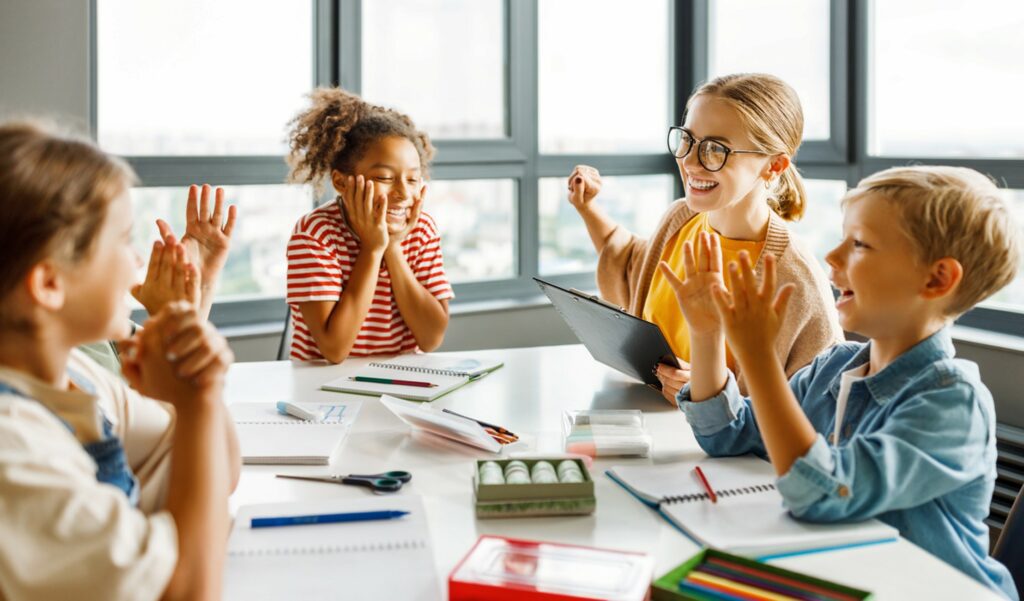 Flexible Seating
When taking the first steps to design a collaborative classroom, first consider how to offer flexible seating options. Traditional rows of desks are no longer best practice. Instead, prioritize having versatile seating arrangements that cater to various learning preferences and needs. For example, include standing desks, bean bags, floor cushions, and high-top tables. This allows students to choose what works best for them, increasing comfort and engagement in the learning process.
Work Zones
The learning space can be sectioned into designated group work zones to encourage collaboration among students. By creating areas where small groups can gather to work on projects, discussions, and problem-solving activities. These zones can consist of tables with ample space for group members to spread out their materials, collaboratively brainstorm ideas, and engage in meaningful conversation. Additionally, ensure that these zones are visually separated from individual workstations to maintain focus and minimize distractions
Independent Workstations
While collaboration is an important, life-long skill for students to learn, it is equally important to provide spaces where students can work independently. All classrooms should include workstations that allow for personal space, concentration, and solitude. These spaces can look a variety of different ways, such as secluded nooks in a corner of the room to simple desks positioned away from group areas to facilitate focused work. Be sure to consider how your storage and organization systems for personal belongings and work materials need to evolve to enhance your constructivist classroom design.
Flexible and Easy-to-Maneuver Furniture
When giving options to your students to allow them to choose the best seat and work space for them, the overall layout of classroom materials will change daily. It is important to choose furniture that can be easily rearranged to accommodate different classroom activities. By having movable desks and chairs, teachers and students can effortlessly transition between individual and group work. This flexibility reflects the dynamic nature of constructivist learning and allows for seamless adaptation to the changing needs of your individual students and your group as a whole.
Taking it Outdoors
Expanding past the physical boundaries of the school building is beneficial for all students, especially when opportunities are provided to actively engage in hands-on activities in outdoor settings. A nature-based learning approach can be informal and relaxed, while providing benefits to students such as increased attention span and memory and improving communication and critical thinking skills. 2 The outdoor classroom can incorporate a variety of workspaces and seating options to allow for an immersive learning experience.
Younger learners benefit from flexible activity areas that can adjust to different curriculum topics and seasons of weather. Cozy, outdoor reading nooks allow students to enjoy literature while appreciating nature. Science investigation stations can be set up as interactive areas for exploration while being flexible for teamwork activities and independent tasks.
Middle school and high school students thrive in environments that support creativity and critical thinking. Outdoor workstations provide functional spaces where students can extend classroom activities and work on collaborative projects. Furniture and structures that are adjustable and easily converted to fit the needs of students are most helpful and cost efficient. Teachers can use a constructivist pedagogy and focus on experiential learning by setting up hands-on outdoor experiments and activities that require problem-solving and critical thinking. Field study trips can maximize student led learning and allow students to apply concepts learned in the classroom to real-world situations.
Creating outdoor classrooms for collaborative and independent work opens up a world of possibilities for learners of all ages. Groups of students and teachers can work collaboratively to design a sensory garden filled with herbs, flowers, or produce. These interactive learning spaces will appeal to children's senses, incorporating different textures, scents, and colors. This living and growing classroom area gives students an opportunity to tend to the garden. Teachers can create nature scavenger hunts to foster independence by helping young learners explore the natural environment, offering opportunities for collaboration, communication, and problem-solving.
Embracing constructivist theory and designing a classroom for collaboration and independent work is an investment in the educational journey of every learner. By prioritizing flexible seating, creating group work zones, incorporating independent workstations, and allowing for choice and personalization, the classroom emerges as a vibrant hub of meaningful interaction, construction of knowledge, and personal growth. As educators, it is our responsibility to provide spaces that support the unique needs of each student, inspiring a love for learning that goes beyond the boundaries of the classroom.