It's a worthy goal of all educational facility designers to imagine spaces where students and teachers work together as a team in an atmosphere where students genuinely want to learn. To design a learning environment that transforms education and meets the everchanging needs of the students and teachers not only of today, but in the future requires innovative thinking and products.
Unique Characteristics of the Education Sector
Students, teachers, and administrators have distinctive needs for space design and product solutions that function and challenge a wide variety of ages, stages, learning styles, and budgets. "We may work on a Pre-K -grade 8 school and need to provide a cohesive setting while also addressing the specific needs by age; these types of projects are always a challenge but one that we completely embrace," says Emily E. Czarnecki, NCIDQ, Senior Associate / Senior Interior Designer, JCJ Architecture. "One of our strategies is to create a common language with furniture throughout the school, supporting that flexibility that is so important to educators and creating interesting and exciting variations."
Providing understanding of issues around constructability, planning, programming, and master planning is crucial as these are the elements that heavily steer the project in a given direction. "Design teams really need to understand local agencies and government and their roles in approvals and funding for new schools," says Olivia Graf Doyle, Design Principal, Partner, A4E (Architecture for Education). "Designers also need to be able to grasp design research around age and grade level. This includes having knowledge of the more philosophical concepts around curriculum and pedagogy, which go hand in hand with how educational spaces are designed." According to Wendy Watts, IIDA, Principal, Education Design, Wight & Company, "The overarching need is providing end users with products that truly work for them on multiple fronts." These products must incorporate healthier materials, perform well over a long period of time with limited maintenance costs, and bring "joy and beauty to their space."
Durability is Essential
Designers should always be thinking about how the furniture will support the specific curriculum and considering the educator's mindset in how they teach and how students learn. "Each project and curriculum are unique and what may work for one school, may not work for another," says Czarnecki. "In my experience, listening and understanding the needs of the client are key factors to successful design that will stand up over time." "Unlike Healthcare or Corporate Interiors, Education spaces need to have products that last and perform for a much more extended life cycle," says Watts. "For example, it is not unheard of to have hard flooring surfaces in a school be in place for 25+ years. Therefore, products need to be high quality, in an aesthetic that has longevity and be made of materials that are not harmful to student's health." Graf Doyle agrees: "Designers of educational environments need to specify finishes and materials that are not only innovative and appropriate for developmental age and learning, but also durable and sustainable. Furniture, finishes and other materials need to be able to stand the test of time with facilities maintenance and operations departments."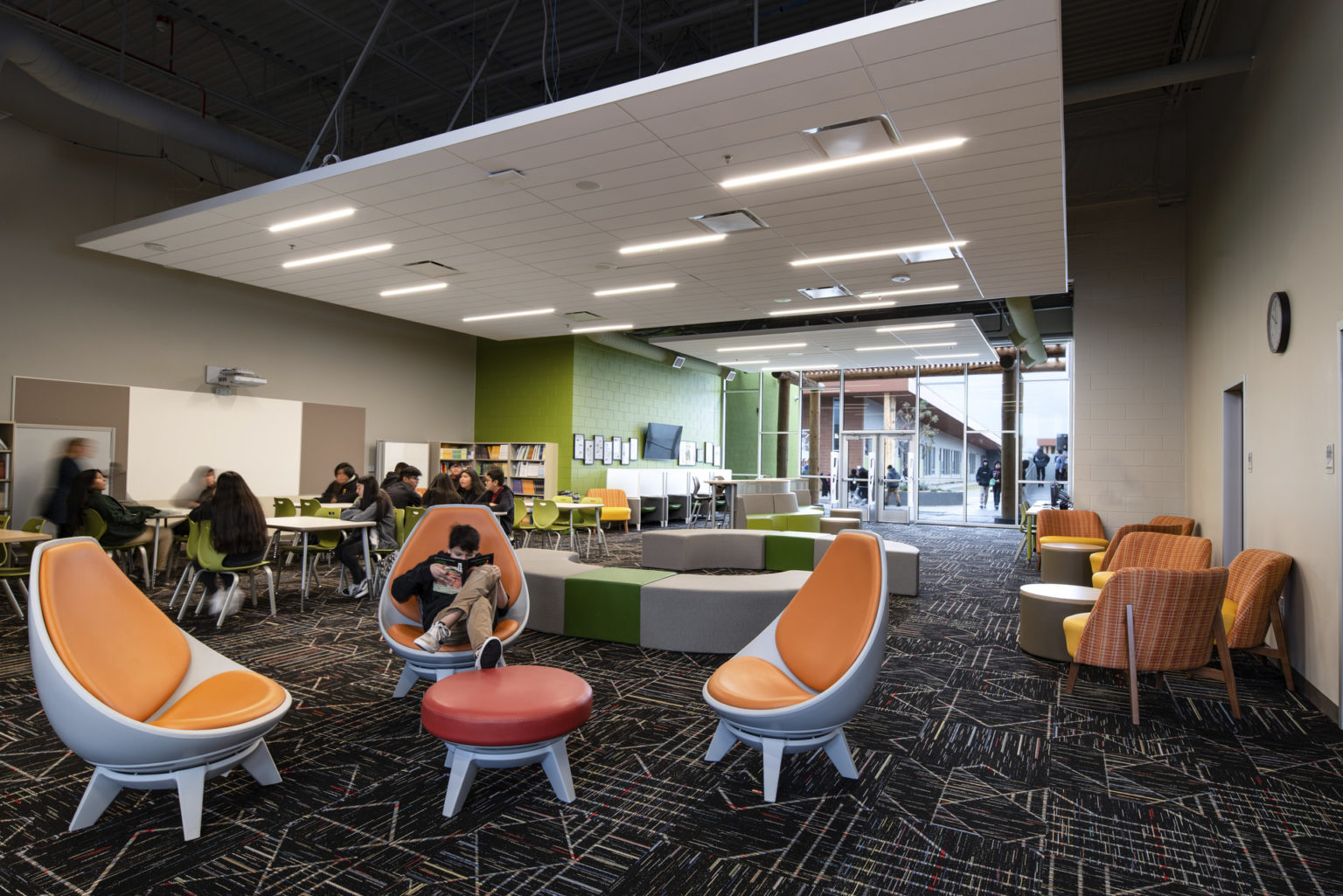 Educate the Client
One of the significant challenges to working with public schools is that committees, administrators, and educators may not have had the opportunity to go through a full project design process. Listening to their needs and guiding them through the process and the many choices that are available to them is an important part of the process. "Educating the educators becomes our job to not only show them options but allow them to test them out. We provide and review research that helps explain the benefits of furniture such as ergonomics, durability, etc.," says Czarnecki. "It is important that we take a longer view of new products and trends and always steer our clients toward walking a line between the latest innovation and what has been proven to work over the long term." "Working with committees and districts means understanding that schools within the midst of the design process must look beyond the basic levels of warm, safe, and dry. It is about going beyond and designing for best practices, which means proactively focusing on the mental and physical well-being of all those in the building. To do this, designers and educators, together, reflect on the vision schools have for all learners to thrive, and identify facility misalignments in their learning ecosystems that create barriers to reaching this vision," says Jill Ackers-Clayton, Senior Learning Designer, Fielding International. "Before specifying a project be sure to request plenty of samples and talk to both sales reps and technical reps from the manufacturer. "Understanding the technical aspects of materials helps you integrate them into the design in a smart and elegant way. It really improves constructability and the quality of the design," says Graf Doyle. Wendy Watts agrees: "The technical written specifications are an extremely important road map to ensuring the success of a project. This becomes evident when desired specified products are unavailable or have been discontinued, holding the substituted product to the established criteria in the specification is critical."
"It is important that we take a longer view of new products and trends and always steer our clients toward walking a line between the latest innovation and what has been proven to work over the long term." Emily E. Czarnecki, NCIDQ, Senior Associate / Senior Interior Designer, JCJ Architecture
School Budgets & Purchasing
Depending on the size of the project, furniture programming typically starts at least a year ahead of the when the furniture installation is planned. "Before COVID, I used to plan about 12 weeks from the issuance of the purchase orders to first day of installation," says Czarnecki. "Unfortunately, since the pandemic, we have seen lead times change randomly for various reasons whether it's related to material accessibility issues or an outbreak at a manufacturing plant. Planning additional time is a necessity. Understanding the budget needs to be a top priority when starting a project. It is crucial to the success of the project to ensure the client is on board and setting owner expectations is especially important when the budget is tight. "If possible, try to be part of the initial budgeting conversations early on  in the project with team leadership so the proper budget can be established when the FF&E begins," advises Czarnecki. For budgeting purposes, Czarnecki suggests setting up a room by room cost estimate as a talking point early on to help set those expectations of quality level and durability with the end users. Working with vendors early on to review various options to show clients will help keep within the budget range. "Listening to the client is key; our goal as designers should be to bring inspiration to the end users working closely with them to find creative solutions that meet their curriculum needs, that meet the academic as well as social and emotional needs of the students, while maintaining functionality and adaptability for the future." The purchasing cycle varies whether its furniture or building materials, but Wendy Watts likes to have the flexibility that comes with having bids awarded at least 5 months before construction starts. "That might sound outrageous in the Corporate Interiors market where things move much quicker, but there is a very firm deadline of projects needing to be complete for the first day of school – that deadline cannot be swayed. Therefore, months of preconstruction prep are vital for this industry." Summer is the key installation time for the education market and designers need to work with purchasing departments to coordinate lead times, especially at these busy times. "It's really critical to plan your project schedule meticulously, check your lead times early, get quotes and adjust your budget, and adjust your milestones per phase as needed," says Graf Doyle. "Designers will need to work with bond managers, and in general coordinate and collaborate with a lot of different stakeholders."
The seasonality of the education market and the summer crunch time inevitably brings material issues with subcontractors not ordering products despite the time frames established in the approved schedule. Other times, materials specified for a school become discontinued during the duration of a project between design approval and ordering. The pandemic has caused unprecedented supply chain issues requiring much longer lead times, but there are ways to lessen the impact. "I have always found that good relationships with your manufacturer's sales representatives can go a long way towards 'finding' the quantities that others cannot," says Watts. "Designers should treat relationships with manufacturers with respect instead of as service providers."
Sustainability Woven into All Projects
Making sustainable design choices is increasingly important and is at the forefront as designers consider the range of options and products. "Collaborative for High Performance Schools (CHPS) and WELL Standards with NetZero capability should be at the heart of all budgets and equally interwoven into the curriculum to highlight the importance of sustainability with the curriculum alongside sustainable buildings," says Ackers-Clayton. The level of prioritization placed on sustainability is typically determined early on at the beginning of a project. "If a project's goal is to meet some level of LEED certification or High-performance criteria, the designer should ask whether the furniture and materials have been selected to contribute to those specific required credits," says Czarnecki. "That will help direct the designer to certain product selections such as furniture that meets GreenGuard and/or Level 2 certifications." Designers should also be mindful of the upholstery and material selections for the building and the furniture and how those selections affect achieving these criteria. "Regardless of the project goals, selecting products that make sustainability a priority and strive to reduce carbon footprint are considered responsible design practice," she says. There are simple yet effective building elements that create the overall health and wellness experience in a space. "Specific materials can have a huge impact on the overall experience of health and well-being – such as using large, glazed bi-folding doors or garage doors in a space to create an indoor-outdoor connection, as well as crafting opportunities for abundant exposure to natural daylight," says Graf Doyle. "It's important for a designer to understand the overall needs with regard to health and wellness in a space and then connect that to the details of the product – for example, knowing if products off-gas, realizing their impact on the environment and implementing evidence-based design solutions." Designers constantly have to weigh the need to have products that last and perform for a much more extended life cycle, along with budget when making their selections. "Thankfully, manufacturers are starting to introduce products that have removed PVC, says Watts. "Other manufacturers are removing detrimental forever chemicals such as PFAS, Flame Retardants, BPA, and antimicrobials.  However, it's alarming to see a trend where others are adding antimicrobials which will not only take the place of a good maintenance program but are often registered pesticides making their use controversial."
What's Trending
With the pandemic and social distancing requirements changing throughout the last year, designers and education officials have no crystal ball regarding what exactly what the classroom will look like in the fall. What does the new "normal" look like for students and teachers? "What we found very rewarding in most of our projects was that by having provided desks for students in various shapes, schools were able to social distance without buying new furniture to achieve the required layout," says Czarnecki. "When collaborative learning reconvenes, these different shapes will allow students to move the furniture into small groups creating table like settings that support these activities." Future ready learning space, agile spaces and agile furniture for flexibility are in high demand. Flexible and agile furniture has become the forefront in design thinking and has opened up a huge range of experiential and educational opportunities. Furniture that is easily moveable by students, simple to adjust from sitting to standing height, and with the potential for a variety of types of seating options inside and outside the classrooms provides not only new options but also equity in access for all students — no matter their age, background, or skill level. Outdoor learning spaces are incredibly popular right now, especially in the wake of COVID-19. "Schools are also looking for opportunities to create indoor-outdoor connections for more flexibility and connections to nature," says Olivia Graf Doyle, Design Principal, Partner, A4E (Architecture for Education). "We are also constantly looking at creating spaces that support the development of soft skills like collaboration and creativity."
Conclusion
To understand the challenges to the existing ways of teaching and learning, interior designers need to listen to and truly understand the needs of the people who use the school spaces on a day-to-day basis. Only by examining and articulating the needs and wishes of those in the classrooms can learning environments be designed that not only support current pedagogy, but also challenge teachers and students to reinvent and reimagine the future.
This article first appeared in i+s magazine as part of its How to Specify series. The full article can be found in EDmarket's Essentials magazine here.