Creating a green school can have a positive impact on student and staff performance, reduce stress levels, and support better health. A green school emphasizes sustainability and minimizes its environmental impact. Research suggests that attending a green school can improve the health of individuals.
The National Association of Independent Schools has identified four essential pillars of a green school. These include:
ensuring that the school space is free of toxins

using resources sustainably

designing green spaces within the school

having a curriculum that integrates environmental conservation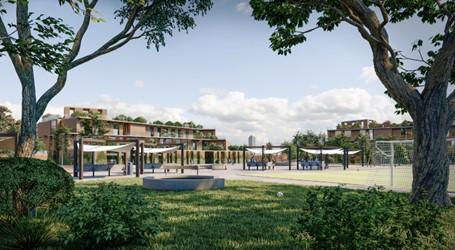 Why Use an Environmentally Sustainable Model?
When designing a school, it is important to consider sustainability. An environmentally sustainable model promotes conservation and ensures that future generations have the same resources as we do today. Research indicates that incorporating pro-environmental attitudes in school design can result in cost savings in relation to the school's output. Utilizing sustainable practices benefits not only students and staff but also the community.
Green schools offer numerous benefits. By incorporating natural elements into their design, such schools help to reduce children's levels of stress and anxiety. Studies indicate that green schools have been associated with improved cognitive abilities, enhanced attention spans, and better attendance rates. Consequently, students perform better academically and are happier overall.
Consider a School Garden
School gardens are a crucial aspect that should be added to every school to create a green-friendly environment. A school garden can provide students with truly hands-on experiences that can enhance their learning. Teachers can incorporate a garden into many different lessons, making it a versatile teaching tool. Having a garden is also beneficial because it can encourage students to eat healthier by exposing them to fruits and vegetables regularly. Furthermore, educators and researchers have suggested that gardens can also support social skills learning.
Starting a school garden can be achieved through various design options. One cost-efficient and easy-to-explore option is using raised garden beds. It's vital to ensure that the garden is accessible to students and provides them with practical experience. Alternatively, you could plow a section of land or use regular gardening beds to create the garden. The plants chosen should be easy to maintain, as students will be responsible for taking care of them. Also, the garden should be located in an area with sufficient sunlight and provide shade if needed. Trellises can be utilized to grow tomatoes, grapes, or climbing plants. It's worth noting that the garden should be protected from wildlife that may feed on the plants. To guarantee a successful garden, you will need to purchase gardening gloves, hoes, shovels, and small garden hand tools. The key to a successful garden is transforming it into a school community endeavor.
Get Children Outside!
Play areas that are designed with greenery in mind provide more benefits than heat-radiating blacktop playgrounds. It's crucial for children to explore and learn within nature. An area that is full of trees, grass, and plants can easily spark a child's imagination. Many schools are situated in urban areas, and within those communities, children don't have as much exposure to nature as their suburban counterparts. According to the article "Expanding the Definition of Pediatric Environmental Health," recent research in the fields of psychology, public health, and urban and environmental studies has shown various physical and mental health benefits related to exposure to and interaction with outdoor green spaces.
Outdoor classrooms can be a crucial component of a green school initiative. The Centers for Disease Control and Prevention (CDC) recommends that children should be exposed to as much fresh air as possible, particularly in the era of COVID-19. Research has shown that outdoor learning can boost academic performance and enhance children's overall mental health. Additionally, utilizing outdoor classrooms can be a refreshing change of scenery that is enjoyable for both staff and students.
Designing green spaces involves critical landscaping decisions. It is crucial to select an area that nurtures the growth and well-being of plant life. Green spaces should be designed to incorporate both sunny and shaded areas. Moreover, when creating outdoor spaces for students, safety should be the top priority. Landscaping should be chosen with the safety and health of children in mind.
Make Your School Green Inside as well as Outside
There are numerous ways to make a school more sustainable. As previously mentioned, a sustainable school is commonly referred to as a Green school. Involving the school community in the process of creating a sustainable school would be beneficial and create a sense of ownership. It is important to note that a green school doesn't only apply to outdoor spaces, but should also include indoor areas as well.
Supporting sustainability is a crucial aspect of any school that cares about the environment. One effective way of achieving this is by installing energy-efficient lighting, which helps to reduce electricity consumption and costs. Solar panels are also a great investment as they can significantly minimize a school's electrical expenses. Another way to conserve energy is to install lighting that automatically turns off when a room is unoccupied. Additionally, designing a school with natural light in mind is another effective way of promoting energy conservation. Skylights and windows are excellent sources of natural light, and they have been proven to reduce stress levels compared to harsh fluorescent lighting.
Water plays a crucial role in sustainability. Many schools across the country are implementing systems that reuse water, reducing water consumption and helping the environment. Water reuse involves preventing water from going to waste and instead using it in garden areas. It is also important to install faucets that turn off when not in use and low-flow toilets. Additionally, rainwater can be used as a sustainable technique for irrigation purposes.
It is essential for schools to recycle correctly to promote sustainability. To achieve this, recycling lessons should be integrated into the school's curriculum. Additionally, a student-led initiative should be put in place to ensure that fellow students are also recycling. The school should support this by providing enough bins that are clearly labeled. Introducing a reward system for students who are exemplary recyclers could also be beneficial.
Creating a green school can bring about endless benefits. In the article, Child-Friendly Green Open Space to Enhance the Education Process of Children the authors state that children require open spaces to play, learn, exercise, and engage in recreational activities to grow and develop properly. This is crucial for cognitive, affective, and psychomotor skill development. By exposing children to sustainable practices, we can contribute towards building a better future for all.
Work Cited:
Bravender T and Smith Bravender L. Expanding the definition of pediatric environmental health. May 11, 2019. Epub ahead of print.
E Yuniastuti and H S Hasibuan, Child-Friendly Green Open Space to Enhance the Education Process of Children. 2019 IOP Conf. Ser.: Earth Environ. Sci. 243 012161