Get to know the senior associate and senior interior designer at JCJ Architecture, who is inspired by personalized learning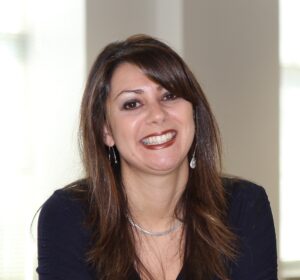 Q: Do you have any powerful childhood memories of design?
A: Growing up, I often visited Los Angeles to see extended family. My aunt who lived there loved to tour model homes and developments, and I would often accompany her. I would bring home the packets of floor plans they gave us and start designing my own houses. This is how I began to fall in love with architecture and design at age 10.
Q: Can you share an example of educational design that inspires you?
A: About six years ago, I took a trip to Germany and was able to tour one of the local schools in Esslingen called St. Bernhard Grundschule. I was so inspired by the simplicity of the school's design and how they used warm woods and other durable materials. The design was student-focused and all about personalized learning. All of the classrooms were located around one larger gathering space with a variety of furnishings, and students were able to move freely between classrooms and breakout spaces. The lessons I took from this school have stayed with me as I continue to design new projects.
Q: What led you to educational design?
A: I fell into educational design because of a summer internship I had when I was 16. The firm I was working for happened to focus primarily on educational work, and I found that I enjoyed it. What compels me to remain in educational design is the impact that it has on students. A well-designed school will positively influence a student's comfort, academic success, and emotional wellbeing. The knowledge that my designs can inspire students to stay in school and work hard is meaningful to me. When students recognize that they have been given a space meant for them, it makes them feel special and important. We see this a lot in the inner-city schools that we design. Having a new school and new technology to explore motivates the students. Educational design is also so wide-ranging. I get to work on everything from early learning and pre-K spaces all the way up to higher education, where we are preparing adults to move into the workplace.
Q: Which designer has had the biggest influence on your work and why?
A: One of my favorite architects is Frank Lloyd Wright. Apart from the fact that I love Craftsman-style design, I'm so inspired by how he designed the entire space rather than just the structure of the building. He paid equal attention to every piece of furniture and nuance down to the plates and napkins on the table. I think it's so important to have this kind of holistic approach to design, and to care equally about the interiors and exteriors of a building.
Q: How do you hope to see educational design evolve?
A: I hope to see educational design continue to become more agile and adaptable. Twenty plus years ago it seemed that every school was designed the same way, but now there are so many different components as we come to realize the value of personalized learning. As education curricula continue to change, we have to adjust our mindset for not only what is needed currently but for the future. I think districts will continue to embrace multipurpose spaces and recognize that students need freedom to learn and explore in their own way. Some kids are more hands-on, while some are more visual and others are auditory learners. There are so many different ways to reach a student and our designs should support these different avenues.
Q: Can you describe an educational project you worked on that is particularly special to you?
A: One project that I'm especially proud of is the Martin Luther King, Jr. Campus in Hartford's North End that opened last year, combining two existing schools into one cohesive campus. This project was a long time coming. The community, school administration, and the principals of both existing schools fought so hard for this project to come to fruition. We were able to restore a 100-year-old building back to its original beauty after a misguided 1970s restoration that covered up so many of its features. Sitting in the auditorium during its dedication was so moving. After years of being placed in temporary schools and feeling like they didn't have a true home, the students were so happy to have this beautiful learning environment just for them. The school is important to the community as well, with spaces that can be used after hours for all different kinds of events.
Q: Can you tell me about some of the current projects you are working on?
A: We just finished the design phase for New Fairfield High School, and I'm excited about the way we are incorporating adaptability and multipurpose spaces. This is the first project where we are not putting a sea of lockers throughout the halls. We are incorporating day-use lockers in common areas, but not every student will be assigned a specific locker. The school will have large learning neighborhoods for students to break out from their classrooms, and the classrooms will open up directly into these spaces as well as larger areas like the dining commons. We're also designing a multipurpose maker space called the engineering lab for students to learn robotics, tech, and various engineering skills. The school is still developing its curriculum, and so it is important that we create a space with movable furniture and storage to easily accommodate changes down the line.
Q: Can you tell me about your experience at Reimagine Schools and your achievements there?
A: I was a National Design team partner for the Reimagine America's Schools/Remake Learning's Blueprint for Learning Grant program. I worked with four of the 16 Pittsburgh project cohort teams alongside local architects, and our task was to reimagine each educational space using a $50,000 grant. We worked as a team to transform their vision into a design solution. There were many creative ideas. One team wanted an outdoor garden learning space, and another was looking to build a new after-school youth building for inner-city students. We had one team that was working to create a learning space for deaf students. Each team got to sit through each other's presentations and learn from one another. From there, each cohort worked with a local architect and contractor to bring this vision to reality. As a National Design team partner, I helped manage the entire process, which was rewarding.