EDspaces 2024, November 12-14, Houston, TX
Space selection for EDspaces 2024, November 12-14, Houston, TX, will start on Tuesday, November 7 at EDspaces 2023. Booth Assignment is based on the EDspaces Priority Point System as described below.
Based on seniority, exhibitors at EDspaces 2023 are first eligible to select their exhibit space for next year's (2024) event.
Once these companies have had an opportunity to select space, reservations to exhibit at EDspaces 2024 will be accepted on a first-come, first-served basis.
If someone other than you will be selecting your 2024 booth, please provide the contact information as we will be providing reminders on-site. UPDATE CONTACT
Booth assignment will be based upon the EDspaces Points System, by which each company earns points through:
2023 Exhibit Space
1 point per 100 square feet of exhibit space at EDspaces 2023 Charlotte
EDmarket Membership
2 points for each year of continuous membership in EDmarket
Bring-A-Buyer
2 points per $1,000 donated to the Bring-A-Buyer program
Years Exhibiting
1 point for each year of exhibiting at EDspaces (maximum 9 points)
Sponsorships
1 point for each $1,000 spent in EDspaces 2023 sponsorships
Customer Referral Program
1 point per every attendee that used your referral promo code through October 1
Digital Booth Upgrades
5 points for upgrading to Gold package, 3 points for upgrading to Silver package, 1 point for upgrading to Bronze package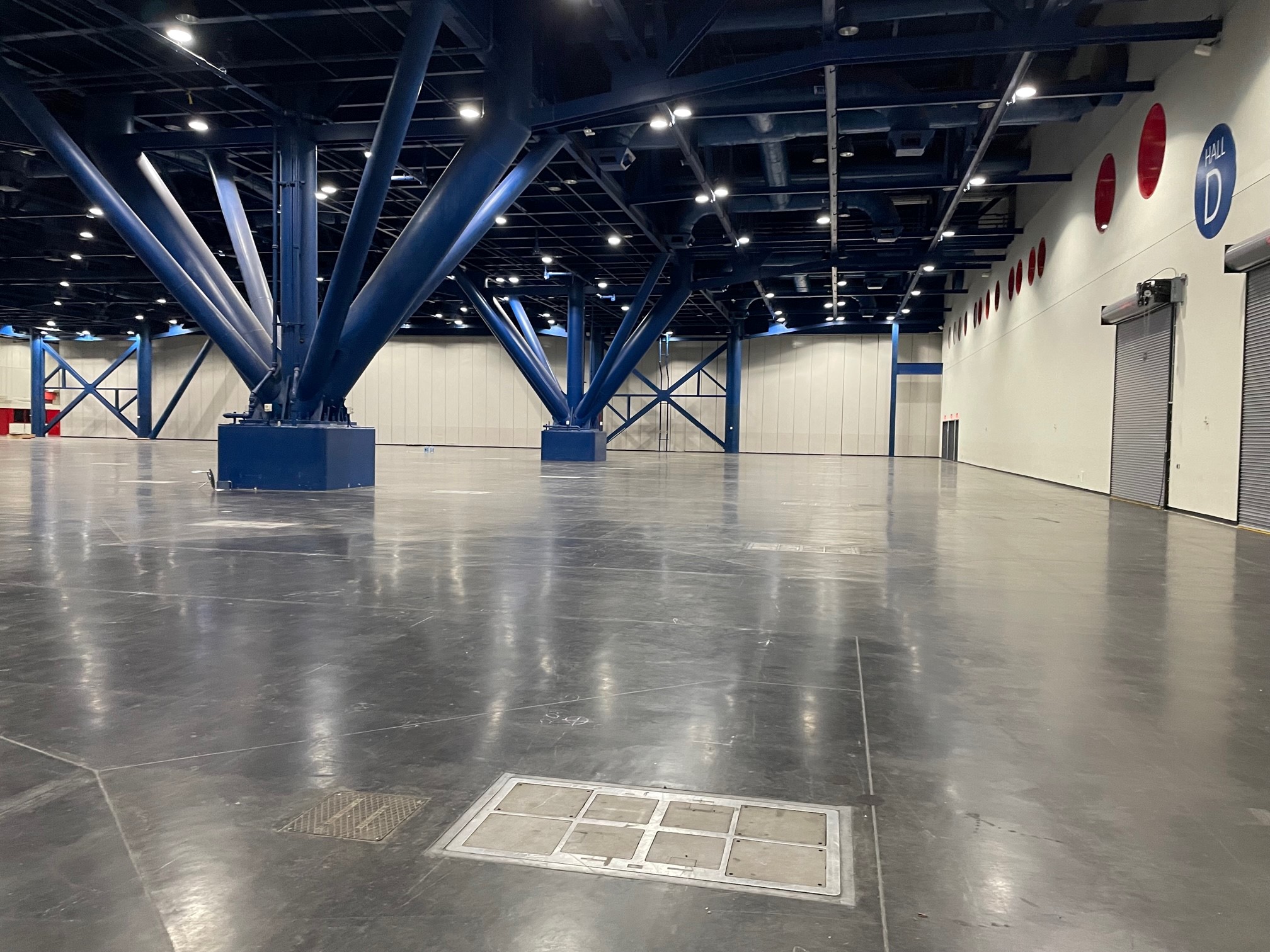 PLEASE NOTE: The large black squares throughout the floorplan are support columns within the exhibit hall (example pictured to the right). Please keep this in mind when selecting your booth space for 2024. The columns are 10′ x 10′ with a graduated ceiling height around the columns. Please also review the dimensions shown below.
EDspaces 2024 Investment – Advance Rate through April 26, 2024:
$26.35/37.00 per sq. ft. member/non-member EDmarket, respectively
$160 corner premium
$125 Enhanced Marketing Fee (EMF)*
Join/Renew EDmarket Membership Questions? Email Karen Prince
Payment Schedule for the space will be as follows:
$250 deposit due at contract signing
30% of total investment due by 1/26/24
60% of total investment due by 4/26/24
100% of total investment due by 7/26/24
* The EMF is an investment fee and is not an optional item. The EMF covers your company listing in the printed show directory, the listing on the website, the listing in the mobile app, and the additional programs designed for exhibitors to market the event – for example the nvytes customer promotion program which provides you a discount to offer your customers (and no cost way for you to easily earn additional priority points for the next years booth assignment).
Increase Your ROI
Increase your reach with digital promotion packages designed to help you reach your target audience, build quality pre-show leads, and increase your exhibit ROI at EDspaces. Simply choose your upgrade package after selecting your booth.
EDspaces 2024 Digital Package Upgrades
Example of Show Spotlight Page: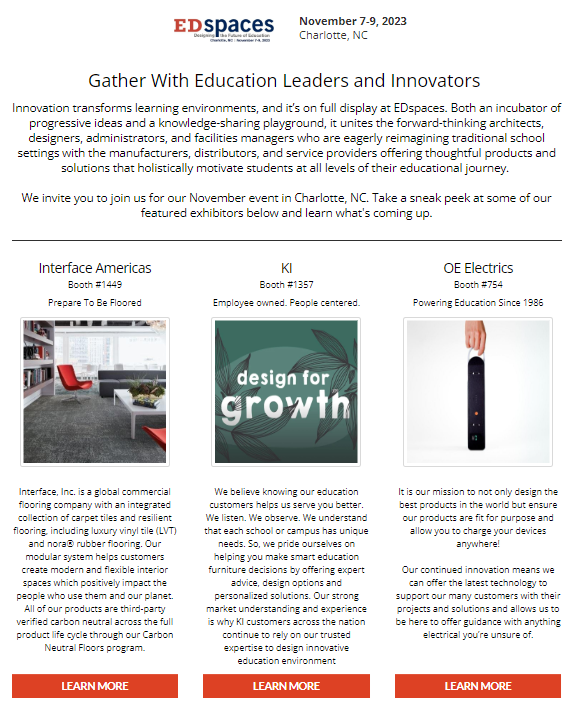 Example of Social Beacon Ad: