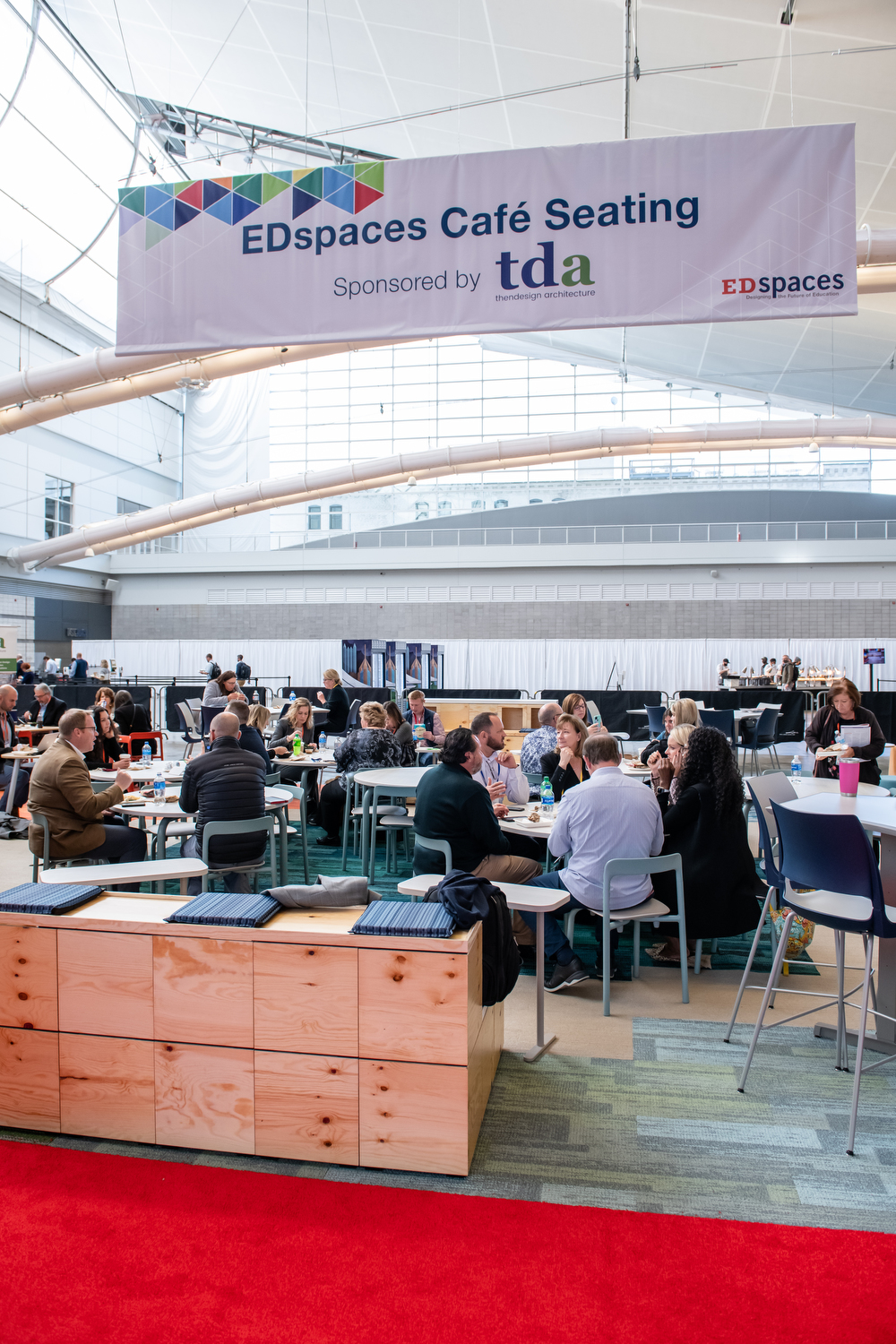 Call for Café Spaces Now Open!
The cafeteria is no longer just the cafeteria. It is the water cooler of the modern school, a gathering place for students to talk, a unique place to collaborate and learn, and, of course, the environment for students to eat.
EDspaces has had huge success transitioning to experiential learning by creating a classroom design competition for meeting rooms hosting professional development. These educational spaces are designed by professionals utilizing the latest space planning ideas, innovativefurniture, and technology. They have become a highlight of the conference and a great way for attendees to try out classroom ideas and products.
Our goal is to make the modern Café space an integral part of the EDspaces experience, providing attendees new ideas, and products for their projects. All full conference attendees are provided lunch vouchers, keeping them in the marketplace and utilizing your Café space.
The call for café proposals is not yet open for EDspaces 2022 but check back here often for updates.
1.1 AREA USAGE – EXHIBIT TIMES
The café spaces will be in use during all exhibit hours:
Wednesday, November 2: 10:30 am – 5:00 pm
Thursday, November 3: 10:30 am – 5:00 pm
Friday, November 4: 9:00 am – Noon
1.2 AREA USAGE – OUTSIDE OF EXHIBIT TIMES
Participating companies will have the ability to use the space outside of published exhibit hours (or after 5:00
pm with approval) for customer meetings, training, or a cocktail reception. This is an opportunity to stand out at
the event and give attendees a new, unique experience in education facility dining ideas while showcasing
products and creativity.
1.3 SET UP/MOVE-IN DATES AND TIMES
Sunday, October 30: 1:00 pm – 5:00 pm
Monday, October 31: 8:00 am – 5:00 pm
Tuesday, November 1: 8:00 am – 5:00 pm
Electrical should be set prior to flooring installation (if under flooring).
1.4 DISMANTLE/MOVE-OUT DATES AND TIMES
Friday, November 4: Noon – 8:00 pm
Saturday, November 5: 8:00 am – Noon
All items must be packed and ready for removal from the exhibit hall by Noon on Saturday.
Note: Any items remaining and not labelled for transport or donation after Noon on Saturday, November 5, will be considered trash or donated product. See section 1.5 below.
1.5 MATERIAL HANDLING
Design teams and/or their equipment providers are responsible for material handling expenses. We will have special shipping labels for each location/team.
2.1 LOCATION
Transform a portion of the EDspaces exhibit floor in the Oregon Convention Center into a modern student café space.
2.2 QUANTITY
Up to four locations are available. The spaces will be adjacent to the food service area(s). The areas will be shown on the EDspaces 2022 floor plan.
2.3 DIMENSIONS
Each space will be shown as 30 ft x 50 ft; however, alternate sizes can be created. Please contact Joe Tucker with your ideas and questions. We are trying to accommodate at least 100 attendees to simultaneously sit, eat, and work in these areas.
2.4 FLOORING
The Oregon Convention Center exhibit hall floor is concrete. Although flooring is not required, it is highly suggested as flooring can set the tone of the area. Many flooring providers have donated their products for experiential areas such as this. Please contact  Joe Tucker, if you would like a referral.
2.5 ELECTRICAL
All electrical expense will be covered and coordinated by EDspaces. You are responsible for providing a diagram denoting the power locations and amp requirements for us to order. If selected, please submit your power plan by August 31.
Note: We can run electric anywhere; however, flat cords will have to be either under the flooring or on the flooring and taped down. Alternatively, you can use mobile power tracks or an under carpet wireway incorporated into the design. Systems such as connectrac are preferred from a safety standpoint.
3.1 SCHEMATIC/DRAWING
Submissions must include a drawing or schematic showing the layout along with a description of the café space.
3.2 SEATING
Comfortable seating for a minimum of 100 adults.
3.3 AUDIO-VISUAL
Include any audio-visual equipment (screens/monitors, charging stations, etc.) that enhances your plan.
3.4 DESIGN TEAM
List the team involved in your design as well as all vendors actively participating in the planning and installation.
3.5 SUPPLIERS
Although the preference is for all items included in the space to be from EDspaces 2022 exhibitors, it is not required.
Note: If you are a manufacturer designing and outfitting the entire area, you must be exhibiting at EDspaces.
4.1 NAMING RIGHTS
Create a name for the café seating area you have designed. This will be how your space is referred to in all promotions: print, online, and on site.
4.2 RECOGNITION
• Press release to announce your selection as a design winner.
• EDspaces webpage dedicated to the winning designs and descriptions of space. Includes links to the teams' websites.
• Sponsored story of the café spaces in, at a minimum, the EDspaces social channels (Facebook and LinkedIn) to promote this unique experience.
• One (1) promotional email sent to the potential EDspaces attendee list (40,000+ decision-makers).
• Logo and corporate name online and in the EDspaces 2022 On-Site Program with description.
• Branded signage on site including one (1) double-sided 1m x 8′ sign highlighting the space and a 5' x 20' double-sided overheard banner.
• These areas will also be highlighted in the EDspaces mobile app.
• Participating companies will have the ability to use the space outside of exhibit hours (10:30 am – 5:00 pm) with advance approval for customer meetings, training, and/or a cocktail reception.
4.3 REGISTRATION
Up to four (4) complimentary full conference attendee registrations for your design team.
Notes: EDspaces exhibitors receive full conference registration with their booth space. If you work with a non-exhibiting supplier (NES), they must purchase either a one-day NES registration, or register for the full conference at ½ price off the NES rate (includes two full conference registrations).
4.4 PHOTOGRAPHY
High-resolution photos of the designed space for promotional purposes (post-show).
4.5 Video
Video of the space will be distributed after the event to describe the story of the space, what is in the space, and include attendee reaction  to the space.
5.1 EVALUATION CRITERIA
Designs will be reviewed for:
• Aesthetics,
• Overall functionality,
• Vendor engagement, and
• Relevance to the future of educational facilities.
5.2 CAFÉ SEATING JUDGES
Café seating areas will be judged by a panel of educational facility, A&D, and Distribution professionals as well as past participants.
July 15: Deadline for proposal
• Have a commitment from you/your vendor partners.
• Think about power needs for the space.
ON OR BEFORE JULY 30: Notification of results of selection process.
August 7: Submit any updates to the drawing, description, or partner list before it goes live on the EDspaces website.
AUGUST 20: Printed Program Deadline including:
• Final list of vendors.
• Final diagram of café seating area.
AUGUST 31: Final A/V and power plan due to Emerald.