The senior principal at DLR Group in Denver traces her love of education design back to her childhood in the Virgin Islands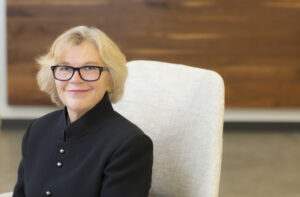 Q: What are your first childhood memories of design?
A: I grew up in the Virgin Islands, Puerto Rico, Jamaica, Guam, and Africa, where my father was an engineer involved in design and construction, which influenced my love of architecture as affected by local culture and context. My earliest recognition of architecture was my first-grade classroom at Priory School in Kingston, Jamaica. The classrooms were little white cubes that were physically open on one side. And I mean open, as in no walls. It was magical. Many districts are familiar with snow days, but I experienced rain days as a child. I attended fifth grade in what was an old military base in Guam. My classroom was a Quonset hut, which is another unique shape and form. In eighth grade I lived in Addis Ababa, Ethiopia, where I attended the American Community School. I later discovered it was a derivation of Taliesin West. Unlike many others, my love of architecture started with school design and evolved from there.
Q: Can you share any examples of architecture that inspires you?
A: I love the vernacular architecture of the Virgin Islands. It has evolved over the last century, but serves to illustrate a combination of pride of place, local materials, and craftsmanship. I also love schools by Frederick Kéré for the same reason—they are inherent of their context in Africa.
Q: Other than your own experiences in schools around the world, what drew you to educational design?
A: My passion for architecture for education was ignited in the '90s when my two boys started school. At that time, two catalysts affected my perception of the challenges and opportunities for school design. The first was Growing Up Digital, a book that forecasted changes in teaching and learning. At the same time, my son's school district embarked on substantial school upgrades and expansions. My perception was that there was a disconnect. It was at that point that I became involved in policy and practice locally, regionally, and nationally to help create precedence and benchmarks for architecture that enables.
Q: How can sustainability play a larger role in design?
A: I increasingly think more about high-performance design beyond sustainability. This is a broader focus on balancing front-end costs versus life cycle costs, the thermal envelope, use of materials, construction means and methods, and long-term maintenance. DLR Group's work in the Virgin Islands has returned me to my roots and reminded me of the importance of context and culture in all we do.
Q: How would you describe DLR's approach to educational design?
A: DLR Group's approach to design is integrated to include architecture, engineering, high-performance design, and interiors balanced with the school district's educational vision as our 'north star' for educational planning. The process begins with this vision and focuses on the why, what, and how to support that vision through a series of workshops with our client. These workshops range from exercises where we define what a day in the life of a student and teacher looks like to inquiry-based learning versus space programming.  It is through these deeper dives that empathy to the local context and culture of the individual school or district can be qualified in the emerging design process.
Q: How do you hope to see educational design evolve?
A: One of the major shifts in school design is in the desire to meet every student where they are. This has a dramatic impact on how curriculum is shaped, how content is delivered, and the spaces and places that support this evolution. The impact of Coronavirus and the introduction of virtual and hybrid learning on a national scale has further impacted the need for flexible and adaptable programs, spaces, and places. It is an exciting time to be involved in conversations about architecture that enables teaching and learning in the now, near, and far.
Q: Is there a project from your past that you are especially proud of?
A: Canyon View High School in Arizona is a special campus to me. The design is the framework that allows the district to blur the lines between ages and abilities and to deliver a truly one-of-a-kind learning experience for students and educators. DLR Group's design is comprised of future-ready spaces and places that empower students to develop critical competencies through deep learning. By gaining real-world experience, students learn skills that are in demand and businesses are provided with a career-ready workforce. The facility is home to a first-of-its-kind teaching and learning accelerator, an open-source incubator for the art of teaching and learning. Faculty from around the district come to develop and practice modern pedagogies, visiting speakers share knowledge, and students and community partners explore teacher-to-student frameworks, student-to-student collaboration, and evolve the student-to-teacher relationship.
Q: Can you tell me about some of the current projects you are working on?
A: DLR Group was selected by the U.S. Virgin Islands Department of Education to conduct an educational facilities master plan to set the new direction for planning and design in the U.S. Virgin Islands. The plan includes more than 2.7 million square feet of educational space in 45 facilities across St. Croix, St. John, and St. Thomas. It is a pivotal body of work that ranges from a transformative master plan, to aspirational designs for four of the replacement schools after the devastation of Hurricanes Irma and Maria in 2017, to smaller scopes of work at 10 schools that address indoor air and water quality through the use of elementary and secondary school emergency relief funds.
Q: How do you think the built environment and student success are intertwined?
A: The built environment sends visual cues to students about how they should behave. If a school feels restrictive and reflects an approach to design that only supports a front-facing lecture style of learning, students will react accordingly. Conversely, the built environment and student success are appropriately intertwined when a school design feels welcoming, excites students and teachers to want to be there, and allows a wide range of teaching and learning activities that provide equitable opportunities for all.
Q: You've been working for more than four decades. What is one of your greatest lessons learned?
A: I've learned to embrace change, celebrate diversity of thought and action, and be empathetic to culture and context.