Meet the director of the Human Experience (Hx) Lab at Perkins & Will's Boston office, who is building on a foundation of research, health, and wellness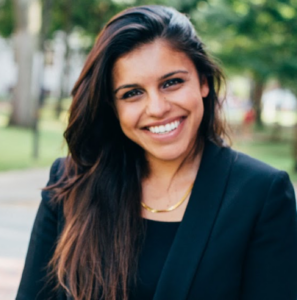 Q: What first drew you to the built environment?
A: My mother likes to say I fell in love with green buildings before I even knew what they were. As a young kid growing up in rural Connecticut, I would wander up and down the stream in our backyard yielding a large stick and animatedly muttering to myself. My mother would ask me who I was talking to and I'd proudly announce that I was telling the fairies how to best use lichens and vines for roofing and structural support for their homes. Yet, according to me, it would be visiting my mother's family for months in Kolkata, India, throughout high school and college that would solidify my appreciation for the built environment. I saw firsthand how air and water quality, urban planning, and architecture could reflect the history of a community and simultaneously determine its future health.
Q: Is there an example of design that you find especially influential?
A: Isabella Stewart Gardner Museum in Boston. During the stressful years of my doctoral studies, it became a place of refuge with a large biophilic atrium that reflected centuries of different architectural styles and moments to appreciate both natural and built beauty. Also, with culturally diverse programming in a new theater addition designed by Renzo Piano, I felt welcomed and included on multiple levels. When architecture can be calming, joyful, and restorative, especially in an urban environment, it has a unique impact on the people that occupy it. This museum inspires me to think critically about how buildings can have mental and physical benefits to students during times of hardship.
Q: What prompted you to meld design and environmental health for a career?
A: When I moved to New York City without a job or even a bank account, I knew I wanted to be in public health and was open to whatever the world would throw at me. Serendipitously, I found a research position doing an environmental assessment of a large public housing project. It was through listening to mothers and community members that I learned how the spaces we occupy can directly impact people's safety, wellbeing, and comfort. Then, Superstorm Sandy hit and it struck me that a silent, slow storm of aging infrastructure, income inequality, and underinvestment had already hit the city. It was during my Masters of Public Health at Columbia University and through conversations with architect friends and professors at City College that I saw how buildings could be a public health intervention—that our indoor environment could be tuned and optimized to meet people's needs. Focusing on this combination as a career was my way to pay it forward to the people who taught me so much over the years. It has become my moral imperative to improve the spaces we force people to occupy— whether it be schools or affordable housing. Designers hold so much power and I want to make sure they have the research and tools to have the most positive impact for people who occupy these spaces.
Q: What is a typical day at work like?
A: The Human Experience (Hx) Research Lab at Perkins&Will integrates research into the design process to improve environmental quality, respond to human health emergencies, and ensure occupants are functioning optimally. We explore design strategies for diverse spaces including clinical, academic, and workplace using bespoke surveys and tailored sensor applications. With collaborations and cutting-edge tools, we are demonstrating the value of human-centered design. A 'typical' day is all about collaboration. I work across age groups, practice areas, and scales. Population health research unifies my work from interiors to urban design.
Q: How do you hope to see schools become healthier?
A: As someone focused on indoor environmental quality, I would love to see every student with access to good indoor air quality, water free of lead, dust free of legacy pollutants, and plentiful daylight in our classrooms. However, I think it's important to prioritize where we can make the biggest improvements in health. The data shows that there are racial and income disparities associated with the quality of the school. For example, the National Center for Educational Statistics shows that the age of the building increases with the number of students eligible for free and reduced lunch. Research from the last 10 years shows that Black and Hispanic students are more likely to attend schools with higher outdoor air pollution, lower ventilation rates, and worse temperature control. All of these environmental features can impact student health, thinking, and performance. By focusing on schools in the worst condition, we can support the health and success of the students and teachers who may not have social support to buffer the adverse impacts of poor indoor environmental quality.
Q: Can you delve into some of your recent research findings?
A: My doctoral research showed an association between school building quality and chronic absenteeism. In an analysis of specific building systems, schools needing major repairs or replacement of school roofs, building envelope, and site-related features were significantly associated with higher chronic absenteeism compared to schools in need of general maintenance. Schools with the greatest need for repair are disproportionately attended by disadvantaged and minority students, and associated with high absenteeism. These findings highlight the increased need for investment in school infrastructure during pandemic and non-pandemic times.
Q: You worked on school-at-home findings during the pandemic. Was there something about that research that surprised you?
A: A rock star team at Perkins&Will, with help from government, nonprofit, and academic external partners, developed the K-12 Roadmap for Return, an online resource for research and design guidance for K-12 schools to safely reopen during the pandemic. Although the team's central focus was mitigating COVID-19 risk, we were surprised by the need for a more holistic framework built on a three-legged stool of risk mitigation, educational adaptation, and health promotion. Schools do so much more than educate our kids and we wanted to account for the social, emotional, equity, and additional health concerns that may be impacting our kids during a crisis. This framework has become our guide as we think about schools, post-pandemic and facing climate-related risks.
Q: How does your research feed into the design process?
A: If I could nerd out about one specific project, it would have to be the William E. Carter School in Boston. The Carter School serves Boston's highest need students both physically and socioeconomically. It's also the most diverse, with seven languages spoken among the 30 plus students. Ninety percent of students are wheelchair-bound and live with complex physical impairments that affect their ability to see, hear, move, and think, including cortical visual impairment, cerebral palsy, Down syndrome, and epilepsy. The prevalence of school-aged children living with cortical visual impairment is rapidly increasing in high- and middle-income countries and yet there is a complete lack of health and design research. It has been super motivating to try and fill this research gap.  I am diving into research across many disciplines including neuroscience, occupational therapy, developmental medicine, and environmental health so the design team can make evidence-based decisions related to color, sound, lighting, glare, texture, entry/exit sequence, and wayfinding. The Carter School community has been vetting these research findings with their lived experience and has helped co-create the final designs. The school has many adjustable, tunable environmental features—light, color, sound—which can help educators understand how these environmental conditions impact students with these complex disabilities. What excites me is that this project can lead to a virtuous cycle of design and health research because the school was informed by research and will continue to contribute to our understanding once it is built.